Wiki Targeted (Entertainment)
Play Sound
Zonia Ysabel Mejia was a teen housemate on the Teen Edition of Pinoy Big Brother: 737.
Zonia was one of the last four teen housemates who entered the house on the second day. She was nicknamed as the "Blossoming Beauty of Quezon City" for her dainty and angelic character.
She was notable inside the house for being a calm, gentle and reserved girl who was usually shy and has a very gentle voice.
Despite her reserved nature, she gained close friendships with fellow female teen housemates, most especially to Ylona Garcia and Ailah Antopina. She also became friends with the rest of the house which gave an advantage for her as she was rarely put up by her fellow housemates for eviction.
On Week 4, the house had a Face to Face Nominations and Positive Nominations combined into one nomination process. They must nominate on who they think deserved to stay the most and the three least pointers would be nominated. Zonia failed to receive any nomination points making her among the five nominees. She participated in the Ligtask Challenge to save herself but defeated by Bailey May, putting her on the block for the very first time.
On Week 5, the house was divided into three teams for the "Pinasaya Challenge", a special immunity competition. Flipino culture was the theme of the competition. Zonia was teamed up with Jimboy Martin and Franco Rodriguez Three parents of one of the members in the three teams were sent inside to serve as coaches. Zonia's mother became their team's coach. Jimboy had a violation prior so he was forbidden to participate and it was up to Zonia and Franco to win the immunity. Eventually, Zonia managed to have a taste of immunity for the first time along with Franco and Jimboy. As part of their immunity power, they could also pick one housemate from the non-winning teams to share their immunity with and save a housemate from being included in the week's set of nominees. They eventually chose Bailey May.
However, on Week 6, Zonia's fate turned upside down as her group failed to win the Big-ating Concert Competition. She participated on the week's Ligtask but she failed to win, sealing her fate as a nominee and and face the public vote. On Day 42, Zonia received 25.85% of the total votes losing to Kamille who got 30.31% and Jimboy with 43.85%. Her total number of votes wasn't enough to save her and as a result, she was evicted out of the house.
Biography
Zonia Mejia Biography
Full Name: Zonia Ysabel Mejia
Origin: Quezon City, Metropolitan Manila
Age: 14
Occupation: Student
Hobbies: Singing
---
Zonia is the fourth among five siblings who are all swimmers. Her parents own a small baker, and are quite strict, especially when it comes to the siblings' 6pm curfew. That means Zonia has to be home right after school – no time to hang out with friends after school, which Zonia doesn't really mind because she's already used to it.
Being only 13 and quite sheltered, Zonia still has a lot to discover about herself, which is why she decided to join PBB737. Will her stay inside the Pinoy Big Brother House help Zonia learn more about herself and bloom into the beautiful young lady that she is?
Player History - Pinoy Big Brother: 737
Teen History
Task History
| | | |
| --- | --- | --- |
| Week 1 | Weekly Task | Loss |
| Week 2 | Weekly Task | Loss |
| Week 3 | Weekly Task | Win |
| Week 4 | Weekly Task | Win |
| Week 5 | Weekly Task | Win |
| Week 6 | Weekly Task | Loss |
Competition History
Week 2
Ligtask
Ineligible
Week 3
Ligtask
Ineligible
Week 4
Ligtask
Loss
Week 5
Pinasaya Challenge
Win
Ligtask
Ineligible
Week 6
Big-Ating Concert Competition
Loss
Ligtask
Loss
Nominations History
Post Big Brother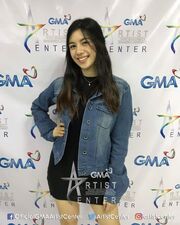 In late 2015, Zonia had a recurring appearance on the teen-oriented sitcom Luv U.
In 2017, Zonia attended the annual Star Magic Ball.
In 2017, Zonia became part of the supporting cast for ABS-CBN's romantic-fantasy,period drama series The Promise of Forever.
In 2018, Zonia was signed to ABS-CBN's Star Magic and became part of the talent circle's Batch 2018. They were introduced as the Fresh Faces of 2018.
In 2018, she was featured in an article for the teen-oriented, Chalk Magazine. [1]
In 2019, Zonia transferred in GMA Network for primetime series Sahaya and signed to GMA Artist Center.[2]
In 2021, Mejia is a part of the Cast of GTV 27's Heartful Café coming on April.
Trivia
References
Pinoy Big Brother: 737 Housemates
Teen Housemates
| | | | | | |
| --- | --- | --- | --- | --- | --- |
| | Zonia | | | | |
| | | | | | |
| --- | --- | --- | --- | --- | --- |
| Winner | Runner-Up | Finalist | Walked | Ejected | Evicted |
Adult Housemates
| | | | | | |
| --- | --- | --- | --- | --- | --- |
| Winner | Runner-Up | Finalist | Walked | Ejected | Evicted |
Community content is available under
CC-BY-SA
unless otherwise noted.