Hello! I'm Jruoy98! Welcome to Big Brother Wikia! I'm one of the admins here and we are glad if you share or contribute credible information regarding Big Brother series all over the world!
This wiki includes Big Brother series all over the world. I created and manage Pinoy Big Brother wiki pages and its related articles such as twists, tasks and contestants. I also sometimes manage Big Brother Australia pages. I also created some of the twist pages and task pages in this wiki.
I hope you'll have time to contribute! We'd be grateful for your contribution to make this wiki a better place for Big Brother superfans all over the world!

My Favorite Pinoy Big Brother 7 Housemates in GIFs!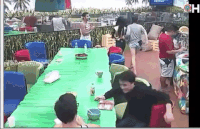 How I became a Big Brother fan
Ever since Pinoy Big Brother premiered way back in 2005 when I was 7 years old, I was automatically hooked.
When I became a teen, my inner teenhood low-key kept dreaming on joining in the Teen Edition of Pinoy Big Brother but it would be impossible because I don't even have the guts to audition and I am aware of the fact that when you're inside the Pinoy Big Brother house, it would be a heck of a crazy journey.
In 2012, I was hooked to Big Brother Australia and from then on, I've been watching BBAU up until its recent season. I hope BBAU would come back though. It was one of my favorite Big Brother shows in the world.
Since 2016, I gained interest in the Big Brother UK and Big Brother US. I could say the US version is very different to the usual Big Brother shows around the world but I love the competitive gameplay aspect of that series. I haven't watched Big Brother Canada yet, but it looks like an interesting show too.

Favorite Big Brother Series
It's our own Big Brother. It's the most successful reality series in the country, even beating Survivor Philippines. *I lowkey want Survivor Philippines to return though*
What I love about the Philippine series is that throughout the years, it managed to combine the original format and the competition-based gameplay altogether without sacrificing one another. There's the elements of social experiment from the original concept yet there's a competitive aspect when it comes to weekly tasks and challenges. It's a combination of the two prominent formats of Big Brother.
I also love how the twists affects everything. Some twists can be drastically game changing, just like in the recent seasons.
I also like the characterization of every housemates. The viewers discover the housemates' real-life backstories and it's one of the things why viewers are hooked because they could relate to these real people on television.
And lastly, Big Brother is almost like a father-figure. I would want to have a conversation with him. He's just full of wisdom. Every challenge he gives has a moral value instilled in it that he wants his houseguests to learn. He also made many housemates cry when he gives his advice, like it's a tough challenge not to cry during a diary room session with him.
Being used to the original format of Big Brother, when I first watched the American Big Brother back in 2014, I was so confused. But I managed to get all the stuff uniquely appearing in BBUS and when I did, I loved it!
I love the power play, the strategic gameplay and how you could outlast your own housemates. I love the competition. I love how different the socialization is and how the game affects social interaction. It really puts you to the test on who to trust and who to align yourself with, because one's gameplay could affect yours, either for the better or for worse.
Before, when I was like 12 or 13, I have watched clips on Youtube regarding Big Brother UK but I haven't really watched a season until Big Brother: Power Trip.
What I like about the British version is that, its strictly following to the original concept which is a social experiment, and from what I've observed, the series mainly focuses on social interaction and its outcomes rather than a competitive game play.
Although I find some fights or shouting confrontations unnecessary. I usually love drama but sometimes I can't stand the UK fights. I don't know why. But setting that aside, I still enjoy watching the UK series.
First and foremost, it needs to comeback!
What I love about Big Brother Australia is how chill it was. It rarely has a real confrontation or drama but it's still entertaining because the attitudes of the housemates were so laid back.
I also love the camaraderie of the housemates. I could feel they are family in the house especially the BBAU2012 housemates!
Community content is available under
CC-BY-SA
unless otherwise noted.