watch 01:12
The Loop (TV)
Tyler Ross Crispen[2] is the runner-up of Big Brother 20 (US).
Biography
Tyler Crispen Biography
Age: 23
Hometown: Rossford, OH
Current city: Hilton Head, SC
Occupation: Lifeguard
Three adjectives that describe you: Resilient, charismatic, and questionable.
Favorite activities: Working out, going to the beach, and surfing.
What do you think will be the most difficult part about living inside the Big Brother house?
Getting people to believe anything I say. When I'm lying, people think I'm telling the truth, but when I'm telling the truth, people think I'm lying.
Which past Big Brother cast member did you like most?
Victor Arroyo for his resilience, Zach Rance because he's hilarious, and Dan Gheesling for being a savage.
Do you have a strategy for winning the game?
Get in tight with someone opposite of me, divide the house with them on one side and me on the other, get intel from their side from them while making sure they keep me safe by making them feel like I'm keeping them safe. Then, cut them in Final 4 when the time is right and take credit for the whole thing.
My life's motto is...
Do whatever the hell you want.
What would you take into the house and why?

My Spotify playlist to get me hyped for any situation.
A Pre-workout supplement.
An unlimited amount of quinoa.
Fun facts about yourself:

I fell in a muddy construction hole at 3 AM once and was stuck in there for 30 minutes.
I spent six months traveling Australia.
I got bit in the face by a fish at the Great Barrier Reef.
I fell off a pool slide when I was a kid and died... kinda.
I was a champion bowler.[3]
Player History - Big Brother 20 (US)
Competition History
Week 1
Punishment
Survived
Punishment
Ineligible
Immunity
Ineligible
HOH
Win
POV
Loss
Week 2
HOH
Previous HOH
POV
Win
Week 3
HOH
Loss
POV
Loss
Week 4
HOH
Loss
POV
Not Picked
Week 5
Re-Entry
Ineligible
HOH
Loss
POV
Win
Week 6
HOH
Loss
Hacker
Loss
POV
Loss
Week 7
HOH
Loss
Hacker
Loss
POV
Win
Week 8
HOH
Loss
POV
Loss
Week 9
HOH
Loss
POV
Not Picked
Week 10
Re-Entry
Ineligible
HOH
Win
POV
Loss
Week 11
HOH
Previous HOH
POV
Loss
HOH
Win
POV
Loss
Week 12
HOH
Previous HOH
POV
Loss
HOH
Loss
POV
Loss
Week 13
HOH Part 1
Win
HOH Part 2
Unable to Play
HOH Part 3
Loss
Have/Have-Not History
Week 1
Have
Week 2
Have
Week 3
Have-Not
Week 4
Have
Week 5
Have-Not
Week 6
Have
Week 7
Have
Week 8
Have-Not
Week 9
Have
Week 10
Have
Week 11
Have/Have-Not Phase Over
Week 12
Week 13
BB App Store History
Week 1
Access Denied
Week 2
Power App
Week 3
Ineligible
Week 4
BB App Store Phase Over
Week 5
Week 6
Week 7
Week 8
Week 9
Week 10
Week 11
Week 12
Week 13
Voting History
HOH History
Original Nominees
Post-Veto Nominees
Intended Target
Week 1
Week 10
THEN
Day 86
Post Big Brother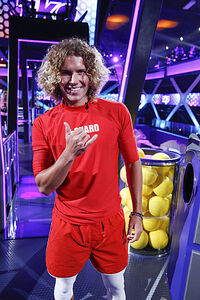 Tyler appeared as a contestant on the second episode of TKO: Total Knock Out, which aired on July 19, 2018.[4]

The episode was filmed in early 2018 before season 20 began, in which why Tyler competed on both on the same airdate angering online casual fans.
Trivia
Tyler is the second HouseGuest to hold the title of Head of Household twice, following Angela and the first person to win HoH three times on Big Brother 20 (US).
Tyler is the first HouseGuest to win the PoV three times on Big Brother 20.
Tyler is the sixth HouseGuest in the history of the show to win at least 3 HoH's and 3 PoV's in a single season, following Janelle Pierzina, Frank Eudy, Frankie Grande, Cody Calafiore, Vanessa Rousso and Paul Abrahamian.
If the Jury would have been the original seven person Jury (thus removing Bayleigh and Rockstar from the Jury) and the same vote took place, Tyler would have won Big Brother 20 over Kaycee in a 4–3 vote.
References
External Links
Big Brother 20 (US) Houseguests
| | | | | | | | |
| --- | --- | --- | --- | --- | --- | --- | --- |
| | Tyler | | | | | | |
| | | | |
| --- | --- | --- | --- |
| Winner | Runner-Up | Jury | Evicted |
Community content is available under
CC-BY-SA
unless otherwise noted.