This article on Big Brother Wiki is Under Construction.
This means that we're changing how this page is formatted.
You can help the wiki by expanding it.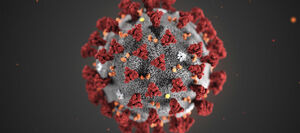 The 2019–20 coronavirus pandemic is a current ongoing pandemic around the world.[2] The virus has impacted various sporting events, social interactions, and television events. When the virus hit the Big Brother world, it became an unprecedented event, changing how many franchises around the world are dealing with the event.
No Audience Live Shows
Amid the rising numbers infected by the pandemic, precautionary measures strictly suggest minimizing social contact to avoid being infected by the disease. As a result, various shows all over the world started airing without a studio audience to observe social distancing and to prevent the spread of the COVID-19.[3][4]
On March 8, 2020, Grande Fratello announced that there would be no more guests entering the house. Days later on March 11, it was announced that live episodes of its 4th Celebrity Season would no longer feature an audience.
On March 12, 2020, Big Brother Canada followed suit in this precautionary measure and announced that live episodes on its 8th Season will broadcast without a studio audience after the outbreak of COVID-19.[5] However, the March 19 episode was broadcasted remotely from host Arisa Cox's home (see below).
Also on March 12, 2020, Big Brother Brazil decided it would not have a live audience for, at least, the 8th eviction on March 17, 2020 as a precautionary measure.[6]
Starting at the beginning of the season, Big Brother Portugal decided not to have a live audience. However, starting on June 7, 2020, a live audience would be present in the studio.[7]
Delayed Premieres
The 6th edition of Big Brother Greece was set to premiere on March 15, 2020. However, on the scheduled premiere date, it was announced that the premiere was postponed indefinitely.[9] On May 7, 2020, SKAI announced that Big Brother would premiere in August 30, 2020.[10]
The 5th edition of Big Brother Portugal was set to premiere on March 22, 2020. However, on March 16, 2020, it was announced that the premiere would be postponed.[11] The season later premiered on April 26, 2020.[12]
The 22nd Season of Big Brother US was postponed from its initial airdate at the end of June,[13] however a statement from CBS confirmed that they still planned on airing the season in the summer of 2020.[14] On July 23, 2020, ViacomCBS announced the season would be an All-Star edition set to premiere on August 5, 2020. The cast and crew would go through quarantine and frequent testing throughout the season, along with other guidelines and protocols due to the restrictions.[8]
Shorter Seasons
Remote Hosting
Suspended Filming
Production of the 12th season of Big Brother Australia was temporarily suspended after a crew member was exposed to the virus.[19] However the crew member's test came back negative, and production resumed the following day.[20]
Impact on Players
Lockdown-Big Brother similarities
As 2020 Luzon enhanced community quarantine forced most Filipinos to be stuck in their homes in the Philippines, many people have started comparing the quarantined situation to that in Big Brother. Pinoy Big Brother-inspired parodies became viral in Tiktok, Youtube and Facebook, with people in quarantine imagining themselves as housemates inside their Big Brother House. One viral video have reached over 800,000 facebook views.[21]
Big Brother: Stay At Home Edition
On March 30th, 2020, Pinoy Big Brother launched its first home edition entitled Pinoy Big Brother: Stay At Home Edition.[22] The online interactive spin-off highlights the importance of staying at home amid the COVID-19 crisis and encourages people to join in Big Brother's daily tasks and share their entries via the comments section of the series' Facebook page. The winning entry is awarded as Stay At Homemate of the Day. The spin-off aims to lighten the situation and give people activities for fun while staying indoors as well as giving reminders regarding the proper way to prevent COVID-19.[23]
Reruns & Recaps
References
Community content is available under
CC-BY-SA
unless otherwise noted.