This article on Big Brother Wiki is Under Construction.
This means that we're changing how this page is formatted.
You can help the wiki by expanding it.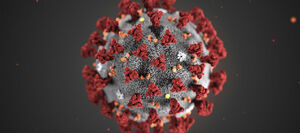 The 2019–21 coronavirus pandemic is a current ongoing pandemic around the world.[2] The virus has impacted various sporting events, social interactions, and television events. When the virus hit the Big Brother world, it became an unprecedented event, changing how many franchises around the world are dealing with the event.
No Audience Live Shows
Amid the rising numbers infected by the pandemic, precautionary measures strictly suggest minimizing social contact to avoid being infected by the disease. As a result, various shows all over the world started airing without a studio audience to observe social distancing and to prevent the spread of the COVID-19.[3][4]
On March 8, 2020, Grande Fratello announced that there would be no more guests entering the house. Days later on March 11, it was announced that live episodes of its 4th Celebrity Season would no longer feature an audience.
On March 12, 2020, Big Brother Canada followed suit in this precautionary measure and announced that live episodes on its 8th Season will broadcast without a studio audience after the outbreak of COVID-19.[5] However, the March 19 episode was broadcasted remotely from host Arisa Cox's home (see below). This practiced was continued for its 9th Season.
Also on March 12, 2020, Big Brother Brazil decided it would not have a live audience for, at least, the 8th eviction on March 17, 2020 as a precautionary measure.[6]
Starting at the beginning of the season, Big Brother Portugal decided not to have a live audience. However, starting on June 7, 2020, a live audience would be present in the studio.[7]
Delayed Premieres
Shorter Seasons
Online Casting
Due to heavy restrictions on mass gathering and physical distancing due to the pandemic worldwide, some of the Big Brother series that traditionally had open casting calls have held its auditions completely online for the first time. Strict health measures were eventually added and observed, including COVID-19 testing and 24-hour to 14 day quarantine for applicants who passed the subsequent casting rounds. Since the pandemic began, it has become a requirement for every contestant to undergo COVID-19 testing and must be cleared as negative before entering the Big Brother House.
Remote Hosting
Suspended Filming
Production of the 12th season of Big Brother Australia was temporarily suspended after a crew member was exposed to the virus.[24] However the crew member's test came back negative, and production resumed the following day.[25]
Impact on Players
Big Brother House Safety Measures
To maintain the safety of contestants inside the Big Brother house against Coronavirus, various safety measures have been observed by various seasons.
Big Brother 22 (US) required every houseguest to wear a mask before entering and leaving the Big Brother house. Inside the house, the houseguests' groceries were disinfected before putting them in the Storage Room. Physical distancing was also observed during post-eviction interviews with Julie Chen.[27]
Big Brother Finland 11 used a Finnish invention called Nanoksi, a self-disinfecting coating solution that was activated by light to kill viruses and bacteria. Control rooms also observed safety measures by using plexiglass dividers between every seat.[28]
Pinoy Big Brother: Connect sprayed disinfectant throughout the house a day prior the premiere. The housemates were given their own tableware with their names engraved on it while double beds were replaced in favor of single beds with appropriate distance from each other. A lock-in production have been followed by the staff which meant that a group of production staff were required to live inside the Pinoy Big Brother studio compound throughout the duration of the season. [29]
Big Brother: Stay At Home Edition
On March 30th, 2020, Pinoy Big Brother launched an interactive spin-off entitled Pinoy Big Brother: Stay At Home Edition.[30] The online interactive spin-off highlights the importance of staying at home amid the COVID-19 crisis and encourages people to join in Big Brother's daily tasks and share their entries via the comments section of the series' Facebook page. The winning entry is awarded as Stay At Homemate of the Day. The spin-off aims to lighten the situation and give people activities for fun while staying indoors as well as giving reminders regarding the proper way to prevent COVID-19.[31]
Reruns & Recaps
References
Community content is available under
CC-BY-SA
unless otherwise noted.