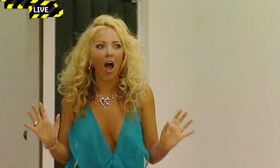 A Secret Room is a hidden room or section of a Big Brother house that is kept a secret from either housemates, viewers or both until after a season has begun. The term 'Secret Room' can also be used to refer to twists in which such areas of the house are introduced and/or used.
Secret Rooms are common twists in many editions of Big Brother, and typically serve as second residences for new housemates or housemates who are fake evicted.
Occasionally, multiple Secret Rooms may be combined to serve as fully functioning second houses; these can collectively be known as a Secret House.
Format
While Big Brother housemates are able to freely access all the areas of a house that are necessary for their day-to-day lives, Big Brother houses often contain Secret Rooms used for other purposes.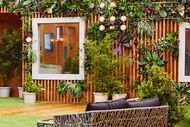 Secret Rooms can be connected to the main, freely-accessible areas of the house, in which case they will usually be hidden or disguised by scenery or false walls until they come in to use. They may also be connected to controlled areas, such as the Diary Room, via alternative doors. In some instances, Secret Rooms are not connected to the main house whatsoever, but are instead separate areas in the same house building or studio which housemates are led through camera runs or corridors to access.
Multipurpose or utility rooms within the Big Brother house that housemates are aware of, but can't freely access, may be temporarily repurposed as Secret Rooms without their knowledge. For example, in later series of Big Brother UK, the Task Rooms were occasionally refurbished as second residences as part of twists.
Uses of Secret Rooms vary. Most commonly, they are introduced as second residences in twists through which either new housemates are introduced, or existing housemates are 'fake evicted'. Occasionally, multiple Secret Rooms are joined together to form a standalone Secret Houses; these can contain their own living space, bedroom, bathroom and even a backyard or garden.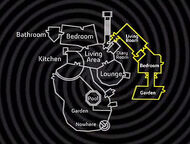 Some Secret Rooms have less significant purposes or only make brief appearances as part of smaller tasks or twists, such as serving as the end destination in a treasure hunt-style challenge.
Secret Rooms can also be initially unseen areas of main house that become regular or permanent additions. For example, Big Brother 4 UK featured a Reward Room that was opened once weekly, and in Big Brother 8 UK, there was a hidden bar beside the pool that remained accessible after it was won in a task.
Big Brother houses may also have Secret Rooms that are not featured in tasks or twists, but are instead used by producers for ancillary or emergency purposes. For example, later series of Big Brother UK featured a 'spare bedroom', rarely shown on camera, where housemates who had exhibited or been affected by rule-breaking behaviour were sent to sleep away from the rest of the group.
Examples
The following is a non-exhaustive list of significant Secret Rooms and Secret Houses that have been featured on versions of Big Brother worldwide.
Big Brother Canada
War Room
The War Room was featured in Big Brother Canada 2 for three different purposes.
Three potential houseguests-- Nate, Scott, and Allison-- stayed in this room for a week and got to spy on the houseguests. This secret room twist ended when Canada voted Allison into the house. Allison, however, was forbidden from telling other houseguests about the room; doing so would instantly evict her.
Big Brother set up a scavenger hunt with a series of riddles that would lead to a secret Power of Veto located in the War Room. This Veto allowed the holder to use it within the next three veto meetings and use it after the regular Veto. Allison was able to solve the riddles and acquired the Secret Veto.
This room was also used for a secret strategy session won by Neda Kalantar and featured season 1 houseguests Jillian MacLaughlin and Emmett Blois.
Secret Suite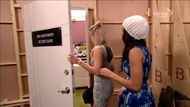 The Secret Suite was featured in Big Brother Canada 4. As part of a fake double eviction, evicted houseguests Kelsey Faith and Loveita Adams stayed in a secret suite by themselves for a week where they got to spy on the remaining houseguests without them knowing. The Secret Suite ended when Kelsey was unaminously voted back into the house and Loveita was evicted permanently.
Big Brother UK
Rewards Room
The Reward Room was a room in which Big Brother threw parties for the winners of the weekly Saturday night live tasks during Big Brother 4, located at the end of a corridor behind a plant. It was first unveiled on Day 9 and was redecorated weekly to suit the theme of that week's party.
Bedsit
The Bedsit was a secret second residence during Big Brother 5, which two housemates (Michelle Bass and Emma Greenwood) moved in to as part of BBUK's first ever fake eviction. They were able to watch a live feed of the main house; this later became a common twist in its own right, known by the 'Bedsit' name.
Secret Garden
The Secret Garden was a second residence in Big Brother 6, which three new housemates (Eugene Sully, Kinga Karolczak and Orlaith McAllister) moved in to as part of a twist. The trio were required to secretly scavenge supplies from the main house with the help of one of the housemates (Makosi Musambasi); eventually, that housemate had to decide which two of them would move in to the main house.
House Next Door
Featured in Big Brother 7, the House Next Door was the first full Secret House in BBUK history, with its own living area and kitchenette, bathroom, bedroom and garden. One housemate (Aisleyne Horgan-Wallace) was fake evicted there, and joined by five new candidates; they had to periodically choose which of the newbies would be evicted from the House Next Door, unaware that their chosen victims were actually moving in to the main house.
Halfway House
The Halfway House was a full Secret House featured in Big Brother 8, the inhabitants of which were known as 'halfway housemates'. Five intruders moved in and faced a series of challenges to swap places with housemates, while the housemates battled to keep their places in the main house. Everyone living in the Halfway House after the challenges faced eviction, with the survivors then moving back to the main house.
Safe House
The Safe House was a Bedsit-style secret residence in Big Brother 14, which although not a full Secret House did feature its own bathing facilities. The Safe House was featured as part of three separate twists, beginning with the fake eviction of Dexter Koh and Gina Rio, who had access to a live feed of the main house.
The Other House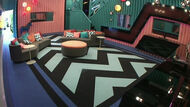 The Other House was a full Secret House featured in Big Brother 17, located in a newly-built extension to the Big Brother UK compound. It featured a living area, bedroom, bathroom and garden, as well as its own Diary Room and front door. It was used at the start of the series as a residence for The Others, a group of non-housemates whose goal was to sabotage the housemates and steal their places in the main house.
Big Brother US
The Gold Room
The secret room discovered by Rachel Plencner in Big Brother 6 when she was HOH. The room contained 2 beds and 3 safes, each of which contained some sort of prize.
The Secret Paris Room
This Paris-themed hidden room was featured in Big Brother 18. Big Brother revealed a series of clues leading to a room with 11 One Way Tickets and one Round Trip Ticket. The Round Trip Ticket allowed an evicted houseguest to immediately return to the game, whereas the One Way Tickets made the houseguests permanently evicted. Paul Abrahamian was the first to find the hidden room and was the one who had the Round Trip Ticket.
Community content is available under
CC-BY-SA
unless otherwise noted.