Spider-Man: No Way Home Trailer Dropped - The Loop
Play Sound
Pinoy Big Brother: Kumunity Season 10 is the current 10th season and 16th edition overall of Pinoy Big Brother.
Background
Development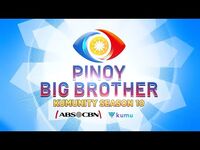 On August 6, 2021, weeks before its official announcement, The Big Brother house facade was surrounded with a blue construction barrier along with a big poster saying "A New Community Will Rise Soon" as a PR Stunt. The PR stunt went viral and sparked online clamor among fans, celebrities, and alumni housemates, discussing whether ABS-CBN would finally demolish the Big Brother house or it's just on its way to its 10th season. [1]
On August 27, 2021, Pinoy Big Brother officially announced its 10th season via the noontime variety show, It's Showtime and its official social media pages. That same day, Pinoy Big Brother launched a virtual reunion with its former housemates on Kumu, hosted by Bianca Gonzalez. [2] On August 30, 2021, Pinoy Big Brother had its first virtual media Conference for the season, via Dream TWOgether Media Conference alongside ABS-CBN produced P-pop Groups BINI and BGYO.[3] In addition, Pinoy Big Brother also published a mini-documentary entitled House C on its official Youtube channel. The mini-documentary highlighted the struggles that the show's production staff have faced while producing the previous season, Pinoy Big Brother: Connect, amid the COVID-19 pandemic. The documentary showed behind-the-scenes footage of the staff's lives inside the Big Brother compound throughout the season's production bubble. It also highlighted overcoming challenges such as maintaining strict safety protocols, transforming the studio compound's offices as staff accommodation, and dealing with reduced crew members due to the COVID-19 pandemic and ABS-CBN franchise renewal controversy. [4]
Casting & Kumu Partnership
Similar to the preceding edition, Pinoy Big Brother: Connect, Filipino social media app Kumu returned as Pinoy Big Brother's official partner this season, and PBB collaboration for this season with Kumu is expected to be even bigger after last season's innovative attempt for a more digitally engaging competition. Paolo Pineda, Kumu's SVP for Business Development mentioned "We have so much more to offer to our viewers coming from all the learnings in Season 9. We are definitely looking forward to this Season." Pineda also hinted that Season 10 is set to become another grand season of PBB stating, "There are so many things to get excited about this new season! First of all, it will be one of the longest Big Brother seasons in its history. Plus, it will be a complete mix of genres, from celebrities to adults; and finally, there will be quite a bit of twists and turns for this season." [5]
Like Connect, the auditions would take place online via Kumu where they could submit 1-minute entries. For this season, the age range was changed to 20-40 years old for adult housemates and 15-19 years old for teen housemates. Each batch had separate audition dates; The online audition for adult housemates took place from September 1 until October 31, 2021, while the online auditions for teen housemates took place from November 6 to December 31, 2021. For the season's celebrity cast, ABS-CBN Executives would send invitations to Filipino celebrities. [6] On September 15, 2021, Pinoy Big Brother announced via Twitter that 50 Kumu live streamers with bronze and silver badges were qualified to join Online Big Brother House on Kumu. Out of 50 streamers, two would get selected to join this season's celebrity cast as additional celebrity housemates. [7]
Kumunity Involvement
Online Bahay ni Kuya (Online Big Brother House): Kumu Streamers with bronze and silver badges compete for two additional slots to become celebrity housemates. Jordan Andrews and Benedix Ramos won the Kumu campaign and became part of this season's celebrity batch.
Kumunity Decides: PBB Community in Kumu can influence decisions and house events throughout the season by joining the season's official Kumu group called "PBB Kumunity Season 10".
Kumunity Votes: For the second consecutive year, Kumu serves as an online voting platform of the series where Kumu users also have the power to vote for evictions. Apart from SMS Voting, Kumu users can also vote to save and vote to evict in Kumu's Campaign page by sending virtual diamonds to the nominees. 1 virtual diamond is equivalent to 10 votes.
Kumu Live Feed: Similar to Connect, there were four Kumu cameras in the house showing 24/7 live feed.
Houseguest for a Week: From November 6 to November 12, 2021, Pinoy Big Brother and Kumu launched a campaign for Kumu Streamers where the winner would have a chance to enter the house and become a House Guest in the season's Celebrity Batch for a week.
Eye Logo Changes
This season introduced a new Big Brother eye while still keeping with the franchise's branding inspired by the Philippine flag. Compared to the flat-designed eye logo used in Otso and Connect, the Season 10 eye logo featured a 3D design. The center of the eye featured a modified version of the Philippine sun, now with ten rays, while ten stars surrounded the sun. The franchise title now has a blue and red gradient color, but the edition title still retained the yellow color used in Connect.
Theme Song
On September 5, 2021, via the Sunday musical-variety show, A.S.A.P., ABS-CBN released the official theme song for this season, entitled "Pinoy Tayo" (lit. We Are Pinoy). The Season 10 theme song performed and produced by Filipino singer-songwriter Rico Blanco, was a modified and modernized rendition of the original theme song of the franchise, Pinoy Ako (lit. I am Pinoy). Compared to the original version, the Season 10 version had a slightly different composition and added traditional Filipino musical instruments such as the kulintang and bandurria. [8][9]
Format
This season is divided into three Kumunities (a portmanteau of Kumu and Community); the first Kumunity being a Celebrity Edition, followed by Adult Edition, and then by a Teen Edition.
The House
For the first time since 2011, Pinoy Big Brother made a renovation on the house's facade. The new look of the Big Brother house now featured a mix of yellow, blue, red, and white colors, dropping the classic blue and yellow color scheme. The facade's new colors were based on the season's logo, which was inspired by the national colors of the Philippines.
The house interior featured an eclectic mix of 21st-century interior design trends popular in social media like Instagram and Pinterest. The interior combined experimental trends, notably neotenic, abstract, and geometric styles, seen on furniture and house decor, along with subtle hints of art deco and Mondrian-inspired patterns. The house's colors varied from dreamy pastel colors, such as pink and cream, to bright colors, like shades of red, blue, and orange. The house also features neon signs with the show's iconic phrases, such as "Hello Philippines, Hello World" greeting quote of the main host, Toni Gonzaga.
House Photos
1st Kumunity: Celebrity Edition
Background
Celebrity Cast Reveal
From October 6, 2021, to October 9, 2021, Pinoy Big Brother introduced the first 12 housemates during the Big Celeb Reveal on Kumu and the show's official pages. Volleyball athlete Alyssa Valdez, Singer KD Estrada, and social media star Madam Inutz were the first celebrities introduced. On October 7, singer Anji Salvacion, comedian TJ Valderrama, and beauty queen Samantha Bernardo joined the cast. On October 8, comedian Brenda Mage, actor and streamer Eian Rances, and actress Alexa Ilacad became the third set of celebrities introduced. On October 9, singer Shanaia Gomez, MMA fighter John Adajar, and former DJ Karen Bordador was the last set of housemates introduced before the launch. The first 12 housemates entered the house on the season's Kick-Off Launch.
During the season's first week, actor Kyle Echarri, dancer and model Chie Filomeno, and actor Albie Casiño were introduced as part of the official cast. Kumu streamers Jordan Andrews and Benedix Ramos joined the cast after winning the Online Bahay ni Kuya contest in Kumu. There were 17 housemates who officially became part of this edition; 15 celebrities were chosen by production, while the other two celebrity housemates came from the Online Big Brother House campaign in Kumu.
Celebrity Twists
Empty House: The Celebrity Housemates entered a semi-furnished house containing only a dining table and bed frames. The housemates must buy the rest of the household items using the Big Coins that they collected from their Ambagan Livestream Task in Kumu during the sequester period. Throughout the pre-season Kumu task, the housemates collected 6,190 Big Coins given by the Online Kumunity, and 1 Big Coin is equivalent to 10,000 Kumu Diamonds.
Kumunity Pantry: Throughout Week 1, the celebrity housemates could only ration and get food supplies they needed through Big Brother's Kumunity Pantry instead of getting daily supplies in the storage room. The Kumunity Pantry would only open during shopping and cooking hours, and the housemates must only take supplies needed within that certain period of the day. The Kumunity Pantry was based on the Community Pantry movement that gained popularity in the country during the pandemic, where neighborhoods set up community pantries to encourage people to trade goods and help each other get food supplies for free.
The Powers: On Day 8, Alexa Ilacad, Brenda Mage, and Eian Rances received three stars as their group's reward for having the most virtual gifts contributed in their pre-season Ambagan Task on Kumu. These three stars contained rewards and powers that they could use at any point in the game. The powers would remain effective throughout the edition but they could only be used once.

Power to Contact Someone from the Outside World: Eian chose a star containing a power that allows him to talk to someone from the outside world.
Power to Automatically Nominate a Housemate: Alexa chose a star with the power that allows her to automatically nominate one housemate for eviction.
Power to Save a Nominated Housemate: Brenda chose a star with the power that allows him to remove any nominee from the nomination's list, including himself.

Nomination Immunity Pass: On Day 23, Madam Inutz received the immunity pass after winning as the most followed celebrity housemate during the Follower Sprint Campaign in Kumu. She could use the immunity pass at any week within the edition, and if used, she would be immune from the nominations.
48-Hour Unli Viewer Voting: Beginning on Week 4, Big Brother gave the viewers an unlimited voting power to save and evict nominees within 48 hours every week.
Celebrity Housemates
Celebrity Task History
Pinoy Big Brother: Kumunity Season 10 - Celebrity Task History
Week
Day(s)
Task Title & Description
Reward
Result
1
Sequester Period
Ambagan Task
Big Brother tasked the first 12 sequestered celebrity housemates to livestream on Kumu throughout their sequester period from October 7 to October 14, 2021. Unknowingly divided into four groups of three, the housemates livestreamed to gain diamonds from the PBB Kumunity in Kumu. Every 10,000 Kumu Diamonds that each housemate collected was equivalent to 1 Big Coin. The diamonds collected were converted into Big Coins after they entered the Big Brother house.
Big Coins
Earned 6,190

big coins

1
Shopping Task
The celebrity housemates entered an empty Big Brother house, with only a dining table and bed frames. To completely furnish their new home, the housemates must buy the household items in the Activity Area. They had to use the Big Coins they previously collected to buy the household items. Divided into groups from their Ambagan Task, each group must enter the activity area and buy as many household items as possible within 100 seconds by taking the corresponding item tags. As an added challenge, the groups must become human containers while shopping around. After 100 seconds, the household items that each group managed to bring to the cashier counter would be the only items they could take into their house.
House's Furniture & Appliances
Bought 38 items
for 5,675 big coins
2-7
Pa-Mine Pa More (eng. Mine it More)
On Day 2, Big Brother gave the housemates their first weekly task and assigned Madam Inutz and Brenda Mage as task leaders. This week, the housemates must become online auctioneers or live sellers and sell 500 clothing items by livestreaming on Kumu. Big Brother also allowed the housemates to set the prices of the items. They would only have 3 hours per day to do their live-selling task. The housemates must sell out all 500 items by the end of the week to win their weekly task. As an additional reward, whatever revenue they'd get from live-selling would go to their chosen charity.
Grocery Budget for Week 2 +
Reward for Chosen Charity

Passed
2
9-14
Takot ang Pinoy (eng. Afraid Pinoy)
On Day 9, Big Brother assigned the three youngest celebrity housemates, Anji, Kyle, and Shanaia, as task leaders for their second weekly task. The housemates must produce a 30-minute horror musical play. They must write the story, audition roles, and make props for their play. Big Brother allowed them to use three originally written songs and three cover songs. Their story must revolve around Philippine mythical creatures, namely the Kapre, Tiyanak, Tiktik, and Sirena. At the end of the week, the housemates would have their live performance. Their musical must have at least 80,000 views from Kumu, Facebook, and Youtube to win their weekly task and get a budget for next week. The Kumunity Decides determined the housemates who would play two of the four main characters as an added twist. Five minutes before their live performance, Big Brother only revealed the Kumunity's decision, Kyle, as Kapre and Alexa as Sirena.
Grocery Budget for Week 3

Passed
3
17-19
Punishment Task
On Day 17, Big Brother kicked the housemates out of his house for violating numerous house rules and sent them to the Punishment Area for three days. Newcomer housemate Benedix became the Punishment Officer and monitored the housemates. The housemates had to endure an uncomfortable cell-like environment as a disciplinary measure. To get acquitted and return to the house, the housemates must accomplish various tasks such as making small wooden blocks for their next weekly task and cleaning the punishment area.
Release from Punishment Area

Passed
19-21
Tumba Table (eng. Tippy Table)
On Day 19, Big Brother assigned KD and John as task leaders for their 3rd Weekly Task and gave the housemates days to practice and plan their tactics. On Day 21, the housemates had their final performance and must balance 170 wooden blocks on a hanging table. Only two housemates at a time could put blocks on the table. If any of the blocks placed fall, the housemates must restart. Big Brother gave the housemates 1 hour to accomplish their 3rd Weekly Task.
Grocery Budget for Week 4

Failed
19
On Day 19, Big Brother gave John a secret task. John must convince four housemates to stay in the Activity Area and practice their Tumba Table weekly task. John and the four housemates he gathered must successfully place 35 wooden blocks on the wobbly hanging table within 2 hours. If John completed his secret task, Big Brother revealed he could help an unnamed housemate get a reward. But, John was unaware that the task's reward was for him, giving him a chance to talk to his fiancee and their son via video call.
Video Call with Family for John

Passed
4
24
On Day 24, Brenda received a fun secret task from Big Brother concerning Alexa's college graduation. Known for constantly making self-deprecating jokes about his accent and proficiency in English, Big Brother made Brenda an English teacher. However, instead of giving a quiz to his housemates, he must pass the test given by the housemates. To complete the task, the housemates must approve of Brenda's English skills. Winning the secret mission would allow Brenda to give Alexa a graduation pictorial inside the Big Brother house.
Graduation Pictorial for Alexa

Passed
25-29
Sa Linyang Kainan (eng. On Line Restaurant)
On Day 25, Big Brother gave the celebrity housemates their 4th Weekly Task, requiring them to open an online restaurant. The housemates must cook and serve two specialty dishes of their choice; one Filipino dish and one international dish. The housemates decided to name their restaurant Pagkaing Big Brother (eng. Big Brother Food). They chose the traditional Filipino dish Sisig and traditional Japanese dish Ramen as their menu. Throughout the week, the housemates must operate their restaurant. The fans and viewers within Metro Manila were allowed and encouraged to pre-order online, and the housemates must properly prepare and serve the orders. Big Brother partnered with Grab Express on having 30 Grab drivers deliver the ordered dishes to the customers throughout the cities in Metro Manila. Two factors would determine the success of the task: The online restaurant must get sold out, and they must accumulate at least 1000 star ratings from the customers. The proceeds of their weekly task and their livestream jam night on Kumu were given to Philippine Mental Health Association.
Grocery Budget for Week 5

Passed
26
On Day 24, In preparation for Samantha's upcoming birthday, Big Brother gave a secret task to Alyssa, Samantha's closest housemate in the house. On Day 26, Alyssa, known for being inexperienced in cooking, received a mission to cook one of Samantha's favorite dishes made by her mom. Big Brother gave her a chance to plan with Samantha's mom. To succeed, Samantha must not discover her cooking, and the dish Alyssa cooked must convince Samantha that it was from her mom. If completed, Alyssa could give Samantha a virtual dinner with her mom as a birthday present.
Samantha's virtual dinner with her mother.

Passed
5
34
On Day 34, Alyssa, Alexa, Anji, KD, and Samantha were tasked to prepare a live music jam streaming and earn 500,000 Kumu diamonds for Madam Inutz pre-birthday celebration; if they decided to have a birthday drink, they must need to earn 1 million diamonds to get the said drinks. KD was given a special task to compose a song for Madam Inutz for which both of them must sing in the live stream.
Madam Inutz's birthday celebration

Passed
6
38
On Day 38, while wearing costumes as if they are human-sized toys, Big Brother tasked Alyssa, Benedix, Eian, Karen, KD, Shanaia, and TJ to not move whenever Brenda was nearby. If any of them moved, or if Brenda somehow got any hint about their secret task, all of them would receive a violation. They were only allowed to move upon Big Brother's signal. Meanwhile, Samantha, who became the fairy godmother of the House, was allowed to move and act as their lookout.
None

Failed
38-42
PBB Arcade
On Day 38, Big Brother turned the housemates into different childhood toys. On Day 39, while wearing their big toy costumes, Big Brother revealed to the housemates that they would live as toys throughout the week for their Weekly Task. At the start of the day, a "magical sound" would be played to signal them that they need to transform into toys. For their weekly task, the housemates would play inside the PBB Arcade. They must earn 100 tickets by playing Big Brother's giant arcade games. However, Big Brother also gave them the Freeze Task. The housemates must freeze and pose in their signature toy poses whenever they hear the sound of a door opening and a person walking in, similar to the Toy Story movies. For every instance, Big Brother would put various distractions inside the house that the housemates must ignore. Any movement from the housemate would result in 1 task violation, and Big Brother would deduct one ticket for every violation they committed.
Grocery Budget for Week 7

Passed
39
On Day 39, for finishing their first PBB Arcade game, Kyle was tasked to give KD the golden ticket they have earned. The ticket will allow KD to see a recorded message from his dad.
Message from home for KD

Passed
40
On Day 40, for finishing their second PBB Arcade game, the male housemates decided to give the second ticket to Kyle and Anji. The ticket will allow the one male and one female housemates to have a date.
A date for two housemates

Passed
7
49
Reunited
During Week 7, using their blocks, each team will need to meet halfway in the activity area using their blocks as pathways. After meeting at the center, all them must build a three layer platform that should be able to fit them all in it. They will not be reunited if cannot hold at the platform for 30 seconds, or finish the task for more than an hour. If they are successful with this task, the housemates will be reunited and they will be able to win their weekly budget.
Grocery Budget for Week 8

Passed
| | | | | |
| --- | --- | --- | --- | --- |
| Key: | Weekly Task | Secret Task | Reward/Luxury Task | Kumu Task |
Celebrity Competition History
Pinoy Big Brother: Kumunity Season 10 Celebrity Competition History
Week
Day(s)
Challenge title and description
Winner/Saved
2
8
1st HOH Awards Night: Battle for Immunity
On Day 8, the housemates went into an "Awards Night" for their HOH Challenge. With Kumunity Decides in Kumu, the viewers have determined the number of steps housemates must take. In the challenge, the player must carry a large invitation card, and walk a red carpet that had 8 Bosu balls, and they must step on the balls to reach the other end of the red carpet. If a housemate fell or touched the ground, the housemate would restart from the starting point. Each time-to-beat score would flash in the house's plasma screen. The housemate with the fastest time would become the Head of Household.

Brenda
4
22
School Trip
On Day 22, for their second HOH challenge, the housemates wore school uniforms and individually went on a school trip in the activity area. The challenge has three stations. In the first station, Pack Your Bags, the player must put heavy books in a bag they had to carry throughout the trip. The second station, Raise the Flag, let the players memorize the correct order, color, and form of the items needed to retrieve in the third stage. The players could raise the flag at any time. In the third station, Check the Lockers, the players must retrieve items and correctly place them on the office desk at the other end of the activity area. The challenge would begin once the school bell rang and would have a time-to-beat scoring. If the player failed to beat the time, they would hear a buzzer sound. The player with the fastest time-to-beat score would win the Head of Household.

TJ
5
29
Pinoy Small Brother House
On Day 29, the housemates competed in a miniature HOH Challenge, where the challenge took place in a miniature replica of the house's garden area. In the challenge, the housemates must stack as many tiny cylinders as possible using the giant tweezers. The cylinders were color-coded, and each color had corresponding points: 1 point for the red cylinder, 2 points for the blue cylinder, and 3 points for the yellow cylinder. Each housemate must individually compete and had a 100 second time limit. The housemate who stacked the cylinders with the highest corresponding points would become the Head of Household. Due to a tie score of 21 points, Big Brother granted the two housemates the HOH title.

Madam Inutz &
Samantha
31-34
Pinoy Big Brother Games 2021
Alyssa, Benedix and Jordan were informed that the housemates will participate in the Pinoy Big Brother Games wherein the housemates, in groups of five, will compete for points in a series of games with the group earning the most points winning immunity for the next nomination round. The three were also assigned as leaders for their respective five person teams. To determine which team will the housemates be part of, except for the team captains, all of the housemates were tasked to do a series physical challenge to complete: 100 jumping jacks, 50 squats, and 30 burpees. After finishing all the exercises, the housemate to finish first will then have to get their corresponding rank badge; the others will also have to follow suit according to their rank. The rank badge will determine their order of when they will have to choose their teams of choice. After the first ranking housemate had chose his or her team, the next in rank will then follow.


Bigateam
7
44
Perfect Punch
On Day 44, each housemate must punch a hanging punching bag in order for it to move towards the HOH mark. They are given 5 attempts to punch the bag. The housemate with the nearest distance to the HOH mark wins the challenge.

Anji
45-49
Tower Building
As the current week's HOH, Big Brother appointed Anji to divide the housemates into two groups that would form Yellow and Blue Teams. Throughout the week, starting from Day 45, the house was divided and the two teams lived separately until Day 49. While living separately, the teams must also build a tower made of small wooden blocks throughout the duration of the week. The team that had the highest tower at the end of the week would get immunity for Week 8's nominations while the losing team would automatically become Week 8's nominees and would face a surprise Double Eviction.


Blue Team
| | | | |
| --- | --- | --- | --- |
| Key: | HOH | Team Immunity | Ligtask |
Celebrity Padaluck History
Week 2

Week 4

Week 5

Week 7

Week

HOH Challenge Advantage


Only 7 out of 8 steps

HOH Challenge Advantage


Only 5 out of 6 items to match

HOH Challenge Advantage


120 instead of 100-second limit

Advantage


TBA

Advantage


TBA
Alexa
Loss
Loss
Loss
Loss
Alyssa
Loss
Loss
Loss
Loss
Anji
Loss
Loss
Loss
Loss
Benedix
Not in House
Loss
Loss
Brenda
Loss
Loss
Loss
Loss
Eian
Win
Win
Win
Loss
Jordan
Not in House
Loss
Loss
KD
Loss
Loss
Loss
Win
Madam Inutz
Loss
Loss
Loss
Loss
Samantha
Loss
Loss
Loss
Loss
Shanaia
Loss
Loss
Loss
Loss
Karen
Loss
Loss
Loss
Loss
TJ
Loss
Loss
Loss
Loss
Kyle
Loss
Loss
Loss
Chie
Loss
Loss
Loss
Albie
Not in House
Loss
John
Loss
Loss
Celebrity Nominations History
Week 1

Week 2

Week 3

Week 4

Week 5

Week 6

Week 7

Week 8

Week 9

Week

Week

Week

Week

Week

Week

Week

Alexa
No
Nominations
No
Nominations
2-John
1-Shanaia
2-Albie
1-Anji
2-Anji
1-Brenda
2-Anji
1-Jordan
2-Benedix
1-Samantha
No Nominations
Alyssa
No
Nominations
No
Nominations
2-John
1-Shanaia
2-KD
1-Albie
2-Chie
1-Karen
2-Anji
1-KD
2-Karen
1-KD
No Nominations
Anji
No
Nominations
No
Nominations
2-Karen
1-John
2-KD
1-Albie
2-Alexa
1-Benedix
2-Alexa
1-Kyle
2-Alexa
1-KD
No
Nominations
Benedix
Not in
House
2-Albie
1-Anji
2-KD
1-Anji
2-Kyle
1-Anji
2-TJ
1-Alexa
No
Nominations
Brenda
No
Nominations
No
Nominations
2-John
1-Alexa
2-Albie
1-KD
2-Alexa
1-KD
2-Kyle
1-Jordan
2-Alexa
1-TJ
Saved
No Nominations
Eian
No
Nominations
No
Nominations
2-TJ
1-Anji
2-KD
1-Shanaia
2-KD
1-Shanaia
2-Anji
1-Jordan
2-TJ
1-Karen
No Nominations
Jordan
Not in
House
Exempt
2-Kyle
1-Chie
2-Alexa
1-KD
2-Samantha
1-Alexa
No Nominations
KD
No
Nominations
No
Nominations
2-Karen
1-John
2-Albie
1-Karen
2-Brenda
1-Karen
2-Kyle
1-Jordan
2-Karen
1-Brenda
No
Nominations
MI
No
Nominations
No
Nominations
2-KD
1-Karen
2-Albie
1-KD
2-Chie
1-Kyle
2-Anji
1-Kyle
2-Alexa
1-KD
No
Nominations
Samantha
No
Nominations
No
Nominations
2-Chie
1-Kyle
2-Anji
1-Alexa
2-Benedix
1-TJ
2-Jordan
1-Kyle
2-TJ
1-Karen
No
Nominations
Shanaia
No
Nominations
No
Nominations
2-Chie
1-Alyssa
2-Albie
1-Alexa
2-Eian
1-Kyle
2-Kyle
1-Alexa
2-Karen
1-Benedix
No
Nominations
Karen
No
Nominations
No
Nominations
2-KD
1-Anji
2-Albie
1-KD
2-Chie
1-Brenda
2-Kyle
1-Shanaia
2-Alyssa
1-MI
 
 
TJ
No
Nominations
No
Nominations
2-Anji
1-John
2-KD
1-Alexa
2-KD
1-Eian
2-Alexa
1-KD
2-Samantha
1-Karen
 
 
Kyle
Not in
House
No
Nominations
2-Shanaia
1-John
2-Benedix
1-Albie
2-Eian
1-KD
2-Anji
1-KD
 
 
Chie
Not in
House
No
Nominations
2-Alexa
1-John
2-Albie
1-Alexa
2-Benedix
1-Karen
 
 
Albie
Not in
House
Exempt
2-Kyle
1-Eian
John
No
Nominations
No
Nominations
2-KD
1-Alexa
| | | | | | | |
| --- | --- | --- | --- | --- | --- | --- |
| HOH | Nominated | Evicted | Immune | Team Immunity | Vetoed/Saved | Big Jump Winner |
Celebrity Viewer Voting History
Week

Nominees

Votes to Save

Votes to Evict

Overall Percentage

3

KD
46.22%
-1.18%
45.04%
Karen
23.55%
-5.11%
18.44%
John
12.12%
-11.82%
0.30%

4

Alexa
17.50%
-0.41%
17.09%
KD
16.34%
-0.26%
16.08%
Anji
19.77%
-11.31%
8.46%
Albie
20.45%
-13.97%
6.48%

5

KD
17.59%
-0.24%
17.35%
Benedix
23.05%
-6.22%
16.83%
Eian
21.70%
-9.58%
12.12%
Chie
16.38%
-5.22%
11.16%

6

Anji
33.39%
-3.36%
30.03%
Alexa
28.22%
-0.24%
27.98%
Kyle
28.52%
-6.27%
22.25%
7
Alexa
39.14%
-2.19%
36.95%
Samantha
30.67%
-2.64%
28.03%
Karen
18.11%
-1.69%
16.42%
TJ
1.25%
-4.30%
-3.05%
8
Anji
%
%
%
Benedix
%
%
%
KD
%
%
%

Madam Inutz

%
%
%
Samantha
%
%
%
Shanaia
%
%
%
Celebrity Game History
#
HOH(s)
Immune
Nominations
Result
Housemate(s)
Vote
Finish
1

Kyle
Entered
Day 5

Chie
Entered
Day 5
2

Brenda

Albie
Entered
Day 12
3

Albie

John

KD

Karen

Benedix
Entered
Day 17

Jordan
Entered
Day 19

John
0.30%
1st Evicted
Day 22
4

TJ

Jordan

Albie

Alexa

Anji

KD

Albie
6.48%
2nd Evicted
Day 29
5

Madam Inutz

Samantha

Benedix

Chie

Eian

KD

Chie
11.16%
3rd Evicted
Day 36
6


Bigateam

Alexa

Anji

Kyle

Kyle
22.25%
4th Evicted
Day 43
7

Anji

Alexa

Karen

Samantha

TJ

TJ
-3.05%
5th Evicted
Day 51

Karen
16.42%
6th Evicted
Day 51
8


Blue Team

Anji

Benedix

Brenda

KD

TBD
%
7th Evicted
Day 57

Madam Inutz

Samantha

Shanaia

TBD
%
8th Evicted
Day 57
Week 1
Twelve celebrities arrived at the season premiere. Madam Inutz, Brenda, TJ, Anji, KD, Shanaia, Samantha, Eian, Alexa, John, Alyssa, and Karen entered the Big Brother house. As each housemate entered the house, they brought their respective money bags containing contributions they earned from their pre-season Ambagan Livestream Task in Kumu. However, the celebrity housemates were surprised to see an almost empty house. Later in the evening, Big Brother revealed the housemates earned 6,190 Big Coins out of their Ambagan Task, and they would use these Big Coins to furnish their new home. Divided into four groups of three, Big Brother only allotted 100 seconds for each group to shop. Only the items they could buy within the limit were the items they could take inside the house. The groups took turns going to Big Brother's shopping area to shop for household items they needed. Eventually, they were able to buy 38 items and spent 5,675 big coins. After putting the furniture inside the house, Big Brother gave them a sumptuous dinner. The celebrities celebrated their first evening as housemates. On Day 2, the housemates woke up to see their dinner leftovers taken away. As the housemates longed for their food supplies, Big Brother opened his Kumunity Pantry, based on the viral Community Pantry movement. In Big Brother's pantry, the housemates could only get the supplies they needed within specific meals of the day. However, the food items were all rationed, and only the assigned housemate could go to the pantry. The Kumunity Pantry would only open during cooking hours of the day. With the Kumunity Decides involved, Alyssa became the first housemate assigned to shop in the pantry and cook for the house. But, the chore was proven a challenge as the volleyball star wasn't adept in cooking, later seeking help from singer Anji, who was also not experienced in cooking. Later that day, Big Brother revealed their first Weekly Task named "Pa-Mine Pa-More", and assigned viral online seller Madam Inutz and comedian Brenda Mage as task leaders. The housemates must sell out 500 clothing items through online live selling on Kumu to win their first weekly task and receive a luxury shopping budget next week. The days that followed proved to the housemates that their weekly task was challenging, even to Madam Inutz, who got famous for her viral online selling livestreams. Some confusion arose among housemates regarding the management of the items. A weak wifi connection and no direct interaction with the buyers also added to their struggles. Big Brother tasked them to fill water in a large container to get a stronger wifi connection, but they must pass on the bucket from the water station to the container by only using their feet. Frictions among the housemates arose, and a confrontation occurred between task leader Brenda and John. The two reconciled days later, but some housemates have started noticing John's strong personality. On Day 5, new housemates arrived, singer-actor Kyle Echarri and dancer-model Chie Filomeno, and both underwent some tasks before entering the house. Kyle became a Human Speaker while Chie was locked up in a lifeguard tower and must solve all the housemates' birth months to unlock herself. At the end of the week, the housemates' weekly task ended, and the housemates succeeded on their first weekly task after selling out 500 items, and the housemates had earned P21,740. As part of their task, their revenue would go to a charity close to them. After a tense deliberation, they chose Karen's suggestion to give their earnings to the female BJMP detainees.
Week 2
Big Brother revealed the overall ranking results of the housemates' Ambagan Livestream Task, which took place on Kumu while sequestering before the season launched. Alexa, Brenda, and Eian's team collected a total of 32,064,900 virtual gifts, thus winning in the Ambagan Task. Big Brother sent the trio into the Confession Room to receive their reward. As winners, they received special powers in the game. Big Brother presented Alexa, Brenda, and Eian three stars containing power advantages and randomly picked their stars. Eian got the chance to contact someone from the outside world. Brenda received the power to save a nominee, including himself, while Alexa received the ability to give an automatic nomination to a housemate. These special powers would last throughout their edition. However, they could only use these special powers once. The first Head of Household Challenge called Awards Night: Battle for Immunity commenced. The housemates must walk the red carpet filled with 8 Bosu balls while holding a large invitation card. The housemates would compete individually, but the time-to-beat score would appear on the house's screen. John's score was initially the time to beat with a time of 2:58 seconds, and the housemates that followed failed to beat John's score until Anji surprisingly defeated John with her 58-second record. Ultimately, Brenda defeated Anji's score with his 40-second record, thus becoming the Head of Household and gaining safety from the first nominations. Big Brother gave the housemates a house party and assigned newcomers Kyle and Chie as party hosts. Excitement filled the house upon discovering they were about to have their first party. The housemates glammed up while the hosts prepared the party's activities. The housemates anticipated alcoholic drinks for the party, but the excitement mellowed when they realized Big Brother didn't give them drinks. Big Brother gave them a fun mini-game instead where they must choose one glass out of a set of drinks. If lucky, a housemate could drink a glass of brandy, but if unlucky, a housemate could drink a glass of fish sauce. The evening got filled with laughter and the housemates bonded throughout the party. The housemates spent their Halloween Week accomplishing their 2nd Weekly Task. For their task, they must produce a 30-minute horror musical play entitled Takot ang Pinoy. They had to audition roles, create a script, make props and compose songs. The three youngest housemates, Anji, Kyle, and Shanaia, became the assigned task leaders, but TJ became the director while KD became the musical director. The housemates auditioned for the roles wherein Brenda became the Tiktik, and Madam Inutz became the Tiyanak. The Kumunity Decides chose Alexa and Kyle for the lead roles of Sirena and Kapre, respectively. On Day 12, Albie entered the house but had a secret task as a creepy talking doll named Ben before entering the house. To enter the house, he could only talk to Samantha as a doll and must plan with her to convince other housemates that Ben was her childhood doll. Samantha must also convince Anji, who was scared of dolls, to hug the creepy doll. The task was successful, and Albie eventually entered the house, greeted by his new housemates. After days of preparation, the housemates completed their 2nd weekly task. They had their live performance at the end of the week and earned 105,994 total views, and thus winning their second weekly task.
Week 3
Week 4
Week 5
Week 6
Week 7
Week 8
Week 9
2nd Kumunity: Adult Edition
Background
Adult Housemates
Template:Philippines 10 Adult Progress
Adult Task History
Template:Philippines 10 Adult Task History
Adult Competition History
Template:Philippines 10 Adult Competition History
Adult Nominations History
Template:Philippines 10 Adult Nominations History
Adult Game History
Template:Philippines 10 Adult Game History
3rd Kumunity: Teen Edition
Background
Teen Housemates
Template:Philippines 10 Teen Progress
Teen Task History
Template:Philippines 10 Teen Task History
Teen Competition History
Template:Philippines 10 Teen Competition History
Teen Nominations History
Template:Philippines 10 Teen Nominations History
Teen Game History
Template:Philippines 10 Teen Game History
Trivia
Pinoy Big Brother: Kumunity Season 10 is the third combined season to have Celebrity, Teen, and Adult housemates in one season, the first being Pinoy Big Brother: All In; followed by Pinoy Big Brother: Lucky Season 7.

This is the fifth Pinoy Big Brother season to air a celebrity edition.
The second Pinoy Big Brother season after Lucky Season 7 to air a celebrity edition as a separate batch. Both seasons began with a celebrity batch.

This season's celebrity edition has the biggest celebrity cast in Pinoy Big Brother with 17 celebrities. Celebrity Edition 1 had 14, Celebrity Edition 2 had 16, while Lucky Season 7's Celebrity Edition had the smallest cast with only 9 celebrity housemates.
This season is the first Pinoy Big Brother season since Celebrity Edition 2 to cast a housemate aged over 35 years old.

This is the first regular/main season since Pinoy Big Brother 2 to change the cast's maximum age limit: from 35 years old to 40 years old.
References
Pinoy Seasons
Civilian
1 · 2 · 3 · 4
Combined
5 · 6 · 7 · 8 · 9 · 10
Celebrity
1 · 2
Teen
1 · 2 · 3 · 4