Wiki Targeted (Entertainment)
Play Sound
Pinoy Big Brother 9, officially called by its edition name Pinoy Big Brother: Connect, is the 9th season and 15th edition overall of Pinoy Big Brother.
Due to the ABS-CBN franchise renewal controversy that led ABS-CBN to cease its free-to-air broadcast operations as ordered by the NTC, this will be the first season to air via cable on ABS-CBN's Kapamilya Channel and via free-TV on A2Z, along with online streaming on various social media platforms. Concurrently, this is the first season of Pinoy Big Brother under a new normal due to COVID-19 Pandemic, resulting to season's casting auditions held entirely online.
Background
Development
As ABS-CBN's flagship channel ABS-CBN Channel 2 ceased its free-to-air broadcast operations as ordered by the NTC on May 5, 2020 [1][2], Pinoy Big Brother along with its other shows, as well as the network's talents found an uncertain future as a result, and fans voiced their dismay of the shut down of the country's largest TV network on social media, especially on Twitter. Many PBB fans panicked over the show's possible cancellation as some of ABS-CBN's shows have been cancelled due to both COVID-19 Pandemic and the network's shut down. However, Pinoy Big Brother immediately assured via its affiliated twitter fan page that the hit reality series will still air its future seasons, and a ninth season is officially set to air soon, although no further information was given. The twitter post stated, "Meron pang Season 9 ang PBB. Babalik po Kami." (eng. "There's going to be a Season 9 of PBB. We will return") [3]
After over a year since Otso ended, ABS-CBN officially announced a new season on October 18, 2020 through the Sunday musical variety show ASAP Natin 'To, which has been airing on Kapamilya Channel since the network launched the new cable channel on June 13, 2020 as a result of ABS-CBN shutdown. On ASAP, Big Brother officially introduced the audition mechanics for the season's online casting as well as the season's official name, Pinoy Big Brother Connect. [4]
Marcus Vinuya, one of the show's head producers explained via Instagram that the edition's name is related to the quarantine and the pandemic the Filipinos and the world have been experiencing throughout 2020, "We have all been quarantined and isolated for the past 7 months. But we are humans! It's time to get connected!"[5]
In an interview with TV Patrol's MJ Felipe, Production Unit Head and the Head Director Laurenti Dyogi revealed that the PBB Production Team are moving at a double time on choosing the rightful cast for this season. Dyogi also stated "This is a very unplanned season. We didn't plan to have 'PBB' now but for some, probably because of fate, and the partnership with Kumu, we were given a chance to have 'PBB," referring to launching of the ninth season in the middle of a pandemic. [6]
Casting
During the announcement on ASAP, it was revealed that the casting for this season will be completely online. Since most provinces as well as Metro Manila, are still under community quarantines, mass gatherings such as open casting calls are prohibited.[7] The online auditions took place on Filipino livestreaming and video sharing app, Kumu from October 19, 2020 until November 11, 2020 wherein applicants had to submit and post a 1-minute audition video using the hashtag #PBBkumuaudition. [8][9] The casting was opened for both teen and adult applicants and just like seasons past, it accepted applicants worldwide. However, age limit for this season's teen applicants were raised from 13-18 to 16-18 years old, while the adults' age limit remained unchanged, which is 19 to 35 years old. On its first week alone, the total number of audition entries already reached a record-breaking 106,820, a record that has never been seen before in the first week of auditions of any Big Brother season. [10] By the end of the auditions on November 11, 2020, a total of 177,524 applicants have submitted their audition entries for this season.[11]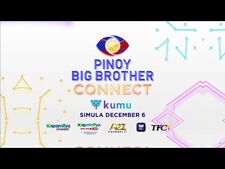 For the official line up, it was initially revealed that only twelve will be chosen to enter.[6] This later changed on November 23, 2020 when production confirmed 15 housemates were accepted for this season and another 3 will come from more than 117 shortlisted hopefuls on Kumu, resulting to a total of 18 housemates for this season's cast.
Cast Reveal
During Episode 16 & 17 of PBB Kumulitan the 14 Housemates appeared in their first online interview. However, their identities weren't fully revealed yet as they appeared in the show wearing masks and opaque faceshields, voices altered, and were only introduced by their monikers.
Beginning on November 30, 2020, the housemates were officially revealed and virtually introduced on various ABS-CBN programs, such as in Showtime and TV Patrol.[12]
Partnership with Kumu
In this season, Pinoy Big Brother announced its partnership with the Filipino livestreaming app, Kumu. The app served as the show's official partner for the show's audition process wherein aspiring auditionees can apply by uploading their audition clips on the app.[13] In PBB MediaCon, Laurenti Dyogi revealed that the app will serve as one of the season's media platforms and will play a larger role throughout the duration of the season.
On November 3, 2020, Pinoy Big Brother began airing a digital show entitled "KUMUnect Tayo Audition Show" on Kumu and Facebook hosted by Bianca Gonzalez, Robi Domingo and PBB Production Head, Laurenti Dyogi. For the first time, the viewers will be able to see Laurenti Dyogi reacting, announcing and discussing some of the aspiring applicants who will proceed for the next round of auditions.[14] The show also mentioned the season's first twist regarding the final casting lineup. On November 11, 2020, Pinoy Big Brother launched "PBB Kumunect sa Pagtulong (PBB Connect to Help)" on Kumu, a special fundraising online livestream hosted by Bianca Gonzalez and Otso - Batch 4 alumni Sky Quizon and Kiara Takahashi. The fundraising livestream aired by the management to gather relief for the victims of the Typhoon Rolly that hit several provinces days prior. Past seasons' housemates appeared in the livestream and helped the fundraising program.[15] On November 14, 2020, the show launched a special talk show entitled PBB KUMUlitan where it features aspiring auditionees as guests. [16]
Multiplatform Coverage
On November 2, 2020 via Pinoy Big Brother's "Big Four Balita" Livestream on Kumu, it was officially announced that this season will be having a multi-platform coverage. Although the previous seasons have been using atleast two platforms already, this is the first time that the series will be fully utilizing a multiplatform coverage, connecting to a wider reach of viewers.
This season will be televised on cable television via Kapamilya Channel and will have a simulcast on free-TV via A2Z. Just like the past 14 seasons, Connect will have its international broadcast via TFC and will air worldwide except in TFC North America. On March 5, 2021 just days prior the finale week, PBB was announced as one of the many ABS-CBN shows to have a simulcast on TV5 beginning on March 8, 2021.
The season will also air on various online streaming platforms such as Kapamilya Online Live, iWant TFC, Kumu, and including Pinoy Big Brother's official social media accounts on Youtube, Facebook, Twitter, and Instagram. [17]
Air Schedule
During PBB MediaCon on December 3, 2020, PBB revealed the schedules and companion shows for this season. It will follow the regular scheduling of Pinoy Big Brother and will air 7 days a week from Mondays to Sundays, wherein weeknights is reserved for Daily Highlights while Saturdays and Sundays are reserved for Evictions and Nominations respectively. Due to its multiplatform coverage, it will simulcast on Kapamilya Channel, A2Z, Kapamilya Online Live, iWant TFC, Kumu, Youtube, and Facebook.[18]
Hosts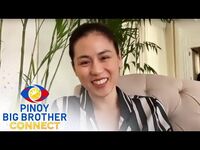 On November 2, 2020 through a special video call where Big Brother conversed with Pinoy Big Brother's main host Toni Gonzaga about her life during COVID Pandemic, Big Brother officially asked Toni Gonzaga to return for this season in which Toni immediately agreed on Big Brother's task for hosting the show again.[19] On the same day via Pinoy Big Brother's "Big Four Balita" Livestream on Kumu, Toni announced that her co-hosts Bianca Gonzalez and Robi Domingo will also return to join her for hosting this season.[20]
On November 11, 2020, PBB Alumni Kim Chiu, Richard Juan, Melisa Cantiveros and Enchong Dee were added among the hosting cast for this season. While Toni, Bianca, and Robi remains the show's main presenters, the four additional co-hosts will have a different hosting duty to cover all platforms, including TV (free TV and cable) and streaming platforms (Kumu, YouTube, and Facebook). Richard Juan will serve as the correspondent for PBB Updates, while Melisa and Enchong will host the companion livestream shows, "PBB Kumunect Tayo: Afternoon Show". Kim, on the otherhand due to her hosting commitments on other ABS-CBN shows will only appear recurringly.
Theme Song
Similarly to Pinoy Big Brother: Otso, Pinoy Big Brother also released a special theme song for Connect entitled Connected na Tayo (eng. We're Now Connected). The song was composed by Otso alumni Jem Macatuno, Shawntel Cruz, Lie Reposposa and Kiara Takahashi, and was released on November 27, 2020.
House Reveal
On December 5, 2020, the house was revealed via House Tour livestream on Kumu with Bianca Gonzalez, Robi Domingo, Melisa Cantiveros, Enchong Dee and Richard Juan. During the livestream, the hosts were given a task to disinfect the house.
Aside from some redecorations done, the house is relatively unchanged and is the same as the Otso house. The mural at the garden area created by the last season's Ultimate Batch finalists was also retained. Safety protocols were also strictly observed for the house to prevent the outbreak of Coronavirus. Some of these protocols as per PBB MediaCon include restriction of random visits, and having specific utensils assigned for each housemate, and single beds for each housemates.
Although the house is the same, this season's house also had minor changes on Garden Area by removing the windowed arches seen from the last season and replacing it with tropical wall murals. In addition, the house have been adorned with various tropical and house plants, reflecting the 2020 "Plantito & Plantita" trend of becoming plant enthusiasts among Filipino households to cope with the pandemic lockdowns. The furniture also used wicker materials native to the Philippines.
House Pictures
Production Changes
Smaller Cast: In contrast to its predecessor Otso, Connect only has 18 housemates. However just like the preceding 4 seasons, this season's cast consists of both adult and teenaged housemates.
Safety Measures against Coronavirus: Due to the Coronavirus Pandemic, special safety measures and protocols will be strictly observed by both the housemates and the production staff.

Remote Hosting: With the exception of Eviction Nights, majority of the hosting will be done remotely on the hosts' homes.
No Live Audience: Similarly to ABS-CBN shows, Connect will not be having any live audience throughout the season.
Lock-In Production: A select group of the PBB Production Team are required to live within the confines of the PBB House throughout the season.
No Random Guest Visits: House visits from outsider guests will be prohibited unless if necessary.
Personal Utensils: The housemates are given their own set of named utensils to use.
Single Beds Only: In contrast to previous seasons with double beds, this season's housemates will have their own bed.

Online Community Connection: This season started a stronger online presence, connecting with Pinoy Big Brother fandom even more, starting from its casting developments to having multiplatform coverage, as well as production of various interactive livestreaming content.
KUMUnity Interaction: This season will be more interactive for the Kumu Community of Kumu.

Kumu Livefeeds: 4 special cameras were installed in four different rooms of the house wherein it will be livestreamed on Kumu, and fans can have access to these four cameras 24/7.
Kumu Room: A special blue room inside the house is dedicated for livestreaming on Kumu whenever the housemates are tasked to livestream by Big Brother for their tasks and challenges.

Multiple Voting Lines: For this season, the viewers were allowed to vote on two voting lines; via SMS and via Kumu. Kumu votes would comprise 70% of the voting while the 30% would come from SMS. On every eviction night, the text votes and kumu votes would be combined.
Twists
Head of Household: Last used in Unlimited, the twist was brought back this season wherein the Head of Household gains safety for the entire week, and will have responsibilities of leading the house in their tasks and other house duties such as budgeting. An HOH Challenge would determine the week's Head of Household.
Launch Night Task: A special task was given to the housemates wherein their failure would result to three housemates being nominated instantly. On the otherhand, winning the task would result to safety for all and the HoHs would only choose three housemates to stay in an Isolation Area.

Instant Nominations: If the housemates failed their launch night task, the Heads of Household would have to nominate three people on Night One. However, this twist was not used after the housemates won their task.

Isolation Area: On the first night, the HoHs were tasked to choose three housemates to stay within an isolation area found at the garden for the entire week. Andrea Abaya, Crismar Menchavez, and Ella Cayabyab were banished to the Isolation Area and were restricted from entering the house. In order to get out from isolation and join the rest of the housemates, the three isolated housemates must accomplish a series of secret tasks together.
Late Entrants: The three housemates would enter the house at a later date as they're still completing their 14-day quarantine during the season premiere. Alyssa Exala and Liofer Pinatacan entered the house on Day 5 while Ralph Malibunas entered on Day 14.
KUMUnity Wildcard Selection: In addition to the original 15 in the cast, viewers were given the power to select 3 more housemates out of 117 wildcard contestants who were tasked to livestream on Kumu. A series of elimination rounds would take place throughout the competition in Kumu until only 3 wildcards remain. These three would then become official housemates.
Save-Evict Voting: The Filipino public were given two choices for eviction voting, vote to save and vote to evict. The nominee with the least combined percentage at the end of the week will be evicted out of the house.
Padaluck: Through Kumu every week, the viewers have the power to give a challenge advantage to a housemate.
Supercharged Challenge: On Week 7, the housemates can challenge, compete and replace the reigning Heads of Households in two Supercharged Challenges. In the competition, a housemate may challenge one of the reigning Head of Households in a duel. If the challenger win the duel against the reigning HOHs, they can dethrone the said HOH and assume their title. The housemates who became HOHs at the end of the second supercharged challenge would reign as Heads of Household for two weeks and would gain special powers.

Supercharged HOHs Nominate:As part of the new power, the Supercharged HOHs would have the sole power to nominate housemates for eviction.
Power to Veto: On Week 8, the two Heads of Households were given a veto medallion each, gaining a responsibility to choose on whether use the power to veto a nominee or not. This twist reappeared on succeeding weeks.

Rank Nominations: On Week 12's Nomination process, the final eight housemates ranked themselves according from most deserving to least deserving. Each rank had its corresponding points; starting at 1st with 1 point all the way to 8th with 8 points. The two housemates who received the two lowest ranks and the most amount of points would be nominated for eviction.
Big Brother's Partners: On Week 13, four participants from Kumu Wildcard Contest and the Online Big Brother House were given a reward to enter the house as Big Brother's guests.
Big 4 Karapatdapat Challenges: Instead of the usual Big Jump, this season introduced a new challenge on Week 13 that would determine the Big Four finalists for the Big Night. The remaining housemates must compete in a series of Karapatdapat Challenges to secure their respective Big Four slots. However, they must defend their Big Four placement to guarantee their place in the Big Night finale.

Big 4 Challengers: At the end of the Karapatdapat Challenge, Big Brother revealed that two among Amanda Zamora, Chico Alicaya and Ralph Malibunas, the three housemates who failed to secure a Big Four slot, would be selected by the viewers to challenge any of the four Big Four slot holders.
Big 4 Challenger Tasks: On the final week, each of the two challengers must select two Big Four finalists they would play against in the Challenger Tasks. In order to successfully seize a Big Four slot, the challengers must defeat both of their chosen opponents. In the event that the challengers defeated their respective Big Four opponents, the Big Four finalist who placed last in the challenge would have his/her slot seized and would be taken over by the challengers, automatically evicting the dethroned Big Four finalist.

Big 4 Real Talk: Apart from the usual interrogation session in front of a panel of evicted housemates, this season's Big Four finalists also get to respond to negative criticisms from social media, as well as answering personal questions from their loved ones.
Big 4 Vote Task: On Day 95, Big Four finalists Andrea Abaya, Jie-Ann Armero, Kobie Brown and Liofer Pinatacan underwent a special challenge wherein for every pencil they would put up on a table, they could gain additional save votes for themselves in the Big Night voting. Each pencil would be equivalent to 50 save votes. In addition to that, Big Brother also gave the Big Four a chance to collect evict votes and give it to fellow housemates, however the Big Four never gave evict votes to each other.
Housemates
Tasks
Pinoy Big Brother: Connect Tasks
Week
Date Given
Date Ended
Task Title & Description
Reward
Result
1

December 6

, 2020
(Day 1)

"Liwanag At

Ligaya ng Pasko"

The 12 housemates who entered on Day 1 must light up a Christmas Tree located inside the Activity Area. To light it up, the housemates must be able to plug the big power cord located in the Pool Area to a socket in the Activity Area within a 10 minute time limit. In addition, they are not allowed to touch the floor and instead must use 13 blocks as platforms to reach the Christmas Tree.

Failure to accomplish the task would result to a launch night nomination where the Heads of Household must nominate 3 housemates.Succeeding the task would save all housemates for the nominations but three housemates must be chosen to stay in an isolation area at the garden for further notice.

No Instant Nominations

Passed

December 8

, 2020
(Day 3)

December 12

, 2020
(Day 7)
"Floating Bridge"

The housemates must build a floating bridge in the pool area and they must successfully cross the bridge without sinking. They were allowed to use up to 15 items but it's up to the housemates on what items they'll be using to build the bridge, and if they would use 15 or less items. However, to determine the number of items they can use, they must undergo a special challenge.

In addition, they were also tasked to livestream by group in Kumu to collect diamonds and the amount of diamonds they collected would be equivalent to the budget for their materials.

Grocery Budget

Passed

December 8

, 2020
(Day 3)

December 10

, 2020
(Day 5)
"Hidden Tablet"

After being chosen by the HoHs to stay in the isolation area, Ella, Andrea, and Crismar must retrieve a tablet hidden somewhere inside the house without the housemates noticing. Unbeknownst to them, Big Brother placed two tablets in the house; one real and one fake, and this tablet would be used to contact the two other housemates who are still in sequester.
Getting out of the Isolation Area (at least 3 passed tasks)

Failed

December 10

, 2020
(Day 5)
"Secret Task 2 & 3"

Ella, Andrea and Crismar must be able to contact Alyssa and Liofer who were still in sequester to collect necessary information about the two new housemates without being noticed by the rest of the house. Only 10 minutes will be allotted for their calls.

The three isolated housemates must also correctly answer Big Brother's quiz about the two sequestered housemates. Their success in this task is equivalent to two task wins and two of them will be freed from the isolation area.


Passed

Passed

December 11

, 2020
(Day 6)
"Secret Task 4 & 5"

With Ella and Andrea as accomplices, Crismar must be able to hide Alyssa and Liofer at the Isolated Area.

Alyssa and Liofer must enter the house and stay in the Isolation Area until further notice without the housemates seeing them around.


Passed

Passed
2

December 17

, 2020
(Day 12)

December 19

, 2020
(Day 14)
"Connect Football"

Played in a pre-determined passing sequence, the housemates must pass a football from one designated area to another designated area until it reaches the last housemate who would strike the ball into the net. The housemates must remain inside their area throughout the task, if the housemates stepped outside their designated area to catch the football or failed to catch it at all, the task would start over from the first housemate. To win the task, the housemates must score a hat-trick or three goals within a 7 minutes and 50 seconds. Chico and Kobie and were assigned as task leaders were responsible for the housemates' football training prior to the final performance of the task.
Grocery Budget

Failed

December 18, 2020
(Day 13)

"Football Juggling"

Chico and Kobie must juggle a football continuously around a designated route. They must complete the route before kicking the ball into the goal post. Each of them must have 50 goals or a total of 100 goals. If the ball touched the ground, went outside the designated pathway or failed to enter the net, the players would go back to the starting point. During the task, Big Brother increased the task's difficulty: they must complete one round of juggling and the player must pass the ball to the other player for him to do the goal. Prior to the task, Chico and Kobie were instructed separately that the task would be a secret sacrifice task for each other and if they win the task they would have a reward in relation to their fathers.
Kobie:
Family Call from Home
Chico:
Father watches task

Passed
3

December 22

, 2020
(Day 17)

December 27

, 2020
(Day 22)
"Human Christmas Tree"

Upon every signal, the housemates must form a Christmas tree using their bodies on designated spots located on different areas of the house and they must be able to make a formation within 1 minute. Each of the Christmas spots vary on how long they were required to stay in formation. Further, if the housemates went outside the designated christmas spots, it would be considered a violation.

The task would start with 7 people but the number of people forming the Christmas tree would increase every day, however the week's nominees must always be part of the formation.

Grocery Budget

Passed

December 23

, 2020
(Day 18)

December 25

, 2020
(Day 20)
"Connect Gifts"


The housemates must make 2020 laps along a circular track while pulling a 632-kilogram Christmas sleigh containing presents for their respective families. Only two housemates must carry the sleigh at every time given within two days. Later on, the laps were decreased to 1545 after they won a Kumu livestream task. Further, the housemates decided to sacrifice some of their gifts by prioritizing Aizyl, Haira, Jie-Ann and Liofer's presents to their families in order to make the sleigh lighter.
Christmas gifts from their families

Passed
4

December 28

, 2020
(Day 23)

January 1

, 2021
(Day 27)
"Jump Rope"

Divided into two teams, each headed by HOHs Ella and Haira, they must choreograph jump rope performances. To succeed, the two teams must be able to perform five jump rope tricks: basic bounce, skier, side swing, the winter, and 2-man jump, and atleast three people must perform every trick in their performances. Each team's success is equivalent to 50% of their grocery budget. The two teams were allowed three mistakes and if a team exceeds to the three allowable mistakes, the team will fail. In addition, the two teams participated in minor challenges and games by Big Brother to gain advantages for their group, with Team Ella winning three more allowable mistakes as their advantage.
Grocery Budget

Passed
5

January 3

, 2021
(Day 29)

January 8

, 2021
(Day 34)
"Pinoy Big Biker"

The housemates must cycle 1000 km using two stationary bikes (500km for each bike) for five days. They are given five hours everyday to perform the task and they must be able to manage the alloted time of the day for them. In random instances, the housemates may encounter roadblocks along the ride and must stop on every roadblock to perform a special task but the 5-hour timer will remain ticking. They must successfully perform the roadblock task for them to return to cycling, otherwise they would receive a penalty.
Grocery Budget

Failed
6

January 11

, 2021
(Day 37)

January 16

, 2021
(Day 42)
"Pinoy Big Digital Film"

Throughout the week, the housemates must produce a digital film depicting the life story of one housemate. The story would be chosen by the task leaders Ralph and Andrea through a story audition process. Andrea and Ralph must also serve as film directors for the task. The housemates must also write scripts and create sets and props from scratch throughout the week. Only 16 hours were allotted everyday for their film's production but housemates under the age of 18 (Haira, Kobie, Kyron and Jie-Ann) were only allowed to shoot for 8 hours.

At the end of the week, the digital film will be evaluated by four judges: Director Theodore Boborol, Season 7 alum Maymay Entrata and Edward Barber, and the fourth being the PBB Kumunity in Kumu. To succeed, the housemates must receive a total grade of 80% and above from the four judges within 24 hours after the film's digital premiere.

Grocery Budget
(received only 71% of the budget as Big Brother's compensation for completing the film production.)

Failed
7

January 17

, 2021
(Day 43)

January 24

, 2021
(Day 50)
Human Batteries

Everytime the season's theme song "Connected Na Tayo" plays, the housemates must physically connect themselves by forming a line and wrapping one's arm into each other's backs. They were given ten seconds to form a line. While connected, only the housemates at both ends of the line are allowed to use their hands. The housemates must remain connected and they would only disband once they hear the "power off" sound. Further, there were only three allowable mistakes for the task. If in any instance that they become disconnected thrice or more, they task would result to failure.
Grocery Budget

Passed
8

January 24

, 2021
(Day 50)

January 31

, 2021
(Day 57)
PBB 3 Bosses

The week began with a house ranking. As a result, the three lowest ranked housemates Gail, Quincy and Jie-Ann became bosses for their respective company. They had the power to select their employees through job interviews. Throughout the week, they must create their own online stores in Kumu wherein they could sell any product except for food in a livestream selling. The three bosses would have the authority to decide their company names and their products as well as managing their respective company affairs. In addition, the companies were required to present a business plan to two guest mentors: Big Winner turned entrepreneurs Nene Tamayo and Slater Young. These two mentors would select the group they would help throughout the week.

After failing to get chosen by the mentors, Jie-Ann's company dissolved and they were absorbed by the remaining companies: Gail's Team Survibin' and Quincy's Team Dreamer Connect. As a result, Jie-Ann automatically received 2 nomination points for losing her company. Each company were allotted fifteen thousand pesos (P15,000) as capital and each must earn a net profit of at least fifteen thousand pesos (P15,000) for them to win their task. In addition to their weekly budget, the group with the highest income would gain immunity from the nominations for the following week, while only the members of the other group would be allowed to be nominated.

Grocery Budget
+
Team Immunity

Passed

January 25

, 2021
(Day 51)
Delika-Dos

The housemates must stack-up a 13-level cup tower on top of a table. Once they were successful in stacking up the cups, they would have to transfer the tabletop to another tabletop without having any of the cups fall down.

If successful, just like in other evictions, only one housemate would be evicted in the week's eviction night. If they failed the task, two housemates would be evicted.

No Double Eviction

Passed
9

January 31

, 2021
(Day 57)

February 7

, 2021
(Day 64)
PBB Big Mailbox

Throughout the week, the housemates would receive mails from a Mailbox in the garden. These mails contain several tasks that they must perform. However, these mails would randomly arrive, and only the housemates whose names shown in random intervals on the plasma screen inside the living area would be allowed to collect the mail. Upon the delivery, the housemates must catch the mail and not let it fall to the ground. To win the weekly task, the housemates must avoid committing more than three mistakes.
Grocery Budget

Failed
10

February 7

, 2021
(Day 64)

February 14

, 2021
(Day 70)
Big Card Castle

The housemates must build a 7-foot castle made out of giant playing cards. To build the castle, the housemates must work in pairs and were allowed to use one hand each and their non-free hands must remain connected while working. In addition, a pair of housemates should be seated on the thrones as the "King and Queen of Hearts" whenever the rest of the housemates build the Big Card Castle around it. The housemates may take turns on sitting at the thrones during the weekly task. The pair who would sit on the throne may only pass through a small passageway incorporated into the castle and they must wear royal robes and crowns while sitting at the thrones.

The task had an allotted 30 minute throne timer, and if any task violations were made, the throne timer would keep running until the housemates have fixed their task violations. At the end of the week, the task would only be a success if the throne timer didn't run out of time, and if the housemates finished building the Big Card Castle with a height of 7 feet.

Grocery Budget

Passed
11

February 16

, 2021
(Day 73)

February 20

, 2021
(Day 77)
Connect the Pipes

After the housemates committed a total of 56 rulebook violations, Big Brother gave them a punishment task wherein they must transfer 56 pingpong-sized balls simultaneously falling from the pipes in the activity area to a container placed at the garden by using only the pipes placed on their respective helmets. Whenever one or more balls were on their pipe helmets, they would not be allowed to move by foot. The housemates must connect their pipe helmets to keep the balls rolling all the way to the garden area. As an added punishment, the housemates were made to wear orange vests with pockets that contain weights. The amount of weights each housemate carried depends on the number of violations each has committed.

Upon reaching the garden area, they must transfer the balls to a giant scale until it tilts to an equilibrium. As each ball represents a household item taken by Big Brother as their punishment, every ball they could successfully transfer would be equivalent to an item Big Brother will return to them. They could only proceed to the activity area upon Big Brother's signal. However, if any of the balls dropped along the way, the housemates would go back to the starting point in the activity area.

None

Failed

February 17

, 2021
(Day 74)

February 21

, 2021
(Day 78)
Big Brother's Accomplices

Chosen by Kumu users, Ella and Andrea would become Big Brother's accomplices for the week. The two would receive several missions through secret letters and they must accomplish these secret tasks without the other housemates discovering. They were allowed only one mistake. At the end of the week, Big Brother revealed that the secret task was actually their weekly task.
Grocery Budget

Failed
12

February 21

, 2021
(Day 78)

February 28

, 2021
(Day 85)
P-pop Week

The housemates must form two P-pop groups for the week; a girl group and a boy group. As P-Pop idol groups, each group must dance and sing three songs: "Ikaw Ang Pinili ng Puso Ko" for the boys, "Pinoy Salamat" for the girls, and "The Light" for a merged performance of all housemates.

Prior to their performance night under Coach Mickey Perz, the housemates experienced a week-long intensive idol training, similar to trainings of most idol groups throughout Asia. To win the task, they need to earn 10 million Kumu diamonds from their music videos and performances.

Grocery Budget

Failed
13

March 4

, 2021
(Day 89)

March 6

, 2021
(Day 91)
Charity Task

Serving both as a reward task and a weekly task, the housemates must transfer 1000 ping-pong balls by fanning these balls from one end to another. However, they must perform these task on a slanted and uneven table. Each ball has a value of P50, and the housemates could give a maximum of P50,000 to "House of Hope Foundation, Inc", a mental health institution in Cagayan de Oro if they could successfully transfer all 1000 balls.

Also, if the housemates reached the maximum donation amount, they would win their weekly task. Otherwise, they would not receive grocery budget for the finale week.

P50,000 for The House of Hope Foundation, Inc
Grocery Budget

Failed


(Won P48,000)


(No Budget)
| | | | | |
| --- | --- | --- | --- | --- |
| Key: | Weekly Task | Reward Task | Secret Task | Punishment Task |
Challenges
Pinoy Big Brother: Connect Competition History
Week
Challenge title and description
Winner/Saved
1
Prior to the season premiere, the first 12 housemates introduced were given a task to livestream on Kumu. Unbeknownst to them, the viewers were also tasked to give Kumu Diamonds to the housemates. The two housemates who collected the most diamonds on their livestreams would eventually become Heads of Household.

Kyron & Mika
2
The housemates playing in pairs must transfer blue water from one container to another using a small bucket within 3 minutes. They can use any part of their body except their hands to carry the bucket. The players with the most amount of water transferred would be the week's Heads of Household.

Kyron & Russu
3
4
The housemates must memorize the correct order of animals flashed in the screen. They then have to traverse an obstacle of platforms to reach the other end wherein they must make sounds of the animals in correct order. If they missed an animal or forget the animal sound to parrot, they are allowed to return to the starting end to see the right order. The two housemates with the fastest time will win Heads of Household.

Ella & Haira
In addition to their Jump Rope Weekly Task, the two teams must also compete for immunity. The winning team would not only provide 50% of their weekly budget, but will also gain safety from nominations. Conversely, the losing team will be the only ones eligible for nomination.



Team Ella
5
The players must transfer a bottle from Point A to Point B with a distance of 14 feet apart using only a small pencil tied and hanged in their back. They must not use their hands or touch the floor while transferring the bottle. Further, the bottle must be standing when the players transfer it to Point B.

Aizyl
6
The challenge begins with the housemates watching a scene from the movie Four Sisters and a Wedding. After watching the scene, they then have to answer a series of questions that require them to identify five items that were seen in the movie scene. Once they identified the item asked, the housemates must pick up the items using a boom microphone stick and put it in the corresponding film strip boxes.

Andrea & Liofer
7
The housemates must collect 300 scattered balls and put it inside a container using their elbows. The two fastest housemates will become Heads of Household.

Ella & Alyssa
In the first supercharged challenge, the challenger and the challenged HOH must form a banner by stapling them together according to the correct order of housemates' ages from youngest to older and must connect it to from one pole to the other. The first to properly place the banner with correct order will be able to occupy the challenged HOHs' throne and will continue to Part 2 of the Supercharged challenge.

Challenger vs. Challenged
Haira vs. Ella
Jie-Ann vs. Alyssa

Ella

Alyssa
In the second part, each player must hit the other player with colored balloons that has corresponding points: blue for 1 point, red for 2 points. To gain a balloon to hit, the players must take turns on flipping a bottle. If a player successfully flipped a bottle, the player may receive a blue balloon, but if the player made two consecutive flips, they may receive a red balloon. The players with the most hits after an hour will win the Supercharged Challenge and will become the Heads of Household for two weeks.

Challenger vs. Challenged
Chico vs. Ella
Andrea vs. Alyssa

Chico

Alyssa
9

Alyssa
10
Game of Hearts - Part 1: Mambobola

Amanda & Jie-Ann
Game of Hearts - Part 2: Huwag Ma-Fall

Chico & Kobie
Game of Hearts - Part 3: Three Timer


Andrea, Liofer,
Quincy, & Ralph
11


Andrea, Chico,
& Jie-Ann
13
Big 4 Karapatdapat Challenge - Part 1: Self Trust

Andrea
Big 4 Karapatdapat Challenge - Part 2: Camaraderie

Jie-Ann
Big 4 Karapatdapat Challenge - Part 3: Resourceful

Liofer
Big 4 Karapatdapat Challenge - Part 4: Steadfast

Kobie
14
1st Big 4 Challenger Task - Transfer the Cup Tower Task
Challenger vs. Challenged
Ralph vs. Andrea, Kobie

Andrea & Kobie
2nd Big 4 Challenger Task -
Challenger vs. Challenged
Amanda vs. Jie-Ann, Liofer

Jie-Ann & Liofer
| | | | | | | | |
| --- | --- | --- | --- | --- | --- | --- | --- |
| Key: | HOH | Supercharged | Karapatdapat | Big 4 Challengers | Immunity | Ligtask | Safety |
Padaluck History
Week 5

Week 6

Week 7

Week 9

Week 10

Advantage in Ligtask


(Distance reduced from 14 ft. to 10 ft.)

Advantage in HOH Challenge


(May answer only 3 instead of 5 questions)

Advantage in HOH Challenge


(May collect only 200 instead of 300 balls)

Advantage in Ligtask


(Only 3 letters to flip instead of 4 letters)

Advantage in Safety Challenge


(Distance reduced from 9 ft. to 8 ft.)

Advantage in Safety Challenge


(Only 5 layers of metal instead of 6)

Advantage in Safety Challenge


(Only 10 pictures to hit instead of 11)
Liofer
Ineligible

Loss
Loss
Loss
Loss
Loss
Loss
Andrea
Loss
Win
Loss
Ineligible

Loss
Loss
Loss
Kobie
Win
Loss
Loss
Ineligible

Loss
Loss
Ineligible

Jie-Ann
Ineligible

Loss
Loss
Ineligible

Loss
Ineligible

Ineligible

Amanda
Not in House
Ineligible

Win
Ineligible

Win
Ineligible

Ineligible

Ralph
Loss
Loss
Loss
Loss
Loss
Loss
Loss
Chico
Ineligible

Loss
Loss
Ineligible

Loss
Loss
Ineligible

Ella
Ineligible

Loss
Loss
Ineligible

Loss
Loss
Loss
Quincy
Not in House
Ineligible

Ineligible

Loss
Loss
Win
Gail
Not in House
Win
Loss
Win
Win
Alyssa
Ineligible

Loss
Loss
Loss
Loss
Win
Loss
Kyron
Ineligible

Loss
Loss
Loss
Aizyl
Loss
Loss
Loss
Haira
Loss
Loss
Loss
Crismar
Loss
Loss
Mika
Loss
Russu
Justin
Nominations History
Week 1

Week 2

Week 3

Week 4

Week 5

Week 6

Week 7

Week 8

Week 9

Week 10

Week 11

Week 12

Week 13

Week 14

Rank

Big Jump

Day 92

Final

Liofer
Not in
House
No
Nominations
2-Mika
1-Jie-Ann
2-Crismar
1-Alyssa
2-Mika
1-Crismar
2-Aizyl
1-Alyssa
Ineligible

2-Ella
1-Amanda
Vetoed
No
Nominations
Saved
No
Nominations
2-Ella
1-Quincy
13-Rank 1
Win
Win
Winner
Andrea
No
Nominations
No
Nominations
2-Aizyl
1-Alyssa
2-Crismar
1-Liofer
2-Crismar
1-Haira
2-Aizyl
1-Ella
Ineligible

Vetoed
2-Ella
1-Gail
No
Nominations
Saved
No
Nominations
2-Ella


1-Quincy

35-Rank 3
Win
Win
Runner-Up
Kobie
No
Nominations
No
Nominations
2-Justin
1-Alyssa
2-Mika
1-Crismar
2-Crismar
1-Mika
2-Ella
1-Jie-Ann
Ineligible

2-Ella
1-Gail
No
Nominations
Saved
No
Nominations
2-Quincy
1-Ella
39-Rank 6
Win
Win
Third Place
Jie-Ann
No
Nominations
No
Nominations
2-Aizyl
1-Ella
2-Russu
1-Crismar
2-Crismar
1-Haira
2-Ella
1-Aizyl
Ineligible

Vetoed
2-Ella
1-Aizyl
No
Nominations
Saved
No
Nominations
2-Ella
1-Quincy
22-Rank 2
Win
Win

Fourth Place

Amanda
Not in
House
Exempt
Ineligible

2-Ella
1-Ralph
No
Nominations
Saved
No
Nominations
2-Ella
1-Kobie
51-Rank 7
Loss
Loss
 
 
Ralph
Not in
House
Exempt
2-Aizyl
1-Russu
2-Mika
1-Kobie
2-Aizyl
1-Haira
Ineligible

2-Aizyl
1-Ella
No
Nominations
Saved
No
Nominations
2-Ella
1-Quincy
36-Rank 5
Loss
Loss
 
 
Chico
No
Nominations
No
Nominations
2-Mika
1-Crismar
2-Crismar
1-Mika
2-Mika
1-Crismar
2-Alyssa
1-Ella
Aizyl
Ella
2-Andrea
1-Aizyl
No
Nominations
Saved
No
Nominations
2-Ella
1-Quincy
35-Rank 3
Loss
 
 
Ella
No
Nominations
No
Nominations
2-Liofer
1-Aizyl
2-Crismar
1-Russu
2-Crismar
1-Kobie
2-Aizyl
1-Crismar
Ineligible
2-Andrea
1-Jie-Ann
No
Nominations
No
Nominations
2-Quincy
1-Kobie
57-Rank 8
 
 
Quincy
Not in
House
Exempt
2-Ella
1-Ralph
No
Nominations
Saved
No
Nominations
2-Ralph
1-Ella
 
 
Gail
Not in
House
2-Kobie
1-Jie-Ann
No
Nominations
No
Nominations
 
 
Alyssa
Not in
House
No
Nominations
2-Aizyl
1-Crismar
2-Crismar
1-Aizyl
2-Crismar
1-Haira
2-Aizyl
1-Ella
Kyron
Haira
2-Ella
1-Aizyl
No
Nominations
No
Nominations
 
 
Kyron
No
Nominations
No
Nominations
2-Aizyl
1-Jie-Ann
2-Russu
1-Crismar
2-Kobie
1-Mika
2-Aizyl
1-Chico
Ineligible
2-Ella
1-Aizyl
No
Nominations
 
 
Aizyl
No
Nominations
No
Nominations
2-Mika
1-Andrea
2-Crismar
1-Mika
2-Crismar
1-Mika
2-Crismar
1-Kyron
Ineligible
2-Amanda
1-Ralph
 
 
Haira
No
Nominations
No
Nominations
2-Aizyl
1-Alyssa
2-Crismar
1-Russu
2-Crismar
1-Kobie
2-Aizyl
1-Ella
Ineligible
 
 
Crismar
No
Nominations
No
Nominations
2-Aizyl
1-Haira
2-Russu
1-Kyron
2-Haira
1-Kobie
2-Ella
1-Aizyl
 
 
Mika
No
Nominations
No
Nominations
2-Aizyl
1-Liofer
2-Russu
1-Aizyl
2-Haira
1-Kobie
 
 
Russu
No
Nominations
No
Nominations
2-Justin
1-Mika
2-Crismar
1-Aizyl
 
 
Justin
No
Nominations
No
Nominations
2-Aizyl
1-Haira
 
 
| | | | | |
| --- | --- | --- | --- | --- |
| Key: | Winner | Runner-up | Finalist | Evicted |
| | | | | | | |
| --- | --- | --- | --- | --- | --- | --- |
| HOH | Dethroned HOH | Nominated | Immune | Vetoed/Saved | Ligtask Winner | Big Jump Winner |
Viewer Voting History
Week

Nominees

Viewer Votes from Kumu
70% of the overall voting
Viewer Votes from SMS
30% of the overall voting

Result

Votes to Save
Votes to Evict
Combined Votes
Votes to Save
Votes to Evict
Combined Votes
Overall Percentage

Week 3

Aizyl
15.42%
-1.52%
13.90%
14.32%
-4.63%
9.69%
12.64%
Mika
23.73%
-17.83%
5.90%
11.75%
-14.50%
-2.75%
3.30%
Justin
23.71%
-17.79%
5.92%
17.16%
-37.65%
-20.49%
-2.00%

Week

Nominees

Votes to Save

Votes to Evict

Overall Percentage

Week 4

Aizyl
16.31%
-1.41%
14.90%
Crismar
23.01%
-16.14%
6.87%
Russu
23.76%
-19.37%
4.39%

Week 5

Haira
15.34%
-0.55%
14.79%
Kobie
15.16%
-0.60%
14.56%
Crismar
18.01%
-15.03%
2.98%
Mika
18.39%
-16.83%
1.66%

Week 6

Ella
14.56%
-1.62%
12.94%
Aizyl
8.76%
-1.29%
7.47%
Alyssa
21.54%
-18.25%
3.29%
Crismar
18.29%
-15.69%
2.60%

Week 7

Ella
26.70%
-9.83%
16.87%
Kyron
10.24%
-0.86%
9.38%
Aizyl
13.33%
-5.20%
8.13%
Haira
18.83%
-15.62%
2.61%

Week 8

Ella
31.76%
-19.08%
12.68%
Aizyl
30.89%
-18.28%
12.61%

Week 9

Gail
17.64%
-1.46%
16.18%
Ralph
27.74%
-14.04%
13.70%
Kyron
25.15%
-13.96%
11.91%

Week 10

Ella
36.03%
-12.81%
23.22%
Gail
20.19%
-12.77%
7.42%
Alyssa
8.47%
-9.73%
-1.26%

Week 11

Ella
20.71%
-6.34%
14.37%
Kobie
13.76%
-1.75%
12.01%
Ralph
20.61%
-13.80%
6.81%
Quincy
14.44%
-8.60%
5.84%

Week 12

Amanda
45.04%
-6.29%
38.75%
Ella
19.65%
-29.02%
-9.37%

Week 13

Amanda
32.68%
-0.89%
31.79%
Ralph
16.29%
-10.63%
5.66%
Chico
16.69%
-22.81%
-6.12%

Week 14

Liofer
33.39%
-12.49%
20.90%
Andrea
30.69%
-14.09%
16.60%
Kobie
3.79%
-0.43%
3.36%
Jie-Ann
3.89%
-1.23%
2.66%
Game History
#
HOH(s)
Ligtask/Big Jump
Nominations
Result
Housemate(s)
Vote
Finish
1

Kyron

Mika

Alyssa
Entered
Day 5

Liofer
Entered
Day 5
2

Kyron

Russu

Ralph
Entered
Day 14
3

Aizyl

Justin

Mika

Justin
-2.00%
1st Evicted
Day 22
4

Ella

Haira

Aizyl

Crismar

Russu

Russu
4.39%
2nd Evicted
Day 29
5

Aizyl

Crismar

Haira

Kobie

Mika

Mika
1.66%
3rd Evicted
Day 36
6

Amanda
Entered
Day 36

Andrea

Liofer

Aizyl

Alyssa

Crismar

Ella

Crismar
2.60%
4th Evicted
Day 43
7

Quincy
Entered
Day 43

Ella

Alyssa

Chico

Aizyl

Ella

Haira

Kyron

Haira
2.61%
5th Evicted
Day 50
8

Gail
Entered
Day 50

Aizyl

Andrea

Ella

Jie-Ann

Aizyl
12.61%
6th Evicted
Day 57
9

Alyssa

Gail

Kyron

Liofer

Ralph

Kyron
11.19%
7th Evicted
Day 64
10

Alyssa

Amanda

Andrea

Alyssa
-1.26%
8th Evicted
Day 71

Chico

Ella

Gail

Jie-Ann

Kobie

Liofer

Quincy

Ralph

Gail
7.42%
9th Evicted
Day 71
11

Andrea

Chico

Jie-Ann

Ella

Kobie

Quincy

Ralph

Quincy
5.84%
10th Evicted
Day 78
12

Amanda

Ella

Ella
-9.37%
11th Evicted
Day 85
13

Andrea

Jie-Ann

Amanda

Chico

Ralph

Andrea, Jie-Ann, Kobie, Liofer
Big Jump Winners
Big 4 Finalists
Day 92

Chico
-6.12%
12th Evicted
Day 92

Kobie

Liofer

Amanda
Fake Evicted
Big 4 Challenger
Sent to Kumu Room
Day 92

Ralph
Fake Evicted
Big 4 Challenger
Sent to Kumu Room
Day 92
14

Andrea

Kobie

Ralph

Ralph
Lost Challenger Task
13th Evicted
Day 95

Amanda

Jie-Ann

Liofer

Amanda
Lost Challenger Task
14th Evicted
Day 95

Jie-Ann
2.66%
Fourth Place

Kobie
3.36%
Third Place

Andrea
16.60%
Runner-Up

Liofer
20.90%
Big Winner
Week 1
The first week of the season began during the grand kick-off premiere wherein 12 housemates entered the house. Right away, Big Brother unleashed his first twist for the season after the first two housemates, Kyron and Mika entered the house via Confession Room. Big Brother announced the two housemates as the Heads of Household and will be safe from nominations after he revealed that they were the housemates with the highest collected diamonds from their Kumu Livestream task prior to their entry inside the house. In addition, they were given responsibility to lead the house's first task. If the house failed, the two Heads of Households would have to instantly nominate three people for eviction, and if successful, the nominations would be cancelled and the housemates would be safe. The housemates managed to succeed in their first task, therefore avoiding the instant nominations. However, Big Brother tasked Mika and Kyron to choose three housemates to stay in an Isolation Area at the Garden for the entire week. After a short discussion, the HOHs chose Ella, Andrea and Crismar to stay inside the isolation area. While the three isolated housemates deal with harsh weather outside, the rest of the housemates inside the house began bonding with each other. Justin, Kobie and Chico have bonded easily throughout their first days in the house.
On Day 2, the housemates were given their first weekly task. With the HOHs as task leaders, they were required to build a floating bridge from scratch in the Pool Area and they must cross it without the bridge breaking or sinking. Unknown to the housemates, Ella, Andrea and Crismar were given a series of secret tasks to accomplish for them to get out of the Isolation Area and join the rest of the group. Their first secret task involved finding a hidden tablet inside the house without being noticed nor seen by the housemates. Two hidden tablets were hidden but only one was real. The three isolated housemates took the opportunity to do their task while the rest of the housemates were building their bridge in the Activity Area. At first, the isolated housemates were able to find a tablet easily, albeit fake. Unsure if they found the right tablet, the three decided for Ella to return inside the house and find the other tablet. However, Mika was able to spot Ella inside when the latter hid behind a curtain, which led to the failure of their task. Big Brother then connived with Chico to find the real tablet for the isolated housemates to continue with their mission. After receiving the real tablet from Chico, the isolated housemates were able to contact Alyssa and Liofer who were still in sequester and they must gather personal information about them for 10 minutes without being seen or heard by the rest of the house. The three managed to succeed in this task which is equivalent to two task wins and two of them would be able to get out from isolation. On Day 5, with Crismar left behind in the Isolation Area, he must do the final tasks alone; to hide Alyssa and Liofer from the unsuspecting housemates. With Ella and Andrea as his accomplices, the trio were able to succeed in hiding Alyssa and Liofer from the housemates. Their secret mission turned out to be a success and the mission was made known to the housemates by Big Brother, officially ending their time inside the Isolation Area.
On Day 6, the housemates were alerted by a loud alarm, not knowing what it was for, they thought it was an emergency but it turned out to be an announcement for rulebook violations. Justin, Russu, Kyron, Andrea, Ella, Aizyl, Kobie and Crismar committed numerous violations in the house; such as talking about audition process, nominations, and inappropriate jokes. Big Brother gave a disciplinary action among the violators by making them a human tambourine. Inside a huge hoop, they must walk around the house and ring the bells over their bodies and those on the hoop. After noticing that the housemates weren't taking the punishment seriously, an angry Big Brother added extra punishments for them by making them clean the house while carrying the hoop. He later told the housemates to stay in the living room and stand with one foot while holding the hoop up above their heads. After the first few hours, Big Brother revealed that they could get out from their punishment by voting off one another. Justin became the first one to stop doing the punishment after fellow violators voted him for being the tallest. Andrea was second as she was the shortest. After 3 hours, Aizyl and Ella were voted off by the remaining male violators so they could take a rest, but the girls were persistent to prove that they could do the punishment without surrendering. Big Brother had to tell them to stop instead. After six hours, the punishment ended when only Kyron and Russu remained.
On Day 7, their first weekly task's final day arrived and they must place the bridge they made on the swimming pool. Prior to the final performance, Big Brother assigned the Heads of Household to rank the housemates according to their contributions in the task. Mika, Crismar, Ella, Andrea, Haira, Jie-Ann, Liofer and Alyssa were ranked the lowest as most of the building and carpentry were handled by the male housemates. Big Brother then revealed that the 8 lowest ranked housemates would be the ones to cross the bridge. Minor complications in their floating bridge have been noticed by some of the housemates but they were able to patch things up before putting it in the pool. The 8 housemates initially crossed the bridge individually but Big Brother required them to go back to their starting position by crossing the bridge altogether, causing the other housemates to worry. They eventually crossed the floating bridge without sinking it, therefore they were successful in their first weekly task. Afterwards, the housemates were given the signal from Big Brother to budget their winning grocery allowance for the following week, with Alyssa, being the accountant, leading the budgeting.
Week 2
Following their first weekly task victory, various opinions, thoughts and emotions filled the entire house causing a slight divide between the male and female housemates. This eventually led to an open forum where the housemates opened up their issues over the recently concluded weekly task. Gender Inequality became a hot topic after the female housemates argued that they felt disrespected over the male housemates' decision to handle most of the bridge building work. As the weekly rankings revealed majority of the girls being ranked the lowest, they felt that they were restricted to contribute more to the task. The latter defended that they just didn't want the girls to get hurt, but it was counterattacked by the females by saying they could also do masculine activities and getting hurt did not matter. The issue eventually narrowed down to Russu when Aizyl confronted him for taking all the work instead of accepting help from others. Russu eventually apologized but took things very emotionally. The house meeting ended peacefully yet nonetheless, some factions began forming right after as Justin, Mika, Alyssa, Andrea and Crismar formed the "Council of Opinions", while Chico and some of his fellow male housemates began feeling distrust over some people in the house.
The housemates then continued with their Head of Household game to select the next HOHs for the week. The housemates were paired up for the challenge and they were given the chance to choose their partners. On their first try, they individually shared who they wanted to choose as partners, but only two pairs were matched, and the rest had to find partners again. The pairs for this week consisted of Mika & Andrea, Chico & Kobie, Haira & Jie Ann, Kyron & Russu, Alyssa & Justin, Aizyl & Ella, and Liofer and Crismar. The players must transfer water from a container to another by using a small bucket, but they weren't allowed to use their hands. The pair who was able to transfer the most water would win the challenge. Eventually, Russu managed to win his first HOH while his partner, Kyron was able to secure his title as HOH for another week.
The following day, Big Brother gave the housemates a house meeting where they talked about their fathers and their relationship with them. Most of housemates turned emotional upon sharing their moments with their fathers, especially Kobie who shared the emotional struggles he felt growing up in a divorced family, as well as feeling heartbroken upon knowing his dad did not support his choice of joining Pinoy Big Brother. Later, Big Brother announced their second weekly task called Connect Football and they must make three goals or one hat-trick to win the task. Chico and Kobie who were football players were assigned to lead this week's task and coach the housemates throughout the week. During the task, Chico and Kobie were given a secret reward task for each other. They must juggle footballs around a certain route then strike a goal to win. If Chico wins the task, he will give Kobie a chance to receive a call from his father, while Kobie's success in the task would give Chico's father a chance to virtually watch their weekly task live. Both were successful and eventually received their rewards. Kobie received the call from his dad in the Confession Room where his dad resolved the misunderstanding between them. Their second weekly task was held at the end of the week and must be done in 7 minutes and 50 seconds only. At first the housemates were able to pass the football around successfully, earning them 1 goal, but the housemates had a difficult time to earn the second and third goals. They eventually ran out of time to complete a hat-trick, which led to losing their second weekly task and having no grocery budget for Week 3.
On Day 14, the first nominations of the season were held and the housemates entered the confession room individually cast their votes. Ralph who had been quarantining for 14-days finally entered the house. Since Ralph entered after the housemates casted their votes, he was exempt from nominations.
Week 3
On Day 15, the announcement of nominees took place and since Kyron and Russu were Head of Households from last week, they were immune from eviction. The first set of nominees for this season was revealed: Aizyl with 17 nomination points, Mika with 7 points and Justin with 4 points. Afterwards, the nominees were given a chance to have a speech, pleading to the viewers on why they must stay for another week.
Week 4
Week 5
Week 6
Week 7
Week 8
Week 9
Week 10
Game of Hearts Challenge - Part 1
Game of Hearts Challenge - Part 2
Game of Hearts Challenge - Part 3
Week 11
Week 12
Week 13
Right after Ella's eviction, Big Brother gathered the remaining seven housemates in the garden where the housemates discovered seven luggage bags. Confused, the housemates speculated on a surprise eviction while Amanda felt that the Big Four phase has arrived. Big Brother then hinted to the housemates about a risky challenge with a consequence that may affect all their progress in the house. He began testing the housemates' self-trust by asking them if they would accept the challenge or refuse it. If they choose to play for the challenge without even knowing what's at stake, they may take a luggage bag and talk to Big Brother in the confession room. Unknown to them, the first Big Four Karapatdapat challenge has begun. Individually, the housemates started taking luggage bags. They went to the confession room, only to face an unconvinced Big Big Brother. Kobie, Amanda, Liofer, and Andrea remained convinced to take the challenge for themselves despite Big Brother's objective responses. Ralph, Jie-Ann, and Chico felt unsure after talking to Big Brother. While Ralph and Jie-Ann eventually accepted the challenge, Chico refused. The challenge began the following day, challenging them to throw their picks on top of a tall pole within the allotted time of 10 hours. Whoever had the most picks placed on top after the 10-hour limit would win the challenge. The players started playing cheerfully, supporting each other while learning to aim correctly. However, as time passed, exhaustion began to kick in. Yet the players didn't give up until the 10th hour. After the challenge, Andrea emerged as the challenge winner. As the housemates left the Activity Area, Big Brother revealed a platform in the garden. He then announced Andrea's reward would be a spot in the Big Four. Moments later, Big Brother also revealed the three other Big Four platforms, announcing that the viewers won't have the power to select the remaining Big Four. Instead, the decision would fall on their hands as they win three more Big 4 Karapatdapat Challenges.
The next day, Jie-Ann and Liofer received an advantage after having a majority vote on who has camaraderie throughout the season. In the second Karapatdapat Challenge, the housemates had 20 balls in a container. To lessen their balls, they must transfer them to another housemate's container using a narrow and long paddle. After ten rounds, Amanda and Jie-Ann advanced to the second level. Jie-Ann eventually emerged as the winner of the second Karapatdapat Challenge, claiming the second Big Four spot. With only two spots left, the pressure to get a slot began kicking in for the remaining players. Before the third challenge, the housemates voted on who they felt was the most strategic and resourceful in the house. Unlike the last advantage, the remaining players began voting for themselves. In the end, Liofer managed to get an advantage as he received the most votes. The third challenge tested the housemates' resourcefulness by requiring them to build a pole that they would use to get the puzzle blocks found in the middle of the pool. Upon retrieving the puzzle blocks, they must successfully form a three-story tower using the blocks with unequal lengths. If needed, the players could also freeze a fellow player and hit their opponent's tower. The challenge went on, Liofer and Chico found themselves head to head. Ultimately, Liofer won the challenge and occupied the third Big Four slot, causing an emotional breakdown from a frustrated Chico. With only one spot left, Amanda, Chico, Kobie, and Ralph's hunger to make it to Big Four went stronger. Before the final challenge, the housemates and the Kumu houseguests voted for who they think is the most steadfast among the remaining players. After Chico and Kobie received the most votes, they received an advantage in the final challenge. In the challenge, Big Brother tested their endurance by standing on four round platforms, each with varying diameters. The challenge would begin at the largest, and for every hour, the players would step into the next platform until they reached the smallest one. The last player standing would win the last Big Four slot. After long hours of standing steadily, Kobie won the challenge, completing the season's Big Four.
After Kobie got the final Big Four slot, Amanda, Chico, Ralph emotionally accepted their fate in the game and prepared themselves for their eventual eviction. On the other hand, Big Brother opened the voting lines for viewers to select two housemates among Amanda, Chico, and Ralph to become Big Four Challengers. These two Big Four Challengers would gain a second shot and have the chance to seize a Big Four slot from the current Big Four finalists.
The next day, Amanda, Chico, and Ralph expected a regular triple eviction. The eviction night went on, and the three left the house leaving the Big Four inside. However, while the three housemates were inside the Confession Room expecting a goodbye message from Big Brother, he instead revealed his new twist, leaving them shocked. At the end of the night, Toni announced Amanda and Ralph as the Big Four challengers, and temporarily moved to Kumu Room. Unfortunately, Chico failed to gain enough votes and was ultimately evicted out of the house.
Week 14
After an emotional fake triple eviction, Big Brother immediately announced his final twist to the Big Four finalists, a twist that might seize their Big Four slots away from them. Scared and confused, speculations arose regarding the people who would challenge them. Initially, everyone speculated on a second house. It wasn't long until Big Brother teased his Big Four finalists by playing vindictive messages from all evicted housemates and why they deserved Big Four more than its current holders. On the other hand, Amanda and Ralph initially felt confusion and guilt upon discovering their new role as Big Four Challengers. Despite that, the two new challengers were motivated to use their second chance on taking a Big Four slot for themselves. Ralph chose to challenge Andrea and Kobie, while Amanda chose Jie-Ann and Liofer. The next day, the players faced their respective challenges. The challenge for Ralph, Andrea, and Kobie was called "Transfer Cup Tower" and was a combination of the second Ligtask challenge, the first Supercharged Heads of Household challenge, and the Deli-kados challenge. The challenge for Amanda, Jie-Ann, and Liofer was called "Catapult Pipe" and was a combination of the Trios task in the fourth Ligtask challenge, the Connect the Pipes punishment task, and the first Game of Hearts challenge. For them to seize a Big Four spot, the two challengers must successfully defeat both of their opponents. If the challengers failed to rank first in their challenge, the Big Four finalists would remain in place, evicting the challenge. However, if the challenger wins, the finalist who ranked third in the challenge would lose his/her Big Four placement.
On Day 95, Toni revealed the results to the housemates. Ralph and Amanda failed to beat both their respective opponents, therefore losing claim in the Big Four spots. With the final Big Four in place, they underwent the character assessment phase and faced the "Big 4 Real Talk". The housemates faced controversial questions from evicted housemates and their loved ones. They also responded to negative comments from the public. The Big Four passed the assessment by truthfully answering all the controversies and criticisms thrown at them. The next day, Big Brother gave the housemates a Big Night advantage by letting them put up color-coded pencils to form a Big Brother logo. The colors correspond to the color of their Big Four platforms. Each of the colored pencils was equivalent to 50 save votes, and for every pencil that they would up, the corresponding votes would add up to their Big Night votes.
Big Night
After 99 days, the season came to an end, and the Big Four reached the season's Big Night which was dubbed as Pinoy Big Brother: Connect at the Big Night. Due to the pandemic, the season's Big Night was held just in front of the Big Brother House as opposed to the tradition of bringing Big Night finales in large venues. However, that did not lessen the spectacle of the evening. The show featured performances from celebrity guests, half of which were Pinoy Big Brother alumni. Virtual audiences also joined the Big Night and were connected throughout the evening. After a set of performances, the evening continued with the interviews of the Big Four, and for the first time in PBB history, the Big Four directly answered controversial questions from fans.
The housemates were coded with H, O, M, and E throughout the evening until the announcement. After the voting has closed, the save votes and evict votes were tabulated. Housemate O garnered 2.66%. Housemate E garnered 3.36%. Housemates H and M went head to head with 20.90% and 16.60% throughout the night as both got the highest save votes while gathering the highest evict votes. But in the end, it was Housemate M who remained in 1st place. The former Big Winners made a brief appearance during the delivery of the result envelopes.
The announcement began with the 4th Big Placer, and it was Jie-Ann who got the lowest combined votes with 2.66%. She received P200,000 pesos as her cash prize. Kobie followed as he became the 3rd Big Placer after getting 3.36% of the combined votes and received a P300,000 peso prize. The announcement continued with the final two, and Toni officially declared Andrea as the 2nd Big Placer after garnering 16.60% of the combined votes. Andrea left the house to receive her P500,000 peso prize.
After an eventful 14 weeks, Liofer was hailed as the Big Winner of the season, joining a long line of Big Winners in Pinoy Big Brother history. He left the house via the house's terrace and was welcomed by walking down a golden staircase attached to the terrace. He won a P1,000,000 peso cash prize and a house and lot from PHirst Park Homes.
Controversies
Justin Dizon's Comments
On Week 2, Twitter users accused Justin Dizon of discriminating Jie-Ann Armero after a live feed clip was taken out of context and went viral on Twitter wherein it showed Justin bantering with Jie-Ann about the latter's refusal to take a bath daily. Their sarcastic bantering to each other was taken out of context and were translated as offensive instead and the viewers immediately called out Justin for his jokes that fans viewed as elitist and insulting, such as his remark "...sabagay, marumi ka nga pala (...well, you're dirty anyway)"'. This went viral after the episode where Jie-Ann explained to Big Brother in the Confession Room that the reason for her unusual bathing habits was due to their town's limited water supply. This issue went political with some Twitter users questioning Sarangani province's governance. The controversial livefeed clip was given context few episodes later with Justin and the rest of the house finally understanding the reason behind Jie-Ann's quirks and acknowledging that the jokes they made on her was insensitive and ignorant on their part. In spite of Jie-Ann mentioning that she didn't find any of the jokes as offensive, Justin still apologized for his actions. [21]
Pro-ABSCBN Shutdown Housemates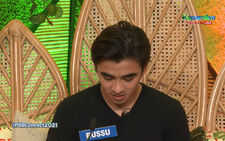 Even before the season began, a controversy went viral during the casting period that there were some auditionees who supported the ABS-CBN Network's closure back in May 2020.[22]
On Week 4, the controversy resurfaced again when some of the housemates have confessed that they indeed supported the shutdown and were in favor for ABS-CBN's airing franchise not be renewed. These housemates, namely Russu Laurente and Crismar Menchavez, revealed to their fellow housemates in some of their conversations that they previously supported the idea. Laurente admitted that he posted pro-shutdown statements on Twitter, but a week prior to the confession, his controversial posts have been viral. On the otherhand, Menchavez said he didn't post anything related to the shutdown issue but he confessed that he was in favor over the shutdown decision. Upon the revelation, many of the viewers were appalled and eventually becoming a controversial topic on Twitter once again. Nonetheless, both housemates admitted that they were ill-informed about the issue, and apologized for their previous statements. Big Brother then had a one-on-one counsel talk with Laurente and Menchavez to understand their previous sentiments over the franchise dispute issue and gave advice regarding their controversial confessions.
Big Brother then shared an advice to Russu, who had been receiving negative responses the most on social media. Big Brother shared, "We say some things, we judge based on incomplete information. We are easily influenced or easily influenced by the opinions of others, so it is not right. I know different people have different opinions. But to want to harm others, it is not acceptable. Just like I said Russu and I always say, our past should not be the basis for judging personality and in admitting our mistakes, let us leave these mistakes. May we all have a new future in this new person. And Russu, in your criticism, in supporting the shutdown of this home, I accept your humility. Even though that happened, you still became part of this family." The two eventually apologized to Big Brother, and Big Brother eventually accepted their apologies in return[23]
#BoycottPBB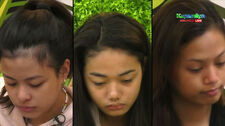 On Week 8 after the 6th Nomination Night, enraged fans trended the hashtag #BoycottPBB on twitter, criticizing the production for allegedly using the Double Power of Veto twist to evict either Ella Cayabyab or Aizyl Tandugon, two housemates who had been the most targeted by their fellow housemates in the past weeks. In the original usage of the Power of Veto twist as seen on American and Canadian versions, the Head of Household must select a replacement nominee once the veto has been used, but in the season's adaptation, the replacement nominee element wasn't used. The upset fans on twitter most of whom were supporters of Aizyl and Ella, thought that the removal of the "replacement nominee" aspect of the twist felt that PBB was unfair and biased, and that they didn't give the two women a chance to fight for their safety. Despite the accusations, PBB did not comment on the issue, and the PBB version of the Veto twist remained in play in the following weeks. [24]
Trivia
This is the first season where casting was held entirely online.

This season holds the record for having the largest amount of applicants in the history of Big Brother, with 177,524 applicants from around the world auditioning to become housemates.

This is the first season of Pinoy Big Brother franchise under the Banijay Group, as Banijay acquired Endemol in mid-2020.
Due to COVID-19 pandemic, this is the first season to not have any live audience since Pinoy Big Brother first aired in 2005.
Although this is the fifth season of Pinoy Big Brother to feature a mix of Teen and Adults housemates, this is the first season to have a mixed cast where it doesn't create any distinction and emphasis regarding their age groups.
With the housemates committing over 56 violations throughout the series, this season broke the record for being the edition with the most violations committed in the history of Pinoy Big Brother and the first season where all housemates commited atleast three house rule violations.
With only 99 days, Pinoy Big Brother: Connect is the shortest regular season of Pinoy Big Brother.
This season is the first season with a Big Four that was determined purely by a series of challenges as opposed to the the usual viewer voting
The first season in the history of Pinoy Big Brother wherein majority of Big 4 ( 3 out 4 finalist) did not face Filipino Public Eviction throughout the entire season.
The second season after Teen Edition 4 not to have records of Voluntary Exits or Forced Evictions.
Due to COVID safety protocols and Media Week, the season's Big Four had to stay for a few more days inside the Big Brother house after the finale has concluded.
References
External Links
Pinoy Seasons
Civilian
1 · 2 · 3 · 4
Combined
5 · 6 · 7 · 8 · 9
Celebrity
1 · 2
Teen
1 · 2 · 3 · 4
Community content is available under
CC-BY-SA
unless otherwise noted.