Pinoy Big Brother: Celebrity Edition 1 is the first celebrity edition and the second overall season of Pinoy Big Brother.
It officially began on February 5, 2006 and ran for 56 days, ending on April 1, 2006, and were hosted by Toni Gonzaga and Mariel Rodriguez.
After 56 days, Keanna Reeves emerged as the season's Big Winner, becoming the first celebrity to win the title.
Background
Casting
A special casting was held for this season wherein the final 14 were eventually chosen. According to show's director, Laurenti Dyogi, the casting calls began in December 2005. The casting was opened to celebrities who wanted to audition, but there were also some celebrities who were invited to be part of the show.
The celebrities who auditioned include athletes, stand-up comedians, ramp and commercial models, musicians, and TV personalities.
In addition, aside from the nationwide famous Manila-based celebrities, there were also regionally famous celebrities from Visayas and Mindanao who became part of the cast.[1]
Hosts
Initially, Willie Revillame, Toni Gonzaga and Mariel Rodriguez reprised their hosting roles in Pinoy Big Brother. However, due to an unexpected tragedy in Willie's afternoon variety show Wowowee, he immediately decided to leave Pinoy Big Brother a day before the live premiere.
After his sudden departure, Toni Gonzaga who originally narrated the weeknight primetime episodes last season, took over Willie's role as the main presenter of the series and hosted the live eviction and nomination nights as well.
TV Host and Myx VJ, Luis Manzano became a replacement male co-host for Willie Revillame.
Premiere Delay
The series was originally scheduled to start a day before on February 4, 2006 but due to the Wowowee ULTRA stampede tragedy that happened earlier that day, the management rescheduled it the following day, February 5, 2006.
Theme Song
In this season, the show introduced a new theme song specially used for celebrity seasons of the series. "Sikat Ang Pinoy" (lit. Filipinos Are Famous) was first performed by Sam Milby and Toni Gonzaga on the season's live premiere. It has been used throughout the season, but the original theme song of the series Pinoy Ako was still occasionally used.
Prizes
The prizes at stake cost ₱5 million, which includes ₱1 million pesos for the winning housemate, another ₱1 million for the winner's chosen charity, ₱1 million for the charity of Big Brother's choice and a condominium unit worth ₱2 million.
Production Changes
Shorter Duration: Unlike the previous season which had 112 days, this season would only air for 56 days.

Weekly Evictions: Because of its short duration, the evictions would take place weekly, as opposed to last season's evictions which took place every other week.
The House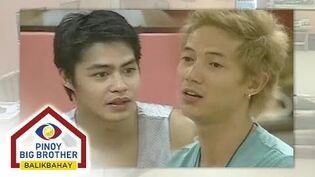 The layout and overall interior design of the Big Brother house remained unchanged from Pinoy Big Brother 1, except for a fact that the house was empty when this season's celebrity housemates entered, with only few basic, utilitarian furniture made of bamboo.
This season's house concept was "back to basics". To give the celebrity housemates a back to basics experience, they entered in an empty house having only basic household items, with the exception of the Plasma TV and the Refrigerator and the Confession Room chair. They were only allowed to get water from an old fashioned water pump, use a stick for brushing their teeth, use bare hands for eating and use a makeshift outdoor kitchen for cooking. The swimming pool was empty when they first entered, and must fill it up manually with water from the water pump as their first task.
After two weeks, Big Brother lifted the "Back to Basics" twist after seeing the housemates adapting to the said lifestyle, despite difficulties. The Forbidden Room, a pink-walled room with beds and mattresses reserved only for eviction nominees, became the ladies' bedroom, while the bamboo beds in the eventual men's bedroom were suddenly covered with mattresses. They were then provided with a microwave oven, an electric stove, utensils, and some toothbrushes and were allowed to use the swimming pool at any time, as well as wearing footwear indoors. Later, sofas replaced the bamboo benches in the living room.
Season Twists
Celebrity Housemates: For the first time in Pinoy Big Brother and throughout Asia, the house was filled with Celebrities coming from various fields of Philippine entertainment industry. Aside from competing to win the cash prize for their own, they also played for a charity they chose to help.
Back to Basics: The celebrity housemates entered in an empty house, with only the primary necessities present. The twist ended on Week 3, by finally having furniture and appliances inside the house.
The Celebrity Housemates
Nominations History
Week 2

Week 3

Week 4

Week 5

Week 6

Week 7

Week 8

Day 39

Day 42

Big Night

Keanna
2-Budoy
1-Rudy
Automatic
Nomination
2-Christian
1-Aleck
2-Aleck
1-Roxanne
2-Gretchen
1-Zanjoe
Zanjoe
Bianca
Big Winner
John
2-Angela
1-Rico
No
Nominations
2-Christian
1-Roxanne
2-Aleck
1-Roxanne
2-Rico
1-Gretchen
2-Budoy
1-Zanjoe

Runner Up

Bianca
2-Rico
1-Gretchen
No
Nominations
2-Rico
1-Gretchen
2-Rico
1-Gretchen
2-Gretchen
1-Budoy
2-Rustom
1-John
3rd Place
Zanjoe
2-Mich
1-Keanna
No
Nominations
2-Rico
1-Rustom
2-Aleck
1-Rico
2-Gretchen
1-Rico
2-Rustom
1-John
4th Place
Budoy
2-Aleck
1-Zanjoe
No
Nominations
2-Bianca
1-Roxanne
2-Roxanne
1-Bianca
2-John
1-Gretchen
2-Zanjoe
1-Bianca
Rustom
2-Rudy
1-Angela
No
Nominations
2-Christian
1-Roxanne
2-Aleck
1-Bianca
2-Zanjoe
1-Bianca
2-Bianca
1-Zanjoe
Rico
2-Aleck
1-Mich
Automatic
Nomination
2-Aleck
1-Christian
2-Rustom
1-Aleck
2-Zanjoe
1-Gretchen
Roxanne
2-Rico
1-Angela
No
Nominations
2-Rico
1-Aleck
2-Aleck
1-Gretchen
2-Gretchen
1-Keanna
Gretchen
2-Keanna
1-Aleck
No
Nominations
2-Rico
1-Keanna
2-Keanna
1-Zanjoe
2-Zanjoe
1-John
Aleck
2-Keanna
1-Mich
No
Nominations
2-Rico
1-Zanjoe
2-Keanna
1-Budoy
Christian
2-Keanna
1-Rustom
No
Nominations
2-Rico
1-Keanna
Rudy
2-Keanna
1-Zanjoe
Automatic
Nomination
Mich
2-Rico
1-Rudy
No
Nominations
Angela
2-Rudy
1-Rustom
| | | | | |
| --- | --- | --- | --- | --- |
| Key: | Nominated | Evicted | Walked | Forced Evicted |
Game History
#
Nominations
Result
Housemate
Vote
Finish
2

Keanna
9 points

Rico
7 points

Rudy
6 points

Angela
1st Eviction Night Cancelled
Voluntary Exit
Day 12
3

Mich
Forced Evicted
Day 21

Rudy
23% to save (Rudy)
24% to save (Keanna)
53% to save (Rico)
1st Evicted
Day 21
4

Christian
Automatic

Rustom
Automatic

Rico
12 points

Christian
13.5% to save (Christian)
40.9% to save (Rico)
46.5% to save (Rustom)
2nd Evicted
Day 28
5

Aleck
11 points

Keanna
4 points

Roxanne
4 points

Aleck
13.6% to save (Aleck)
23.4% to save (Roxanne)
63.0% to save (Keanna)
3rd Evicted
Day 35
6

Gretchen
11 points

Zanjoe
7 points

John
3 points

Rico
3 points

Gretchen
14.5% to save (Gretchen)
24.5% to save (Not Revealed)
26.6% to save (Not Revealed)
32.4% to save (Not Revealed)
4th Evicted
Day 39

Roxanne
Voluntary Exit
Day 41

Rico
28.3% to save (Rico)
32% to save (John)
39.7% to save (Zanjoe)
5th Evicted
Day 42
7

Aleck
11 points

Bianca
7 points

Budoy
3 points

Rustom
3 points

Rustom
Voluntary Exit
Day 47

Budoy
27.4% to save (Budoy)
33% to save (Bianca)
44% to save (Zanjoe)
6th Evicted
Day 49
8

Zanjoe
8% to win
4th Big Placer
Day 56

Bianca
19% to win
3rd Big Placer
Day 56

John
28.8% to win
2nd Big Placer
Day 56

Keanna
44.2% to win
Big Winner
Day 56
Trivia 
This is the season with the oldest Pinoy Big Brother housemate to enter at age 58. It also had the first disabled housemate to enter Pinoy Big Brother.
This is the first-ever season where a housemate publicly came out as a homosexual. The 80s Filipino matinee idol, Rustom Padilla revealed to his fellow housemate, Keanna Reeves during a private conversation that he is gay.
This is the first season to have a housemate to voluntarily exit before the first eviction making the first eviction night be canceled.
Since the stampede that happened on February 4, 2006, the show Wowowee was taken off the air. To take over the time slot it left behind, Pinoy Big Brother aired a special noontime edition called Pinoy Big Brother Celebrity Challenge, in which the celebrity housemates play mini-games for charities of their choice, inclusive only to the housemates' charities. It started on Saturday, February 11, 2006. It aired its last episode on March 4, 2006, having raised a total of P1,440,000 for the various charities.
References
Pinoy Seasons
Civilian
1 · 2 · 3 · 4
Combined
5 · 6 · 7 · 8 · 9
Celebrity
1 · 2
Teen
1 · 2 · 3 · 4
Community content is available under
CC-BY-SA
unless otherwise noted.