This article on Big Brother Wiki follows the North American format of the show.
Note this may follow a different format than the original version of the show.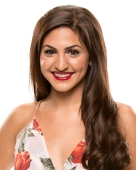 A pawn is a term used in the North American series of Big Brother to describe a houseguest that is nominated by the Head of Household without the intention of them being evicted. A pawn is typically a houseguest that is well-liked in the house or not seen as a physical or social threat, and is nominated in hopes that the house will instead vote to evict the other person on the block.
The use of a pawn is one of the most common strategies in North American Big Brother, and pawns are used many times each season. Depending on the HoH, they may get permission from the intended pawn to nominate them or nominate them without the pawn's permission. Additionally, the HoH may make it clear to the house that the person they've nominated is just a pawn, or may make it seem like the pawn is their target in order to lower the suspicions of their actual target. A pawn may come from inside the Head of Household's own alliance, or may be a neutral member of the house.
Regardless of the strategic intent however, being used as a pawn is still a risky strategy due to the inherent possibility of the pawn being evicted against the will of the Head of Household. Among houseguests, this has led to the common saying "pawns go home".
Notable Pawns
Trivia
The term "pawn" is a reference to the piece of the same name from the game of chess. In chess, a pawn is often seen as the least valuable piece on a player's team due to their abundance and lack of use in chess. A chess player may sacrifice one of their pawns in order to get to a better point strategically in a chess game, similar to pawns in the game of Big Brother, which are seen as "expendable" by the Head of Household.

This is one of many allusions to chess contained within the game of Big Brother.
Community content is available under
CC-BY-SA
unless otherwise noted.