Morgan Leigh Willett is the winner of Big Brother: Over The Top.
She was known for her under the radar gameplay and her status as an underdog. Throughout the season she used her strategy to stay under the radar and allowed her sister, Alex Willett, and close friend, Shelby Stockton, to be bigger targets and her shields. She was a member of The Ballsmashers alliance. Even though the odds were stacked against her during the final stages, Morgan managed to make it to the end by winning key competitions. Her social game, competition wins, status as an underdog, and likeable personality versus the crass/vulgar personalities of Jason Roy and Kryssie Ridolfi and the strong fanbase of The Ballsmashers caused the majority of America to vote for her, ultimately winning the game.
Biography
Morgan Willett Biography
Retrieved from CBS All Access
Age: 22
Hometown: Granbury, TX
Current city: Austin, TX
Occupation: Publicist
Three adjectives that describe you: Sassy, honest, and talkative.
Favorite activities: Online sale shopping, painting, binge-watching TV.
What do you think will be the most difficult part about living inside the Big Brother: Over the Top house? Focusing on my game and myself. I feel like it will be so easy to get wrapped up in everyone's drama, but I want to remember I'm here to win. Plus, not having a phone will suck.
Do you have a strategy for winning the game? Charm 'em then cut 'em. I plan on using my Southern cheerleader charm to win people over and get them to love me, but when it comes to being cutthroat, I'm not scared. I'm putting myself first, I ain't afraid to tell it like it is, either.
Which Big Brother Houseguests do you like the most and least? The most, Frankie Grande and Nicole Franzel from Season 16. Frankie because he brought so much energy to the house—I love energetic people!—and I loved Nicole because she represented for all the small-town sisters and she reminded me a lot of myself. The least is Victoria Rafaeli from Season 16. Girl didn't do a dang thing! She viewed herself as a princess and just got used and carried to the end. Gag me! I'm a fighter and hate hiding behind others and being viewed as just a pretty face.
What would you take into the house, and why? A teasing comb because I hate flat hair, a two-month supply of Red Bull because I'm addicted to caffeine… literally, and legit running shoes because I plan on winning all the challenges.
Fun facts about yourself:
1. I've had abs since I was little and they won't go away.
2. I can paint portraits really well.
3. I can rap all of Lil Wayne's "Right Above It" like a PRO.
4. I interviewed Jennifer Garner at a movie premiere.
5. At a football game, I met Matthew McConaughey and his kids.
Player History - Big Brother: Over The Top
Competition History
Week 1
HOH
Loss
POV
Not Picked
Week 2
HOH
Loss
POV
Not Picked
Week 3
HOH
Loss
Double POV
Not Picked
Week 4
HOH
Loss
POV
Win
Week 5
HOH
Loss
POV
Not Picked
Week 6
HOH
Loss
POV
Loss
HOH
Loss
Week 7
HOH
Loss
HOH Tiebreaker
Ineligible
POV
Loss
Week 8
HOH
Win
Carepackage
Ineligible
POV
Loss
Week 9
HOH
Loss
HTR
Win
Week 10
No Competitions
Have/Have-Not History
Week 1
Have
Week 2
Have-Not
Week 3
Have
Week 4
Have
Week 5
Have
Week 6
Have-Not
Week 7
Have/Have-Not Phase Over
Week 8
Week 9
Week 10
Safety History
Week 1
Safe - First Ceremony
Week 2
Safe - First Ceremony
Week 3
Safe - Second Ceremony
Week 4
Nominated
Week 5
Safe - Second Ceremony
Week 6
Safe - First Ceremony
Pre-Ceremony Veto Winner
Week 7
Safe - Second Ceremony
Week 8
Head of Household
Week 9
Safety Ceremony Phase Over
Week 10
Care Package History
Week 1
Twist Not Active
Week 2
Loss
Week 3
Loss
Week 4
Loss
Week 5
Loss
Week 6
Loss
Win
Week 7
No Care Package
Week 8
Ineligible
Week 9
Carepackage Phase Over
Week 10
Voting History
HOH History
Original Nominees
Post-Veto Nominees
Intended Target
Week 8
Post Big Brother
MTV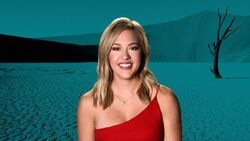 Morgan appeared on the 2nd season of MTV's Ex on the Beach US[2] alongside Monte, Jozea, and Corey, along with Jay Starrett from Survivor: Millennials vs. Gen X and Celebrity Big Brother (UK)'s Farrah Abraham and Chad Johnson. Her exes are Jay, Corey and Monte.[3] She ended up with Jay after a brief fling with Chad and failed attempts at reconciliation with both Corey and Monte, but the two broke up soon after filming ended, as Morgan had gone onto The Challenge and began a relationship with Bananas.
Morgan competed on The Challenge: War of the Worlds[4] alongside Liz, Julia, Da'Vonne, Natalie, Paulie, Josh, and Celebrity Big Brother 18 (UK) winner Stephen Bear.[5] As a Prospect/Rookie, she chose Johnny "Bananas" Devenanzio as her Veteran partner for the season, and they ended up getting eliminated in Episode 3.
Trivia
References
Big Brother: Over The Top Houseguests
| | | | | | |
| --- | --- | --- | --- | --- | --- |
| Morgan | | | | | |
| | | | |
| --- | --- | --- | --- |
| Winner | Runner-Up | 3rd Place | Evicted |
Community content is available under
CC-BY-SA
unless otherwise noted.