Wiki Targeted (Entertainment)
Play Sound
Michael Douglas Ellis (better known by his nickname "Cowboy") was the runner-up of Big Brother 5.
He was involved in the Project DNA twist where he learned he was competing with his half-sister, Jennifer "Nakomis" Dedmon, whom he decided to evict at the Final Four stage of the game. He received 3 of the 7 Jury votes, losing to his long-standing ally, Drew Daniel.
Michael was one of the candidates eligible to be voted into All-Stars. He, however, was not chosen to re-enter the game. Later, he appeared in Big Brother 11 as the candidate for the Off-Beat clique. Once again, Michael did not re-enter the game as all the members of the Off-Beat clique dropped from the endurance challenge.
Biography
Michael "Cowboy" Douglas Ellis (born December 12, 1980, in Houston, Texas) was a security officer from Durant, Oklahoma. He is married and has a stepson from his wife's previous relationship.
Player History - Big Brother 5
Competition History
Week 1
Food
Loss
HOH
Loss
Luxury
Win
POV
Not Chosen
Week 2
HOH
Loss
Food
Win
POV
Not Chosen
Week 3
HOH
Loss
Food
Win
POV
Not Chosen
Week 4
HOH
Loss
POV
Loss
Week 5
HOH
Loss
Food
Win
POV
Not Chosen
Week 6
HOH
Loss
Food
Win
POV
Loss
Luxury
Loss
Week 7
HOH
Loss
Food
Win
Luxury
Win
POV
Loss
Week 8
HOH
Loss
POV
Loss
Week 9
HOH
Loss
POV
Loss
HOH
Loss
POV
Loss
Week 10
HOH
Loss
Luxury
Win
POV
Win
Week 11
HOH Part 1
Loss
HOH Part 2
Win
HOH Part 3
Loss
Voting History
Post Big Brother
Michael and fellow Big Brother 5 contestant Nakomis Dedmon appeared in a segment in Big Brother 6 during week 2 along with Drew Daniel, Diane Henry, Adria Klein, Natalie Carroll, Holly King, and Jase Wirey.
Michael attended the premiere of Big Brother 20.[1]
On February 25, 2019, Michael was arrested for child abuse on his teenage son. [2]
On December 22, 2020, Michael appeared in an episode of Catfish: The TV Show to meet his online girlfriend Julia. James Huling and Russell Hantz from Survivor made appearances, with Russell being the person who reached out to the show.[3]
Trivia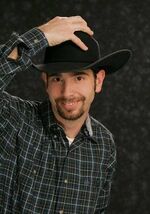 Michael is the second houseguest to make it to the Final Two without winning a Head of Household competition. The first was Will Kirby, and the third was Memphis Garrett.
Michael is the only houseguest to miss a chance to compete in a future Big Brother season on two separate occasions.
Michael and Nakomis along with Adria Klein and Natalie Carroll are the first pair of relatives to compete on Big Brother.
Michael is the only person to not be nominated by the HOH at the final 4, and use the veto on a nominee.
Both times Michael voted in the minority, he voted for Marvin Latimer.
References
Big Brother 5 (US) Houseguests
| | | | | | | |
| --- | --- | --- | --- | --- | --- | --- |
| | Michael | | | | | |
| | | | |
| --- | --- | --- | --- |
| Winner | Runner-Up | Evicted | Jury |
Community content is available under
CC-BY-SA
unless otherwise noted.