Marydale "Maymay" Entrata is the winner of Pinoy Big Brother: Lucky Season 7.
She's dubbed as the Miss Wacky-Go-Lucky of Cagayan De Oro because of her wacky, funny and vibrant personality. It was proven as she made the house full of laughter throughout the season, which worked for her advantage to avoid nominations.
Maymay was the Lucky Teen Housemate chosen by the Celebrity housemates after accomplishing 6 out of 7 lucky tasks to become a fully pledged housemate for the second part which is the Teen Edition.
She entered the house a day after the two Celebrity Housemates, Jinri Park and Nikko Natividad & McCoy DeLeon were announced as the two Lucky Stars finalists. It would be also the day where the first two Lucky Stars, would temporarily leave the house to give way for the upcoming Teen Edition. Maymay was the first teen housemate to enter the house, being the Lucky Teen Housemate. Since she was the first teen housemate to enter the house, the two Celebrity Housemates Jinri Park and Nikko Natividad & McCoy DeLeon were tasked to give her a dramatic welcome challenging how she'll act in an unpleasant situation.
Throughout her stay in the house, she made a close friendship with Kisses Delavin whom she treats as her best friend inside the house as well as Edward Barber. She also stood up as the Big Sister for the Teen Housemates since she was the eldest among them.
Maymay is known as an avid fangirl of ABS-CBN Celebrities and her priceless fangirl reactions whenever popular Celebrities visit the house became one of the most memorable moments of the Season. As a result, she was given the moniker "National Fangirl".
Aside from that, she was also the most pranked housemate of the season. Big Brother loves to pull pranks on Maymay throughout the Teen Edition of this season.
The two most notable were the series of pranks by Big Brother whenever Maymay keep on requesting for her idol, the Filipino actor, Enrique Gil to visit the house, but later rewarded her with a private date with Enrique on Week 10, and on Week 17 was the prank started by Tanner Mata and then joined by Big Brother himself, making Maymay think that she slept for two days and with the help of her fellow teen and adult housemates, they pretended they were gone and then returned to the house as if it's already morning and wondering why Maymay was missing for two days. She was also known for her crazy Diary Room moments with Big Brother and her funny and wacky antics.
She was the first housemate to temporarily leave the house more than once without the 24 hour limit and then returned after a few days. She left the house twice on Week 8 to attend the wake and the burial of her grandfather who died while she was inside the house.
On Week 19, after Kisses Delavin became the second Lucky Sun finalist, Maymay was left for another week with Yong Muhajil on the nominations' list for the third Lucky Sun slot. After a week, Maymay won with 57.57% of votes while Yong got 45.43% of votes, making her third teen housemate to be have a spot for the eventual Dream Team Chapter.
A day after the 3 teen finalists were completed, Maymay, Kisses and Edward temporarily left the house to give way for the upcoming third chapter which is the Civilian Adult Edition.
Maymay and the rest of the Lucky Suns returned once again inside the house to compete against the Adults' Lucky House finalits and the Celebrities' Lucky Star finalists. Three winning wildcard housemates were added as well on each of the teams, making the teams have 4 members each.
In the Dream Team Chapter, aside from her loyal Lucky Sun housemates, Maymay also formed friendship along other Dream Team housemates, most especially among the Lucky Stars' Celebrity Finalists such as Nonong Ballinan whom she treated as a father figure to him, even calling him "tatay" a Tagalog word for father, as well as Jinri Park whom she treated as her Big Sister in the house. When both were evicted consecutively, Maymay was left devastated.
Throughout the Dream Team, she maintained her "safe" status and avoided the nominations block all throughout until the Big Night. On Day 228 of Week 34, she was proclaimed as among the Lucky 7 Dream Team Finalists to continue on the Finale.
On the evening of March 4, 2017 which was the first evening of the two-night Big Night finale, Maymay Entrata with her fellow teen finalists Kisses Delavin, Edward Barber and Yong Muhajil advanced into the Big Four and continued on to the second evening of the finale where the Big Winner will eventually be announced.
On the evening of March 5, 2017, Maymay ended up on the final two with her bestfriend, Kisses Delavin where she received 42.71% of votes over Kisses who got 31.27% of public votes, making her the winner of the longest season in the history of Pinoy Big Brother, beating 30 housemates in total.
Biography
The Miss Wacky-Go-Lucky of Cagayan De Oro
Marydale "MayMay" Entrata is a 20-year old student from Cagayan De Oro, studying at Mindanao University of Science and Technology (MUST). She was selected by the celebrity housemates themselves from the pool of auditionees. Her father left when she was one year old to start a new family, while her mother is an overseas worker based in Japan.
There's never a dull moment whenever the housemates bond with 19-year old Maymay Entrata and for her, she could easily describe herself as "cheerful." The "Wacky-go-lucky of Cagayan de Oro" shared that the reason she joined Pinoy Big Brother is to get her mom and brother back who are currently in Japan.
Maymay also came from a big family and she also wishes to take her family back in Davao since not all of them are working. When asked if she idolizes any of the past housemates, she said, "They said I'm like the two, Kim (Chui) and Melai (Cantiveros) and if combined KiMelai."
When asked why she deserves to be the big winner, she answered, "I want to be an inspiration to everyone."
"I will do everything to be an inspiration for everyone especially to those who are hopeless to reach their dreams," she added.
Before joining PBB, Maymay was an ordinary college student and she shared that there was a time when her allowance going to school is just P5. She said that she has the option to spend that P5 for her transportation or for her food but she always chose to buy food instead.
For her, she describes the word love as "You don't know how to care for someone if you there's no love, that's the most important for me" while family is "they're you're life-long companion to everything."
When asked about God she said that He is the source of everything and this is all temporary.[1]
Player History - Pinoy Big Brother: Lucky 7
Teen History
Task History
| | | |
| --- | --- | --- |
| Week 5 | Lucky 7 Part 1 | Win |
| Week 6 | Lucky 7 Part 2 | Win |
| Week 7 | Lucky 7 Part 3 | Loss |
| Week 8 | Lucky 7 Part 4 | Win |
| Week 9 | Lucky 7 Part 5 | Win |
| Week 10 | Weekly Task | Loss |
| Week 11 | Weekly Task | Win |
| Week 12 | Weekly Task | Win |
| Week 13 | Weekly Task | Loss |
| Week 14 | Lucky 7 Part 6 | Win |
| Week 15 | Lucky 7 Part 7 | Win |
Competition History
Week 5
No Competitions
Week 6
No Competitions
Week 7
Eviction (via Ligtask)
Ineligible
Padaluck
Ineligible
Week 8
Eviction (via Ligtask)
Ineligible
Padaluck
Ineligible
Week 9
Eviction (via Ligtask)
Ineligible
Padaluck
Ineligible
Week 10
No Competitions
Week 11
Eviction (via Ligtask)
Ineligible
Padaluck
Ineligible
Week 12
Eviction (via Ligtask)
Ineligible
Padaluck
Ineligible
Week 13
No Competitions
Week 14
Ligtask
Ineligible
Week 15
Ligtask
Win
Week 16
Big Jump Part 1
Loss
Week 17
No Competitions
Week 18
Big Jump Part 2
Ineligible
Week 19
Big Jump Part 3
Ineligible
Nominations History
Dream Team History
Task History
Week 27
Weekly Task
Win
Weekly Task
Win
Week 28
Weekly Task
Loss
Week 29
No Tasks
Week 30
Weekly Task
Win
Week 31
No Tasks
Week 32
DTC - Part 1
Win
DTC - Part 2
Loss
Week 33
DTC - Part 3
Win
DTC - Part 4
Win
DTC - Part 5
Win
Week 34
No Tasks
Competition History
Week 27
Lucky Spot - Celebrities
Assisted
Lucky Spot - Teen
Assisted
Lucky Spot - Adults
Assisted
Week 28
Ligtask
Ineligible
Week 29
No Competitions
Week 30
Ligtask
Ineligible
Dream House - Part 1
Win
Dream House - Part 2
Loss
Dream House - Part 3
Assisted
Padaluck
Win
Week 31
Ligtask
Win
Padaluck
Win
Week 32
No Competitions
Week 33
No Competitions
Week 34
No Competitions
Nominations' History
Post Big Brother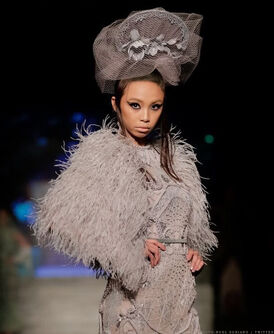 She appeared on front page cover of the Inside Showbiz Weekly magazine for two consecutive weeks on March 25-31, 2017 and together with Edward on April 1-7, 2017 . She also had a new tv commercial for McDonald's Philippines together with her fellow housemate Edward Barber.
Maymay and her fellow Big Four finalists also sang ABS-CBN's Summer Station ID entitled "Ikaw ang Sunshine Ko" together with some other teen celebrities which was first released as a lyric video in Youtube on April 6, 2017.
On May 6, 2017 she had a lavish celebration for her 20th birthday held at the Conrad Manila, which was attended by her family, her Big Brother housemates and her supporters who organized the event for her.
In 2018, Maymay sung the official themesong of ABS-CBN Star Hunt, entitled "Bituin" (eng. Star).
On November 2018, Maymay was invited to walk for Dubai-based Filipino Couturier Furne One's Spring Summer 2018 Collection of Amato Couture in the 2018 Arab Fashion Week. She made history as she became the first Filipina to walk in the runways of the Arab Fashion Week.
In 2019, Maymay became one of the hosts of World of Dance Philippines' Online show, along with Riva Quenery and AC Bonifacio.
Trivia
Maymay was the Lucky Teen Housemate chosen by the Celebrity Housemates to be a housemate for the teen edition after they won 6 out of 7 lucky tasks.
Maymay only got nominated in the Big Jump Weeks when the last 3 teens except Edward Barber faced the public to determine which one of them will get the two Lucky Suns.
She got among the least nomination points received in Pinoy Big Brother history.
She was among the oldest teen housemates to enter for the Teen Edition, at age 19.
She was the first housemate to ever leave the Big Brother House twice without having the 24 hour rule.

Usually, the 24-hour rule is being implemented whenever a housemate needs serious medical care and has to be rushed into the hospital, but they have to come back to the house within 24 hours, if they exceeded to the time limit, they will be forcibly evicted. However, due to her grandfather's death, Big Brother allowed Maymay to visit the wake of her grandfather as well as her funeral.

Maymay was the third housemate in the history of Pinoy Big Brother to compose and record a song inside the house. She recorded her own written song entitled Baliw (eng. Crazy) with Edward Barber..

Throughout the Dream Team Chapter, Maymay with her fellow housemates had composed various songs, just for fun and entertainment. It was formally recorded and released on Spotify and iTunes on March 4, 2017, which were used as Opening Songs for the season's Big Night. Lyric Videos were also uploaded 3 days after its official release.
The songs are Nasaan ang Pusa? which was made just for fun out of boredom, Ligtask which was composed by the male housemates for the first nominees of the Dream Team Jinri, Aura and Jerome and Titig ng Pag-Ibig which was used as a theme song for their Live Drama Task.

She became the 14th housemate to win Pinoy Big Brother.
Technically, she became the 6th Teen Contestant to win Pinoy Big Brother and the first one to win in a non-all teen season.
She became the 8th female contestant to win Pinoy Big Brother, making the show dominated by female winners.
She was often compared to Melisa Cantiveros as both were known for their vibrant and wacky personalities. However, many of Maymay's haters used it to criticize her, saying she just copied Melisa's gestures, the way she speaks and just faking it to get attention. It just happened that both were Visayan speakers and both of their provinces are located in Mindanao region.
Preceded by
737

Teen Chapter:Jimboy Martin
Adult Chapter:Miho Nishida
Big Winner
Season 7

Maymay Entrata
Succeeded by
TBA

Pinoy Big Brother 7 Housemates

Part 1: The Celebrity Housemates

| | | | | |
| --- | --- | --- | --- | --- |
| | Lucky Stars (on to Dream Team) | Walked | Evicted (Lucky 7) | Evicted |

Part 2: The Teen Housemates

| | | | | | |
| --- | --- | --- | --- | --- | --- |
| | | Maymay | | | |

| | | | | |
| --- | --- | --- | --- | --- |
| | Lucky Suns (on to Dream Team) | Walked | Evicted (Lucky 7) | Evicted |

Part 3: The Adult Housemates

| | | | |
| --- | --- | --- | --- |
| | Lucky Houses (on to Dream Team) | Evicted (Lucky 7) | Evicted |

Part 4: Big Brother's Dream Team

| | | | | | |
| --- | --- | --- | --- | --- | --- |
| Maymay | | | | | |

| | | | | |
| --- | --- | --- | --- | --- |
| | Winner | Runner-Up | Finalist | Evicted |