(27 intermediate revisions by one other user not shown)
Line 5:
Line 5:
 

|occupation =Personal Trainer

 

|occupation =Personal Trainer

 

|Season = 19 (US)

 

|Season = 19 (US)

−

|nickname =

+

|nickname =

 

|Place = 9th

 

|Place = 9th

 

|Votes = 4

 

|Votes = 4

Line 14:
Line 14:
 

|Vetos =2 (Week 6 & Day 58)

 

|Vetos =2 (Week 6 & Day 58)

 

|Loyalties

 

|Loyalties

−

|ProfileInputAnyText = Yes|Loyalties = [[Elena Davies]]<br>[[Cody Nickson]]<br>[[Jessica Graf]]<br>[[Dominique Cooper]]|TemptationComp = 2 (Weeks 5 & 7)|OtherPrizes = Colorado Trip|TwitterUserName = realmarkjansen|InstagramUserName = realmarkjansen|birthdate = {{Birth date and age|1991|06|13|mf=yes}}|Currently1 = Jury Member|FacebookUserName = realmarkjansen}}

+

|ProfileInputAnyText = Yes|Loyalties = [[Elena Davies]]<br>[[Cody Nickson]]<br>[[Jessica Graf]]<br>[[Dominique Cooper]]|TemptationComp = 2 (Weeks 5 & 7)|OtherPrizes = Colorado Trip|TwitterUserName = realmarkjansen|InstagramUserName = realmarkjansen|birthdate = {{Birth date and age|1991|06|13|mf=yes}}|Currently1 = Jury Member|FacebookUserName = realmarkjansen}}

−

'''{{PAGENAME}}''' was a HouseGuest on ''[[Big Brother 19 (US)]]''.

+

'''''' was a HouseGuest on ''[[Big Brother 19 (US)]]''.

−
 
⚫

Mark is mostly known for

being apart of a

showmance with [[Elena Davies]] known as "Marlena

.

" His association with his friends [[Cody Nickson]] and [[Jessica Graf]] made him a target and was accused of flip flopping by the other houseguests. He also clashed with [[Josh Martinez]] almost

getting

physical when Josh banged pots and pans. Mark tried to convince [[Jason Dent]] to make a move against [[Paul Abrahamian]] but was unsuccessful and Elena was evicted during the [[Double Eviction]] with Jason as the HOH. Mark won safety four weeks in a row by winning a [[Power of Veto]] or [[Temptation Competition]] but was unable to save himself during week 8 when he was evicted and became the third member of the jury.

Mark along

with

Elena

,

Cody, [[Alex Ow]]

and

Jason decided Paul overplayed and voted Josh

the

winner

.

 
 
 
 
⚫

Mark is mostly known for showmance with [[Elena Davies]] known as "Marlena" His association with his friends [[Cody Nickson]] and [[Jessica Graf]] made him a target and was accused of flip flopping by the other houseguests. He also clashed with [[Josh Martinez]] almost physical when Josh banged pots and pans. Mark tried to convince [[Jason Dent]] to make a move against [[Paul Abrahamian]] but was unsuccessful and Elena was evicted during the [[Double Eviction]] with Jason as the HOH. Mark won safety four weeks in a row by winning a [[Power of Veto]] or [[Temptation Competition]] but was unable to save himself during week 8 when he was evicted and became the third member of the jury. with , and the .

 

==Biography ==

 

==Biography ==

 

{| class="mw-collapsible mw-collapsed" style="margin:auto; font-size: 8pt;"

 

{| class="mw-collapsible mw-collapsed" style="margin:auto; font-size: 8pt;"

Line 251:
Line 250:
 

* Mark attended the wedding of [[Cody Nickson]] and [[Jessica Graf]] in October 2018.<ref>{{cite web|url=https://people.com/tv/big-brother-jessica-graf-cody-nickson-married/|title=Big Brother's Jessica Graf and Cody Nickson Are Married!|work=People|last=Corriston|first=Michele|date=14 October 2018|accessdate=23 October 2018}}</ref>

 

* Mark attended the wedding of [[Cody Nickson]] and [[Jessica Graf]] in October 2018.<ref>{{cite web|url=https://people.com/tv/big-brother-jessica-graf-cody-nickson-married/|title=Big Brother's Jessica Graf and Cody Nickson Are Married!|work=People|last=Corriston|first=Michele|date=14 October 2018|accessdate=23 October 2018}}</ref>

 

* On March 5, 2019, Mark revealed that he and Elena have since ended their relationship.<ref>{{cite web|url=https://www.eonline.com/news/1020946/big-brother-couple-mark-jansen-and-elena-davies-break-up|title=Big Brother Couple Mark Jansen and Elena Davies Break Up|work=E! News|last=Grossman|first=Lena|date=5 March 2019|accessdate=16 March 2019}}</ref>

 

* On March 5, 2019, Mark revealed that he and Elena have since ended their relationship.<ref>{{cite web|url=https://www.eonline.com/news/1020946/big-brother-couple-mark-jansen-and-elena-davies-break-up|title=Big Brother Couple Mark Jansen and Elena Davies Break Up|work=E! News|last=Grossman|first=Lena|date=5 March 2019|accessdate=16 March 2019}}</ref>

 
+

===MTV===

 
+

[[File:EOTB3_Mark.jpg|thumb|right|200px|Mark's Cast Photo for ''Ex on the Beach 3 (US)'']]

 
+

* Mark appears on the 3rd season of MTV's [[w:c:ex-on-the-beach-us:Ex On The Beach 3 (US)|''Ex on the Beach US'']]<ref>[[w:c:ex-on-the-beach-us:Mark Jansen|Mark's Ex on the Beach Wiki Page]]</ref> alongside his ex [[Elena Davies|Elena]] and ''[[Celebrity Big Brother 18 (UK)]]'' finalist [[Aubrey O'Day]].<ref>https://www.usmagazine.com/entertainment/news/ex-on-the-beach-cast-mark-jansen-elena-davies-and-more/</ref> After a brief visit from Tinder hookup Kirstie<ref>https://twitter.com/ExOnTheBeach/status/1154103961764450310</ref> and voting out Elena at the first Cut Ceremony, he started a fling with Aubrey after winning a date at the first Crush Ceremony. After Aubrey's ex, [[w:c:ex-on-the-beach-us:Lisa Coffey|Lisa Coffey]], showed up, the three tried to have an open relationship, but Mark and Aubrey favored each other over Coffey. He eventually broke up with Aubry and ended up not choosing to pursue either of them and left the beach single.

 
+
 

==Trivia==

 

==Trivia==

 

* Mark is the first HouseGuest to win immunity through the [[Temptation Competition]].

 

* Mark is the first HouseGuest to win immunity through the [[Temptation Competition]].

Line 257:
Line 260:
 

* Mark is tied with fellow HouseGuest [[Josh Martinez]], ''[[Big Brother 11 (US)|BB11]]'' houseguest [[Michele Noonan]], ''[[Big Brother 15 (US)|BB15]]'' houseguests [[Helen Kim]] and [[Elissa Slater]], ''[[Big Brother 18 (US)|BB18]]'' houseguest [[Corey Brooks]], and ''[[Big Brother 20 (US)|BB20]]'' houseguest [[Scottie Salton]] for the most weeks spent as a Have-Not in a single season with four.

 

* Mark is tied with fellow HouseGuest [[Josh Martinez]], ''[[Big Brother 11 (US)|BB11]]'' houseguest [[Michele Noonan]], ''[[Big Brother 15 (US)|BB15]]'' houseguests [[Helen Kim]] and [[Elissa Slater]], ''[[Big Brother 18 (US)|BB18]]'' houseguest [[Corey Brooks]], and ''[[Big Brother 20 (US)|BB20]]'' houseguest [[Scottie Salton]] for the most weeks spent as a Have-Not in a single season with four.

 

** However, his 4th time being a Have-Not was cancelled due to winning the Have-Not Escape, so his 5th time counts as his 4th week.

 

** However, his 4th time being a Have-Not was cancelled due to winning the Have-Not Escape, so his 5th time counts as his 4th week.

 
+

*Mark is the second person to be evicted by a vote of 4 to 2, following [[Dustin Erikstrup]].

 

==References==

 

==References==

 

{{Reflist}}

 

{{Reflist}}

Line 266:
Line 270:
 

[[Category:Season 19 (US) Jury Members]]

 

[[Category:Season 19 (US) Jury Members]]

 

[[Category:9th Place]]

 

[[Category:9th Place]]

−

[[Category:LGBT Contestants]]

 
---
Revision as of 12:21, 25 May 2020
Mark Gordon Jansen was a HouseGuest on Big Brother 19 (US).
Mark is mostly known for his showmance with Elena Davies known as "Marlena," for being a physical threat, and being emotional. His association with his friends Cody Nickson and Jessica Graf made him a target, and he was accused of flip flopping by the other houseguests. He also clashed with Josh Martinez, by throwing pickle juice and hot sauce in Josh's face. He almost got physical when Josh banged pots and pans in his face. Mark tried to convince his friend Jason Dent to make a move against Paul Abrahamian, but was unsuccessful and Elena was evicted during the Double Eviction with Jason as the HOH. Mark won safety four weeks in a row by winning either a Power of Veto or Temptation Competition, but was unable to save himself during week 8, when he was evicted and became the third member of the jury. Despite his confrontations with Josh, Mark's distaste towards Paul's constant lying and orchestrating bullying tactics, caused him to be one of the five votes for Josh to win, along with Elena, Cody, Jason, and Alex Ow.
Biography
Mark Jansen Biography
Retrieved from CBS.com [1]
Age: 26
Hometown: Grand Island, NY
Current City: Grand Island, NY
Occupation: Personal Trainer
Three Adjectives: Fun, strong and thoughtful
Favorite Activities: Lifting weights, hiking, watching movies and relaxing on a beach. What do you think will be the most difficult part about living inside the Big Brother house? Seeing the same people every day, but I've been through a similar experience studying abroad.
Which past Big Brother cast member did you like most:
Brendon Villegas from Seasons 12 and 13. He basically said, "It's me and my girl vs. the house. Let's go."
Do you have a strategy for winning the game?
Yeah, try to read people and relate with everybody, be real, don't get caught up in stories, earn people's trust and keep it.
My life's motto is… Fear none, regret less.
What would you take into the house, and why?
- A pair of Jordan's because I'm a sneaker head
- Protein because you can never have too much protein
- iPod because I love my music
Fun facts about yourself:>br> - Studied abroad
- Bodybuilder
- I love chess and I'm real good
- Went to an NFL regional combine
- Division 1 football player
Player History - Big Brother 19
Competition History
Week 1
Temptation
Loss
Hit The Road
Ineligible
HOH Part 1
Win
HOH Part 2
Sat Out
POV
Not Picked
Week 2
HOH
Loss
POV
Not Picked
Week 3
HOH
Loss
POV
Not Picked
Week 4
House Challenge
Not Picked
HOH
Loss
POV
Not Picked
Week 5
HOH
Loss
Temptation
Win
POV
Not Picked
Week 6
HOH
Loss
Temptation
Survived
POV
Win
Week 7
HOH
Loss
Temptation
Win
POV
Loss
HOH
Loss
POV
Win
Week 8
HOH
Loss
POV
Loss
Have/Have-Not History
| | |
| --- | --- |
| Week 1 | Have |
| Week 2 | Have |
| Week 3 | Have-Not |
| Week 4 | Have-Not |
| Week 5 | Have-Not Extension |
| Week 6 | Have |
| Week 7 | Have-Not Escape |
| Week 8 | Have-Not |
Den of Temptation History
Week 1
Loss
Week 2
Loss
Week 3
Loss
Week 4
Den of Temptation Phase Over
Week 5
Week 6
Week 7
Week 8
Voting History
Post Big Brother
Mark attended the wedding of Cody Nickson and Jessica Graf in October 2018.[2]
On March 5, 2019, Mark revealed that he and Elena have since ended their relationship.[3]
MTV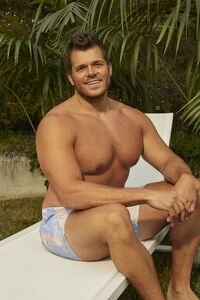 Mark appears on the 3rd season of MTV's Ex on the Beach US[4] alongside his ex Elena and Celebrity Big Brother 18 (UK) finalist Aubrey O'Day.[5] After a brief visit from Tinder hookup Kirstie[6] and voting out Elena at the first Cut Ceremony, he started a fling with Aubrey after winning a date at the first Crush Ceremony. After Aubrey's ex, Lisa Coffey, showed up, the three tried to have an open relationship, but Mark and Aubrey favored each other over Coffey. He eventually broke up with Aubry and ended up not choosing to pursue either of them and left the beach single.
Trivia
Mark is the first HouseGuest to win immunity through the Temptation Competition.

He is also the only HouseGuest to win twice. Ironically he was nominated the week after his safety was up both times, however he also won the Veto and saved himself both times.
He is also the only HouseGuest to take an apple from the Tree of Temptation.

Mark is tied with fellow HouseGuest Josh Martinez, BB11 houseguest Michele Noonan, BB15 houseguests Helen Kim and Elissa Slater, BB18 houseguest Corey Brooks, and BB20 houseguest Scottie Salton for the most weeks spent as a Have-Not in a single season with four.

However, his 4th time being a Have-Not was cancelled due to winning the Have-Not Escape, so his 5th time counts as his 4th week.

Mark is the second person to be evicted by a vote of 4 to 2, following Dustin Erikstrup.
References
Big Brother 19 (US) Houseguests
| | | | | | | | | | |
| --- | --- | --- | --- | --- | --- | --- | --- | --- | --- |
| | Mark | | | | | | | | |
| | | | | |
| --- | --- | --- | --- | --- |
| Winner | Runner-Up | Jury | Evicted | Walked |
Community content is available under
CC-BY-SA
unless otherwise noted.