Wiki Targeted (Entertainment)
Play Sound
Kyzha Villalino was an Official Housemate on the third batch of Pinoy Big Brother 8.
Biography
Kyzha Villalino Biography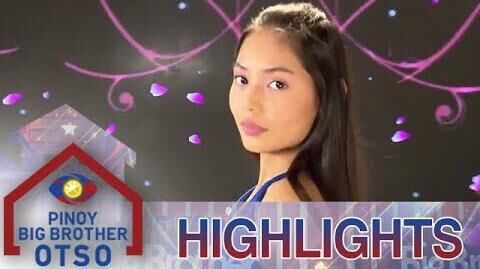 Miss Palang-Ganda of Cebu
---
Kyzha, a 16-year old Cebuana beauty has seen the harsh reality of life at such a young age when they once lived in a poor neighborhood in Cebu City. With her parents eager to get her out of the troubled neighborhood, they worked hard to move to a safer place. When she was six, her younger brother was born whom she and her family see as their lucky charm as things went well for their family after her brother was born. Kyzha has a close relationship with her brother and often takes care of him when her parents are at work. Her family is her inspiration and strength in life and now that she's a Star Dreamer, she's more than ready to apply the things she learned as a good daughter and a loving sister.
Player History - Pinoy Big Brother 8: Part 3
Camp Star Hunt - Star Dreamer
Big Island Adventure
Big Brother's Choice
Selected
Final Result
Selected as Official Housemate
Moved In to Big Brother House
Official Housemate History
Task History
| | | |
| --- | --- | --- |
| Week 22 | Weekly Task | Win |
| Week 23 | Weekly Task | Loss |
| Week 24 | Weekly Task | Loss |
| Week 25 | Weekly Task | Win |
| Week 26 | Weekly Task | Loss |
Competition History
Week 24
Immunity
Loss
Immunity
Loss
Immunity
Win
Week 25
Immunity
Loss
Immunity
Win
Week 26
Immunity
Loss
Nomination History
Trivia
References
External Links
Pinoy Big Brother 8 Housemates
Part 3: Teen Housemates
| | | | | | | | | |
| --- | --- | --- | --- | --- | --- | --- | --- | --- |
| | | Kyzha | | | | | | |
Part 5: Ultim8 Housemates
Camp Star Hunt Star Dreamers
Part 1: Camp StarHunt Teen Star Dreamers
| | | | | |
| --- | --- | --- | --- | --- |
| Status Key: | Still in Camp (Star Dreamer) | Crossed-Over (Official Housemate) | House Player | Left Camp |
| | |
| --- | --- |
| Font Key: | Not Selected (Failed to Cross-Over) |
Part 2: Camp StarHunt Adult Star Dreamers
| | | | | | |
| --- | --- | --- | --- | --- | --- |
| Status Key: | Still in Camp (Star Dreamer) | Crossed-Over (Official Housemate) | House Player | Left Camp | Dismissed |
| | |
| --- | --- |
| Font Key: | Not Selected (Failed to Cross-Over) |
Part 3: Camp StarHunt Teen Star Dreamers
| | | | | |
| --- | --- | --- | --- | --- |
| Status Key: | Still in Camp (Star Dreamer) | Crossed-Over (Official Housemate) | House Player | Left Camp |
| | |
| --- | --- |
| Font Key: | Not Selected (Failed to Cross-Over) |