Jurassic World: Dominion Dominates Fandom Wikis - The Loop
Play Sound
Kyland Young was a houseguest on Big Brother 23 (US).
A member of the Queens, Kyland had an eventful first week in the house. He was one of the many targets in Frenchie French's HoH reign, completely blindsided by his nomination due to the Frenchie's paranoia he was coming for him. Kyland survived the week thanks to Derek Xiao winning veto and taking him off of the block, and exacted revenge the next week when he won Head of Household. And that protection around him grew as the secret Cookout alliance formed, with the goal of guaranteeing the first Black winner in the show's history. Kyland helped contribute to that goal by winning several more competitions, and convincing his other allies when they were in power (like Derek X. and Sarah Beth Steagall) to avoid going after other members. Though effective, it did not earn him a lot of goodwill, as some were unhappy with both his tact and emotional manipulation.
Despite those criticisms, Kyland got to the final six with the Cookout in a very good spot to win the game. After winning HoH for the third time, he was caught between two finale deals: One with the men (Xavier Prather and Derek Frazier, and one with two of the women (Tiffany Mitchell and Hannah Chaddha). Unfortunately for the latter, Kyland had convinced himself that he wanted to end the game beating the greatest of the season, and decided to keep Xavier so that the two of them could face off in the end. He protected his fellow ally through the second double eviction, and was visualizing a spot in those Final Two chairs by Week 11. But Xavier had other plans. Though Kyland had loyalty, he had a competition history, compared to Azah Awasum. So he convinced Derek F. to evict Kyland, breaking their deal and stunning him on the live show. In his last minutes in the house, Kyland argued with Xavier in a tense and personal conversation, going so far as to tell him that he could no longer be an inspiration to his nephew outside of the game. He placed 4th and became the 8th member of the Jury.
Biography
Kyland Young Biography
Kyland Young
Age: 29
Hometown: San Bernardino County, California
Current City: Venice Beach, California
Occupation: Account Executive
Three words that describe you: Optimistic, dynamic, and engaging.
Favorite activities: Movies. I'm a HUGE movie fan, especially watching them at the theater. Popcorn is literally my favorite food, and I have a theater membership pass, which I typically use to see upwards of four movies each month. Also, games. Whether chess, escape rooms, football, or poker, I LOVE to compete in pretty much any type of games! And finally, trying new things! I love finding activities, sports, and places that can provide a unique and/or exciting experience. This attitude, (plus a whole lot of luck), is why I've been able to try skydiving, trapeze, surfing, sailing, magic tricks, slacklining, rock climbing, cliff diving, plane flying, car racetrack driving, skeet shooting, parkour, fire walking, axe throwing, and so much more! Having tried all these things, and always looking for new things to try, are also the reasons why I have so much trouble answering this question! ;)
Who are your favorite Houseguest duos? Those who became best friends in the Big Brother house or had a showmance?
I love the Hitmen! Derrick is one of my all-time favorite players, and I appreciated the loyalty and friendliness of Cody. Although I personally am not a big fan of Cody (Season 19), I did love his showmance with Jessica to the point I was excited to see him win his way back in to reunite with her, even if only for a short time. I also loved Tyler's double duos in Season 20: he had a showmance with Angela, (which I am happy to see still going strong), but he was most loyal to his final two deal with Kaycee. I'm a fan of well-rounded strong players and loyalty.
What are you most excited about living inside the Big Brother house?
I am most excited about playing the game of Big Brother! I don't care about being on TV, and I often forget about the fact there is a cash prize for winning. When I think about Big Brother, I get excited about the competitions and the social strategies that can help you win! I have always been good at building relationships and being persuasive, however, to have those things gamified in a way that I can be ranked by how well I do it, is like an injection into my competitive blood! I get goosebumps and a huge smile as I write this out and think about the Hunger Games-like dynamic of building trust and alliances with people all while being aware there is only ONE winner and you will have to turn on each other at some point. As a longtime fan, I've heard all the players talk about how everything is more difficult than they thought, but I love to be challenged, so that prospect only leaves me more intrigued!
What do you think will be the most difficult part about living inside the Big Brother house?
I think the most difficult part for me will be not knowing anything about what's happening with my family. I am extremely close to my family! I lost my grandfather this January, and as the grandchild who was the closest to them, that was incredibly challenging. My grandmother is fortunately in good health and living in an elderly community center where she has lots of friends, plus a staff that is attentive; however, with her and my grandparents on my father's side all being in their eighties, it will be difficult not to worry about them. Also, with the closest of my four sisters living more than three hours from my mom, and my other sisters all living in different states, I am heavily relied upon by my siblings to see my mom as often as possible since they cannot. To not be in contact and available to assist them with anything for the whole summer is definitely something I can imagine getting to me on an emotional level.
What is your favorite past moment on Big Brother?
I'm sure this is a cliche answer, but it's hard not to be blown away by Dan's funeral play in Season 14!! I remember watching that season for the first time a couple of years ago, and I was already aware of his getting second place in that season, and I remember watching the proceeding interactions and screaming out loud as I watched "How in the !@$* is he going to get himself out of this situation!!!" I don't only find it impressive, but it genuinely inspires me to the point of craving an opportunity to make a game move that just approaches such a legendary status as that one! Frankie's solo Battle of the Block win in Season 16 is another honorable mention that does bring me to tears, even in the rewatch!
What is your strategy for winning the game?
My strategy is to combine the subtle influence of Derrick, with Cody's charm, Dan's strategic thinking, and hold back on showing how good I am at competitions until I have to (hopefully not needed until the end, like Kaycee in Season 20). I know that sounds like such a vague idealistic plan, but I genuinely believe that I have each of those attributes/capabilities I am describing. I have been studying the game and preparing mentally and physically to an unreasonable amount. However, I believe I have the restraint and tact to not give away that I'm as good as I think I will be. I'm well aware this all sounds arrogant, but I feel like knowing this, and the self-awareness I employ in my life in general makes me feel this is all possible.
My life's motto is…
"Being realistic is the most commonly travelled route to mediocrity."
"Destiny is obligated by universal law to concede to the demands of unwavering faith!"
"Gratitude is everything!"
What would you take into the house and why?
-My Black Panther necklace! I'm a huge superhero fan in general, but T'challa is a Black king of the wealthiest, smartest, and most powerful nation in the world. As a Black man, it's difficult to explain how significant that is, and how the necklace helps me feel empowered and inspired to be a positive force and example to others.
-My bracelet that says "UNREALISTIC." I have not taken it off since I got it five years ago, because it reminds me of the motto I mentioned in the previous question (being realistic is the most commonly travelled route to mediocrity.)
-My favorite popcorn! If I can't watch movies all summer long, I would love to have my favorite snack that can help me go back to my happy place in my mind!
Fun facts about yourself:
-I've done two firewalks across coals/embers heated to more than 1000°F.
-I read all the Twilight books (started in high school to have conversations with some senior girls who loved them, but finished them all because I got hooked).
-I have four sisters.
-I went to skydiving school.
-I'm pretty sure I'm a Jedi and any day I will be able to move objects using the Force.
-My favorite food is popcorn.
-I use a fake police badge to skip all the lines at Comic-Con since it's the only place where you can "legally" pretend to be a cop. -I've seen every Best Picture Oscar film of the last 20 years!
-I work for an app company that helps students find and win scholarships and other funds to help pay for their education.[1]
Player History - Big Brother 23 (US)
Competition History
Week 1
HOH Part 1
Loss
HOH Part 2
Ineligible
HOH Part 3
Ineligible
Wildcard
Loss
POV
Loss
Week 2
HOH
Win
Wildcard
Ineligible
POV
Loss
Week 3
HOH
Previous HOH
Wildcard
Ineligible
POV
Not Picked
Week 4
HOH
Loss
Wildcard
Ineligible
POV
Not Picked
Week 5
HOH
Loss
POV
Loss
Week 6
HOH
Win
High Roller
Win
POV
Loss
POV Bet
Win
Week 7
HOH
Previous HOH
High Roller
Ineligible
POV
Not Picked
Week 8
HOH
Loss
High Roller
Ineligible
HOH Coin Toss
Ineligible
POV
Loss
Week 9
HOH
Loss
POV
Not Picked
HOH
Loss
POV
Not Picked
Week 10
HOH
Win
POV
Win
HOH Part 1
Previous HOH
HOH Part 2
POV
Win
Week 11
HOH
Loss
POV
Loss
Have/Have-Not History
Week 1
Have
Week 2
Have
Week 3
Have-Not
Week 4
Have
Week 5
Have
Week 6
Have
Week 7
Have-Not
Week 8
Have
Week 9
Have
Week 10
Have/Have-Not Phase Over
Week 11
BB Bucks History
Beg. Bal
Gain/Loss
End Bal.
Week 1
Twist Not Active
Week 2
Week 3
Week 4
Week 5
Week 6
0
+50
-50
=0
Week 7
0
+50
-0
=50
Week 8
50
+50
=100
100
+100
-0
=200
Week 9
BB Bucks Phase Over
Week 10
Week 11
After the conclusion of the Week 8 Head of Household competition, all houseguests randomly chose an envelope to open after receiving their weekly payment from America. In addition to the 50 BB Bucks from America, the envelope granted Kyland 100 BB Bucks.
Voting History
HOH History
Original Nominees
Post-Veto Nominees
Intended Target
Week
2
Week
6
THEN
Week
10
Post Big Brother
The Challenge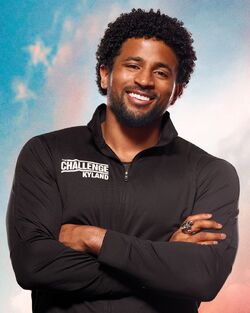 Trivia
References
Big Brother 23 (US) House Guests
| | | | | | | | |
| --- | --- | --- | --- | --- | --- | --- | --- |
| | | | Kyland | | | | |
| | | | |
| --- | --- | --- | --- |
| Winner | Runner-Up | Jury | Evicted |