Kirsten Danielle "Kisses" Delavin is the runner-up in Pinoy Big Brother 7.
She's dubbed as the Miracle Daughter of Masbate because out of her mother's eight pregnancies, she's the only one who didn't die of premature birth.
Inside the house, she became known as the "sassy girl" because of her hobby of applying make up whenever she's bored, nervous or tense. She was also known to be friendly among the housemates whom she treats them as her siblings and often expresses her care through hugs. She made a close bond friendship with her fellow housemate, Maymay whom she considers as her sister and her bestfriend inside the house.
However, she was also a sensitive person and overthinks things such as why her fellow housemate Heaven avoids talking to her even if she's making an effort to talk with Heaven, which later resulted to a clash of each other's fans on social media. Also due to her sensitivity, she had a difficult time expressing her admiration to her fellow housemate, Marco because of her fear that he might avoid her. But with the help of Big Brother, she coped up with it and finally admitted her true feelings for Marco despite that Marco admitted before that he likes their fellow housemate, Vivoree.
On Week 17, she was declared as the second housemate of the Teen Edition to be a finalist via public voting, after Edward Barber took the first Lucky Sun slot through the Big Jump Competition.
On Week 19, after the Lucky Sun slot was completed, the three Teen finalists exited the house to gave way to the succeeding part of this four-part season, the Civilians.
They then returned back to the house on Week 26, to compete against the Adults' Lucky House finalists and Celebrities' Lucky Star finalists. Two Wildcard Housemates from each edition who were previously evicted were sent back to the house to compete against each other in order to get the 4th Lucky Spot, making it to have 4 members on each group.
Throughout the Dream Team stage, she formed a friendship with the Adult Housemate, Cora Waddell, who she treated as her older sister in the house. She was also seen less in the nomination block unlike during the Teen Edition.
On Week 34, she got nominated for the last time, but survived their last eviction and became part of Dream Team's "Lucky 7" finalists who will be going through the Big Night.
At the end of the week, the Lucky 7 finalists left the house for the two-night Finale that was held in Alonte Stadium in the Province of Laguna. The evening of March 4, 2017 saw the Teens conquering the Big Four slots, defeating the Celebrity and Adult finalists. On the evening of March 5, 2017, she was declared as the runner-up, garnering 31.27% of the public votes, only losing to her best friend, Maymay who got 42.71% of public votes.
Biography
The Miracle Daughter of Masbate
Kirsten is a 17-year old beauty pageant winner from Masbate, having recently won the Miss Kaogma 2016 beauty pageant. Her mother had eight pregnancies and they all died of premature birth, except for Kisses, who was also stricken with a disease when she was younger, but is now well.
Teen housemate Kirsten "Kisses" Delavin described her life as a colorful one. Although born in Quezon City, Kisses grew up in Masbate. She moved to Metro Manila to study.
"My life has been a colorful life. I am a first year college student at De La Salle University. I am studying Bachelor of Science in Accountancy and just recently, because we had vacation, I ventured out so I joined two beauty pageants simultaneously," she said, adding that she won in both contests in the province.
She considers these as her greatest achievements as not only was she the youngest contender but she said, she went out of her comfort zone. "I went straight out of my comfort zone and I think that's what makes it a great achievement, because I went straight out to my fear of losing, my fear of failing," Kisses revealed.
"It's so liberating because I felt like I can achieve things and it's good," she said, adding that now that she is a housemate, she looks forward to what she can do.
Describing herself in one word, Kisses said that she's blessed. As for why she joined PBB, she said, "I want to know where I still can go and where my dreams can still take me."
According to her, the only PBB season she watched was the first teen edition where Kim Chiu was declared the Big Winner. Hence, when asked if there is a former housemate she wants to imitate the style, it would be Kim, "I love Kim Chiu. Yeah. If I ever have one but I don't think…"
When asked why she should be the Big Winner, Kisses answered, "We were chosen out of so many people here in the Philippines so I think each of us has the chance to be the Big Winner so I think we will see how it goes because whoever really deserves that title, God will give it to him or her."
Does she have a strategy inside the house?
"My strategy is I will enjoy every second because it will happen only once in my life and I surely won't want to miss any of it."
According to Kisses, who believes in the saying, "When life gives you lemons, you make a lemonade," her special talent is to walk and sprint on seven-inch heels.
However, Kisses admitted that she does not cook. She said, "I don't do household chores. That is my weakness but I am looking forward to learning."
For Kisses, love is limitless, family is life, youth is colorful and God is love. [1]
Player History - Pinoy Big Brother: Lucky 7
Teen History
Task History
| | | |
| --- | --- | --- |
| Week 5 | Lucky 7 Part 1 | Win |
| Week 6 | Lucky 7 Part 2 | Win |
| Week 7 | Lucky 7 Part 3 | Loss |
| Week 8 | Lucky 7 Part 4 | Win |
| Week 9 | Lucky 7 Part 5 | Win |
| Week 10 | Weekly Task | Loss |
| Week 11 | Weekly Task | Win |
| Week 12 | Weekly Task | Win |
| Week 13 | Weekly Task | Loss |
| Week 14 | Lucky 7 Part 6 | Win |
| Week 15 | Lucky 7 Part 7 | Win |
Competition History
Week 5
No Competitions
Week 6
No Competitions
Week 7
Eviction (via Ligtask)
Win
Padaluck
Win
Week 8
Eviction (via Ligtask)
Ineligible
Padaluck
Ineligible
Week 9
Eviction (via Ligtask)
Win
Padaluck
Win
Week 10
No Competitions
Week 11
Eviction (via Ligtask)
Cancelled
Padaluck
Cancelled
Week 12
Eviction (via Ligtask)
Ineligible
Padaluck
Ineligible
Week 13
No Competitions
Week 14
Ligtask
Loss
Week 15
Ligtask
Loss
Week 16
Big Jump Part 1
Loss
Week 17
No Competitions
Week 18
Big Jump Part 2
Ineligible
Week 19
Big Jump Part 3
Ineligible
Nominations History
Dream Team History
Task History
Week 27
Weekly Task
Win
Weekly Task
Win
Week 28
Weekly Task
Loss
Week 29
No Tasks
Week 30
Weekly Task
Win
Week 31
No Tasks
Week 32
DTC - Part 1
Win
DTC - Part 2
Loss
Week 33
DTC - Part 3
Win
DTC - Part 4
Win
DTC - Part 5
Win
Week 34
No Tasks
Competition History
Week 27
Lucky Spot - Celebrities
Ineligible
Lucky Spot - Teen
Assisted
Lucky Spot - Adults
Assisted
Week 28
Ligtask
Ineligible
Week 29
No Competitions
Week 30
Ligtask
Ineligible
Dream House - Part 1
Loss
Dream House - Part 2
Assisted
Dream House - Part 3
Ineligible
Padaluck
Loss
Week 31
Ligtask
Loss
Padaluck
Loss
Week 32
No Competitions
Week 33
No Competitions
Week 34
No Competitions
Nominations' History
Post Big Brother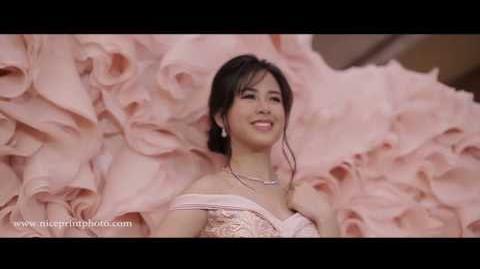 She also appeared on front page cover of the Inside Showbiz Weekly magazine on the April 8-14, 2017 issue.
Kisses and her fellow Big Four finalists also sang ABS-CBN's Summer Station ID entitled "Ikaw ang Sunshine Ko" together with some other teen celebrities which was first released as a lyric video in Youtube on April 6, 2017.
On May 1, 2017, Kisses had celebrated her Debut Ball which was called KissesTurns18, held at the Shangri-La Hotel in Makati City. The grandiose ball was attended by her family, her Big Brother housemates as well as numerous celebrities attended the party such as the teen celebrity, Donny Pangilinan who was her escort throughout the night and was the 17th man to dance with her on the 18 Roses, the 18th was her father. Her fellow housemate and a Youtuber, Cora Waddell created a vlog on the birthday party for her channel.
Kisses received the Fan Favorite for Best Dressed Award together with her escort Marco Gallo on the Star Magic Ball 2017 alongside Miss Universe 2015, Pia Wurtzbach who received the same award earlier. Along with Maymay Entrata and Edward Barber, it was their first time to attend the highly anticipated annual ball of Star Magic which is ABS-CBN's own talent agency, where various celebrities gather and attend the event.[2]
In late 2019, Kisses transferred from Star Magic to Triple A Management.
Trivia
Preceded by
737

Teen Chapter:Ylona Garcia
Adult Chapter:Tommy Esguerra
2nd Big Placer
(Runner-Up)
Season 7

Kisses Delavin
Succeeded by
Season 8

Kiara Takahashi

Pinoy Big Brother 7 Housemates

Part 1: The Celebrity Housemates

| | | | | |
| --- | --- | --- | --- | --- |
| | Lucky Stars (on to Dream Team) | Walked | Evicted (Lucky 7) | Evicted |

Part 2: The Teen Housemates

| | | | | | |
| --- | --- | --- | --- | --- | --- |
| | Kisses | | | | |

| | | | | |
| --- | --- | --- | --- | --- |
| | Lucky Suns (on to Dream Team) | Walked | Evicted (Lucky 7) | Evicted |

Part 3: The Adult Housemates

| | | | |
| --- | --- | --- | --- |
| | Lucky Houses (on to Dream Team) | Evicted (Lucky 7) | Evicted |

Part 4: Big Brother's Dream Team

| | | | | | |
| --- | --- | --- | --- | --- | --- |
| | Kisses | | | | |

| | | | | |
| --- | --- | --- | --- | --- |
| | Winner | Runner-Up | Finalist | Evicted |
Community content is available under
CC-BY-SA
unless otherwise noted.