Kaycee Noelle Clark[2] is the winner of Big Brother 20 (US).
Best known for her dominance in competitions during the latter half of the season and allegiance to the dominant Level Six alliance, Kaycee was close to Level Six members Tyler Crispen and Angela Rummans with the three having a final three deal, and her having a final two deal with the former. Despite appearing to be a non-threat during the first half of the season, she turned it up during the latter half, winning a hacker competition, 2 HoH's and 5 of the last 6 PoV's, tying Janelle Pierzina, Daniele Donato, and Paul Abrahamian for winning the most PoV's in a single season. When she won the final HoH, she brought Tyler to the final 2. Her athletic prowess won her the game in a close 5-4 vote.
Biography
Kaycee Clark Biography
Age: 30
Hometown: San Diego, CA
Current city: Tempe, AZ
Occupation: Pro-football player
Three adjectives that describe you: Fun, positive, and athletic.
Favorite activities: Playing sports, working out, and personal development.
What do you think will be the most difficult part about living inside the Big Brother house?
I would have to say learning to trust strangers and maybe knowing the fact that you will have people talking behind your back and try to be shady. Other than that, I adapt pretty well, wherever I am.
Which past Big Brother cast member did you like most?
I liked Cody Nickson, just because he was different and such a badass. He went against the grain when everyone else in the house wanted to follow Paul Abrahamian because he was a previous cast member. Cody was a competition beast. I mean, the only thing I would say is he could've had a better social game.
Do you have a strategy for winning the game?
My strategy to win the game is to use my social skills to my advantage. I am a big-time people person. I also want to be as honest as possible in the game. I am a loyal person in real life and I want to stick to that as much as I can. I also don't want to seem too much of a threat from the very beginning where I then become an immediate target. I'm also looking to align with some people where I feel the vibes are right and legit.
My life's motto is...
Think outside the box, take risks, and never give up.
What would you take into the house and why?

Pictures of my family, which I already know is not allowed, because they are my motivation.
My Jordan sandals because I don't like to walk around the house barefoot or with just socks on.
Pre-workout supplement so I can have that extra boost, if needed!
Fun facts about yourself:

My mother is Filipino and met my father in the Philippines while he was traveling in the Navy.
I was fiercely loyal to my first job in high school and worked at Smart & Final for 11 years.
I moved to Scottsdale for a girl, then broke up after a few months living there, but ended up staying there and made a new life for myself!
Big Brother is the only TV show I watch and it's my tradition with my dad.[3]
Player History - Big Brother 20 (US)
Competition History
Week 1
Punishment
Punished
Punishment
Ineligible
Immunity
Ineligible
HOH
Ineligible
POV
Not Picked
Week 2
HOH
Loss
POV
Not Picked
Week 3
HOH
Loss
POV
Not Picked
Week 4
HOH
Loss
POV
Not Picked
Week 5
Re-Entry
Ineligible
HOH
Loss
POV
Not Picked
Week 6
HOH
Loss
Hacker
Loss
POV
Loss
Week 7
HOH
Loss
Hacker
Win
POV
Loss
Week 8
HOH
Loss
POV
Not Picked
Week 9
HOH
Loss
POV
Win
Week 10
Re-Entry
Ineligible
HOH
Loss
POV
Win
Week 11
HOH
Win
POV
Win
HOH
Previous HOH
POV
Loss
Week 12
HOH
Loss
POV
Win
HOH
Loss
POV
Win
Week 13
HOH Part 1
Loss
HOH Part 2
Win
HOH Part 3
Win
Have/Have-Not History
Week 1
Have
Week 2
Have
Week 3
Have
Week 4
Have-Not
Week 5
Have
Week 6
Have
Week 7
Have
Week 8
Have
Week 9
Have-Not
Week 10
Have
Week 11
Have/Have-Not Phase Over
Week 12
Week 13
BB App Store History
Week 1
Access Denied
Week 2
Access Denied
Week 3
Access Denied
Week 4
BB App Store Phase Over
Week 5
Week 6
Week 7
Week 8
Week 9
Week 10
Week 11
Week 12
Week 13
Voting History
HOH History
Original Nominees
Post-Veto Nominees
Intended Target
Week 11
Week 13
N/A
Post Big Brother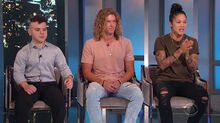 MTV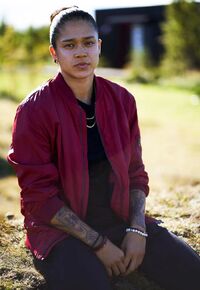 Kaycee competed on The Challenge: Total Madness[4] alongside Josh, Fessy, Bayleigh, Swaggy C, Celebrity Big Brother 18 (UK) winner Stephen Bear, and HaAh HaGadol VIP 3 winner Asaf Goren.[5] She ended up making it to the Final Challenge and after making it all the way to the third checkpoint, the math checkpoint, she ultimately got stuck on the equation and timed out. Although she was allowed to continue to the final checkpoint, she couldn't catch up, and the other remaining woman finished first, leaving Kaycee to place second out of the final four women and sixth out of all nine finalists.
Kaycee is competing on The Challenge: Double Agents alongside Josh, Fessy, Amber, Celebrity Big Brother 2 (US) contestant Lolo Jones and Celebrity Big Brother 22 (UK) contestant Gabby Allen.[6] After everyone was instructed to freely choose anyone of the opposite gender to be their partner at the start of the game, she and Leroy Garrett chose each other. In Episode 4, after winning his Elimination, Fessy chose to separate himself from his partner Aneesa Ferreira and Infiltrate Kaycee and Leroy's partnership, stealing Kaycee from Leroy and making her his new partner. In Episode 5, Aneesa won her Elimination and proceeded to steal Fessy back, reuniting Kaycee with Leroy. In Episode 17, Fessy won the Final Elimination and once again chose to Infiltrate Kaycee and Leroy, pairing himself up with Kaycee again before the Final Challenge, while Leroy chose to pair with Nany González.
Trivia
Kaycee is the first, and currently only, person to wear two different unitards in a single season.

She wore a Rainbow Unitard that came with the "Pinwheel of Doom" in Week 1 and later in Week 6 wore that "Health Nut-itard", a punishment she won during the Power of Veto competition that week.

Kaycee and Angela Rummans were the last females to be nominated on Big Brother 20 (US), with both of them receiving their first nomination during Week 7.
Due to the Hacker Competition twist, Kaycee is the first houseguest to be nominated twice in one eviction cycle (Week 7).

Many houseguests have been nominated twice in a week due to twists such as the Double Eviction, but no one prior to Kaycee has ever gone on the block twice under one HOH reign.

Kaycee is tied with James Zinkand, Shane Meaney, Frank Eudy, Ashleigh Wood, Kevin Martin, Kaela Grant and Rohan Kapoor for winning the most consecutive Power of Veto competitions with three in a row, sometimes referred to as the Three-peat Veto.
Following Scottie Salton and Angela Rummans, Kaycee is the third houseguest to win HoH and PoV at the same time on Big Brother 20.
Kaycee is the third HouseGuest (and first female) to win 2 Power of Veto competitions in Big Brother 20, following Faysal Shafaat and Tyler Crispen respectively. She was later followed by Angela Rummans.
Kaycee is the first Asian-American female in Big Brother history to win more than one PoV.
Kaycee holds the record for the most competitions (HOH/POV) won by an Asian-American in a single season with 8 wins (2 HoH's, 5 PoV's & 1 Hacker).

With or without her hacker competition win, she still holds the record with 7 beating James Huling from Big Brother 17 who won 6 competitions (2 HoH's, 2 PoV's & 2 BOB competitions), even if his multi-season wins and his BOB wins are included. 

Kaycee is the seventh female HouseGuest to win at least five competitions in a season, following Janelle Pierzina, Daniele Donato, Rachel Reilly, Aaryn Gries, Vanessa Rousso, and Angela Rummans.
Kaycee is tied with Janelle Pierzina, Daniele Donato and Paul Abrahamian for most PoV's won in a single season, with 5.

She is the first female since Daniele Donato to win 5 PoV's.
She is also the only HouseGuest to win 5 PoV's but not win any of the first two PoV's or win 2 PoV's pre-jury.

Kaycee has won the most competitions in Big Brother 20 with 8 wins total.
Kaycee holds the record for the most HOH/POV competitions won by a female winner with 7.

She holds the record for most POV wins by a winner with 5.
If her hacker win is included, she holds the record for most competitions won by a female winner with 8,
She is also tied with Vanessa Rousso with most HOH/POV wins by an LGBT contestant in a season with 7.

Kaycee is the first lesbian to win Big Brother and the second LGBT contestant to win overall, following Andy Herren.
Kaycee is the third POC to win following Jun Song and Josh Martinez, later followed by Tamar Braxton, and second Asian-American to win following Jun, once again.

Kaycee is the first Asian-American houseguest of Filipino descent to win Big Brother US.

Kaycee is one of the six females to win at least 3 PoV's in a single season, along with Daniele Donato, Janelle Pierzina, Michele Noonan, Britney Haynes, and Vanessa Rousso.
Kaycee is the sixth winner, and fourth female, to win HOH and POV in the same week, following Jordan Lloyd, Hayden Moss, Rachel Reilly, Andy Herren, Nicole Franzel. She would be followed by Jackson Michie and Cody Calafiore.
Kaycee confirmed that she was set to compete on Big Brother 22 (US), going through quarantine and sequester, but was ultimately cut at the last minute for reasons unknown, heavily speculated by houseguests, such as Janelle, and fans to be involved with COVID-19. She later confirmed herself in a December 2020 interview that she had a false positive COVID-19 test and was cut from the cast.[7][8] She was replaced by Keesha Smith and went onto compete on The Challenge: Double Agents instead after fully healing.
References
External Links
Big Brother 20 (US) Houseguests
| | | | | | | | |
| --- | --- | --- | --- | --- | --- | --- | --- |
| Kaycee | | | | | | | |
| | | | |
| --- | --- | --- | --- |
| Winner | Runner-Up | Jury | Evicted |
Community content is available under
CC-BY-SA
unless otherwise noted.