Wiki Targeted (Entertainment)
Play Sound

Jessica Furtado Nickson (née Graf) was a HouseGuest on Big Brother 19 (US).
Jessica was known for her showmance with Cody Nickson, which ultimately led to her and Cody becoming targets week after week. She is also known for her petty rivalry with Josh Martinez, who would constantly pester her and Cody with the nickname "Meatball". Jessica was initially put in a state of power with Cody's alliance of showmances, as well as with Christmas Abbott, Paul Abrahamian, and Dominique Cooper. But as she rose to power, she fell just as quickly, with Cody attempting to backdoor Paul and then Christmas, which turned the entire house against them. When Cody was backdoored in week 2, Jessica was left all alone. Despite being nominated in week 3, America tempted her with the halting hex which she accepted, and she managed to survive eviction against her ally Dominique.When Cody returned to the game, he reunited with Jessica.
In week 4, Jessica snagged the HoH win, but her HoH was botched by Paul and Alex, with her pawn Ramses Soto being evicted over her target, Josh Martinez. After being blind-sided by the house, she revealed to the house that she had the third temptation, which quickly gained attention of fellow houseguests, most notably, HOH, Paul. This left her and Cody nominated. She used her halting hex in week 5 after the house continued to give her and Cody hard times, therefore making Paul's HoH a waste. The week after, Jessica was cursed and was stuck as a third nominee, leaving the house, except Cody, overjoyed . When Jessica failed to win PoV she stayed on the block. She was evicted in a 7-1-0 vote, only gaining the vote of Cody to stay. She came in 12th place, and became the final member of pre-jury.
Biography
Jessica Graf Biography
Retrieved from CBS.com [1]
Age: 26
Hometown: Cranston, RI
Current City: Los Angeles, CA
Occupation: VIP Concierge
Three Adjectives: Honest, loud and loyal
Favorite Activities: Going out to eat long meals with great people.
What do you think will be the most difficult part about living inside the Big Brother house?
Giving up a summer of traveling to share a toilet with 15 other people.
Which past Big Brother cast member did you like most?
Janelle Pierzina from Seasons 6, 7, and 14. We have very similar personalities. I see a lot of her gameplay in me.
Do you have a strategy for winning the game?
I'm going to find the best male competitor in the game and the two of us are going to clean house!
My life's motto is… Do it with passion, or not at all.
What would you take into the house, and why?
- My dog [because] he's a great roommate
- Instagram. How do I go three months without spying on people?!
- A makeup artist for live shows. Girls love that stuff!
Fun facts about yourself:
- I've lived in eight states
- I love doing yoga
- I'm very nocturnal
- Making people laugh makes me happy
- My boobs are real
Player History - Big Brother 19
Competition History
Week 1
Temptation
Sat Out
Hit The Road
Ineligible
HOH Part 1
Win
HOH Part 2
Sat Out
POV
Not Picked
Week 2
HOH
Loss
POV
Not Picked
Week 3
HOH
Loss
POV
Loss
Week 4
House Challenge
Not Picked
HOH
Win
POV
Win
Week 5
HOH
Previous HOH
Temptation
Sat Out
POV
Loss
Week 6
HOH
Loss
Temptation
Nominated
POV
Loss
Have/Have-Not History
| | |
| --- | --- |
| Week 1 | Have |
| Week 2 | Have-Not |
| Week 3 | Have |
| Week 4 | Have |
| Week 5 | Have |
| Week 6 | Have |
Den of Temptation History
Week 1
Loss
Week 2
Loss
Week 3
Win
Week 4
Den of Temptation Phase Over
Week 5
Week 6
Voting History
HOH History
Original Nominees
Post-Veto Nominees
Intended Target
Week 4
Post Big Brother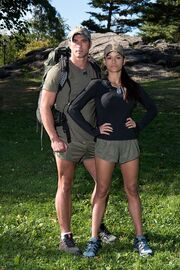 Jessica and her showmance Cody Nickson competed on the 30th season of the Amazing Race.[2] They ended up winning the season, along with an additional $2,500 each for previously winning the second leg.[3] They are the first BB alumni to win another reality show after competing on Big Brother.
Jessica returned to cameo in a musical number in the premiere HOH competition of Celebrity Big Brother 1 (US) alongside former houseguests Rachel Reilly, Jodi Rollins, Paul Abrahamian, Cody Nickson, and Jessie Godderz.[4]
Jessica and Cody returned to host the second POV competition of Big Brother 20 (US).
On September 24, 2018, Cody and Jessica announced that Jessica is 11 weeks pregnant with their first child together.[6][7]

On St Patrick's Day 2019, Jessica gave birth to their daughter Maverick Nickson.[8]

Jessica & Cody got married on October 14, 2018. Casting director Robyn Kass officiated the wedding. Big Brother Alumni Corey Brooks, Elena Davies, Mark Jansen, James Maslow, and Marissa Jaret Winokur and The Amazing Race 32 team Alex Rossi and Conor Daly attended the ceremony.[9]
On November 29, 2019, Cody and Jessica started a coffee company known as Couple's Coffee Co..[10]
On January 8, 2019, Jessica started a podcast called Now What?!.[11]
Trivia
Jessica is the only person to win a competition and get evicted pre-jury in Big Brother 19.
Jessica is the first person to win the Sequence Explosion POV competition and get evicted pre-jury.
Jessica was the first and only female houseguest to win HOH and POV in the same week on Big Brother 19.
Jessica is the first female, and second houseguest overall, to win HOH and POV in the same week and be evicted pre-jury. She followed Devin Shepherd.
Jessica, alongside Cody Nickson, became the third showmance couple to appear on The Amazing Race, following Jordan Lloyd & Jeff Schroeder and Rachel Reilly & Brendon Villegas. They would be followed by Nicole Franzel & Victor Arroyo.

Jessica is one of 16 to compete in another CBS reality show aside from Big Brother. The others are Alison Irwin, Jeff Schroeder, Jordan Lloyd, Brendon Villegas, Rachel Reilly, Hayden Moss, Caleb Reynolds, Jeff Weldon, Jackie Ibarra, Cody Nickson, Janelle Pierzina, Britney Haynes, Elissa Slater, Nicole Franzel, Victor Arroyo and Winston Hines.
References
Big Brother 19 (US) Houseguests
| | | | | | | | | | |
| --- | --- | --- | --- | --- | --- | --- | --- | --- | --- |
| | | | | Jessica | | | | | |
| | | | | |
| --- | --- | --- | --- | --- |
| Winner | Runner-Up | Jury | Evicted | Walked |