Jackson Glen Michie is the winner of Big Brother 21 (US).
A polarizing houseguest, Jackson set himself well for the majority of the pre-jury phase by aligning with Jack Matthews, forming a showmance with Holly Allen, and being a part of two alliances. In Week 5 however, a huge blowup caused all of Jackson's allies except Holly to turn on him. The following week, Jackson and Jack were nominated, but Jackson survived eviction. Following that, he managed to go on a competition run, winning several competitons, while also forming a final four alliance with Holly, Cliff Hogg III, and Nicole Anthony, all of which allowed him and Holly to be in control for the rest of the season. At the final five, he convinced Cliff and Nicole of a lie that Tommy Bracco was targeting them, saving his showmance, Holly. His competition wins and strong gameplay eventually won him the game over Holly in a 6-3 vote.
Jackson was a major competition threat in the second half of the season, winning 4 HoHs, 4 PoVs, and America's Field Trip, tying Paul Abrahamian for winning the most competitions (HoHs and PoVs) (8 wins) among all male players in a single season, as well as becoming the male houseguest to have won the most competitions in a single season (9).
While viewers felt that he played the best game, his questionable behavior throughout the season such as verbal abuse and cheating on slop created controversy with fans and his fellow houseguests. On finale night, Jackson was confronted with his actions. As a result, Jackson's body language and attitude were noticeably subdued when he exited the house after his win.
Biography
Jackson Michie Biography
Age: 24
Hometown: Nashville, Tennessee
Current city: Los Angeles
Occupation: Server
Three adjectives that describe you: Driven, assertive, and confident.
Favorite activities: Exercising, social events, and hunting.
What do you think will be the most difficult part about living inside the Big Brother house?
Honestly, nothing seems too difficult that I couldn't endure it. However, remembering that I'm under 24/7 video surveillance will be my only hiccup. I feel like after a week or two I'll become comfortable and forget that I can't sleep naked, drop my towel, etc. Also, the food. I'm not a picky eater at all, but I eat a good amount of food. Not being able to grocery shop and get my daily watermelons or protein bars would be tough, but manageable.
Which past Big Brother cast member did you like most?
Paul: Simply, he told it like it was. I respect honesty and boldness. Brett: "Guy's Guy" to a tee. He was socially talented, physical, and would probably be someone I would hang out with outside of the house.
Do you have a strategy for winning the game?
Absolutely. Be physical—which I'm very good at—but not too physical. I will win competitions but I've got to pick them wisely as to not become too large of a threat. Furthermore, be willing to do anything and everything I have to in order to win the Houseguests over on a social level. I was pre-law and have been involved in real estate/sales my entire life. If there's one thing I'm good at, it is connecting with people, reading them, and selling them on whatever it is I'm trying to get them to buy into. Whether it's a property, a judge and jury, a bottle of wine, or medical supplies, I can sell it. Sales is all about being the person your customer wants you to be and selling them without them knowing they've even been sold. I can, and will, sell myself to the Houseguests and get them to buy into me.
My life's motto is...
"Anything in life worth doing is worth overdoing, moderation is for cowards."
What would you take into the house and why?
- My weight belt/Versa Gripps so I can lift as heavy as I do outside of the house.
- Some form of music so I can work out, relax, or regroup.
- An iPad or tablet that streams my mass every Sunday morning so I can stay in touch with my religious side.
Fun facts about yourself:
- From middle school all the way through college, I used to write papers/speeches/etc. for money.
- I can shotgun a beer in under 2.5 seconds.
- I skipped my college graduation ceremony to go to South Beach Miami, Florida for a week with buddies.
- My senior year of college on spring break, I put $500 on Black at the Roulette table at the Hard Rock in Punta Cana, DR and won three times. In a row.[2]
Player History - Big Brother 21 (US)
Competition History
Week 1
Hit The Road
Ineligible
HOH
Sat Out as CD
Whacktivity
Ineligible
POV
Not Picked
Week 2
HOH
Loss
Whacktivity
Loss
POV
Loss
Week 3
HOH
Loss
Whacktivity
Ineligible
POV
Loss
Week 4
Comeback
Ineligible
HOH
Loss
POV
Win
Week 5
HOH
Loss
POV
Not Picked
Week 6
HOH
Loss
POV
Loss
Week 7
HOH
Loss
Field Trip
Win
POV
Loss
Week 8
HOH
Win
POV
Win
Week 9
HOH
Previous HOH
POV
Win
Week 10
HOH
Win
POV
Loss
HOH
Previous HOH
POV
Loss
Week 11
HOH
Win
POV
Loss
Week 12
HOH
Previous HOH
Luxury
Win
POV
Win
Week 13
HOH Part 1
Win
HOH Part 2
Unable to Play
HOH Part 3
Win
Have/Have-Not History
Week 1
Phase Not Active
Week 2
Week 3
Week 4
Have-Not
Week 5
Have
Week 6
Have/Have-Not Phase Over
Week 7
Week 8
Week 9
Week 10
Week 11
Week 12
Week 13
Voting History
HOH History
Original Nominees
Post-Veto Nominees
Intended Target
Week 8
THEN
Week 10
Week 11
Week 13
N/A
Post Big Brother
Jackson and Holly continued their relationship post-season, and were living together. However, on June 18th, 2020, they announced they had broken up.[3]
Trivia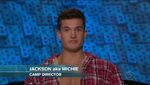 Jackson is the third person to have their Diary Room chyron display their nickname alongside their real name, following Chiara Jude Berti and Nakomis Dedmon. Eventually, his name was officially changed to "Michie" entirely due to his fellow houseguests wanting an easy way to differentiate him from Jack Matthews. However, the name he was referred to constantly went back and forth. On feeds, houseguests would usually call him "Jackson", and that was still his name in the intro sequence, but on the show, in his chyron, in competitions, and the finale voting keys, he was referred to as "Michie".
Jackson is the first person on Big Brother 21 to win the Power of Veto and use it on themself.
Jackson is the sixth HouseGuest to win the Power of Veto in all three situations (as Head of Household, as a nominee, and as a picked player), sometimes referred to as the Trifecta Veto. The first HouseGuests do accomplish were Daniele Donato, Shane Meaney, Paulie Calafiore, Corey Brooks, and Jason Dent.
Jackson is the sixth American HouseGuest in Big Brother history to win HOH in the first part of a Double/Triple Eviction and then again after it happened. The other HouseGuests to accomplish this were Zach Swerdzewski, Ian Terry, Nicole Franzel (even though she was dethroned the second time), Victor Arroyo and Shelby Stockton. He would be followed by Cody Calafiore.
Jackson holds the record for most HOH/POV wins by a winner with 8.

Counting his America's Field Trip competition win, he holds the record for most overall competition wins by a winner with 9.

Jackson is the seventh winner, and third male, to win HOH and POV in the same week, following Jordan Lloyd, Hayden Moss, Rachel Reilly, Andy Herren, Nicole Franzel and Kaycee Clark. He would be followed by Cody Calafiore.
Jackson shares the record for most HOH wins in a row with Ian Terry at 4 consecutive wins. 
References
Big Brother 21 (US) Houseguests
| | | | | | | | |
| --- | --- | --- | --- | --- | --- | --- | --- |
| Jackson | | | | | | | |
| | | | |
| --- | --- | --- | --- |
| Winner | Runner-Up | Jury Member | Evicted |
Community content is available under
CC-BY-SA
unless otherwise noted.