Ian Patrick Terry is the winner of Big Brother 14 (US), who also appeared on Big Brother 22 (US).
In BB14, Ian was a member of Team Boogie in the Coaches twist. After the reset, Ian joined with Dan, Danielle, Britney, and Shane to form The Quack Pack alliance. In week 6, he orchestrated his former coach, Mike's eviction. He was a competition threat, winning 4 HOHs and 2 PoVs, thus making him the third male HouseGuest in the history of the show to win six competitions. After the alliance splintered in the final stages of the game, Ian won the game over Dan by a 6 to 1 vote, only losing Danielle's vote. He is also remembered for his friendships with Britney and Dan, his showmance with Ashley, and for strategically taking continuous have-nots and punishments without complaint.
Ian returned to BB22 as one of two previous winners. While HoH Memphis wanted to nominate him in week 2 for being a threat, he was saved when Christmas won the safety competition and included him as her plus 1. In week 6, HoH Dani nominated Ian as a pawn initially against her target her ally she didn't trust Tyler, but Tyler's alliance, which included Dani wanted to keep Tyler for being an ally, and evict Ian, whom they saw as a huge threat, with Dani eventually agreeing that Ian needed to go. He had a short lived feud with The Committee (except Nicole F) who mocked his autism. Despite that he developed a friendship with Da'Vonne and a close one with Nicole F (who had emotional moments when he was evicted). Ian was evicted that week by a vote of 5-3, placing 11th and becoming the first member of the jury.
Biography
Ian Terry Biography
Retrieved from CBS.com Age: 21
Hometown: Pittsburgh, Pa. (living in New Orleans, La.)
Occupation: Engineering Student at Tulane University
Three adjectives that describe you: Intelligent, eccentric and analytical.
Favorite Activities: I really enjoy biking whenever I get the chance. A grueling bike ride is excellent.
Most difficult part about living inside the Big Brother house: Being disconnected from sports, family, friends, internet and TV.
Strategy for winning "Big Brother:" I want to make an alliance with about six people and I'd like to be seen as maybe the fourth strongest in the group, that way it wouldn't be me going up if the other side gained the power.
Which past Big Brother cast member did you like most or least: My all-time favorite has to be Dr. Will from BB2/BB7. He played the game with absolute finesse both times, and as a 10-year-old watching BB2, I definitely would say I idolized him back then.
What are you afraid of: I'm definitely afraid of venomous snakes and any large, deadly animals, simply because they're extremely dangerous. I also have a real fear of vomiting because it's really painful and a fear of drowning since I feel like it'd be one of the worst ways to die.
What is the accomplishment you are most proud of: My proudest accomplishment so far in life is going to Tulane, far away from my family and old friends, studying the hardest major I could possibly take, and surviving it for three years.
Finish this sentence: My life's motto is… I came here to kick butt and chew bubblegum, but I'm all out of bubblegum.
What would you take into the house and why: My collection of glasses: I have these glasses that can go with everything I wear. A picture of my family: I definitely will really miss them. My guitar: I recently picked up guitar and feel it's an awesome way to relieve stress. Also, it does get me a fair amount of attention from girls.
What would you do if "Big Brother" made you famous: I'd try to live my life normally again. I don't really have any intentions of going into acting or anything like that. I'd probably just try to go back to Chemical Engineering and do what I've always wanted to do.[1]
Retrieved from CBS
Age: 29
Hometown: Pittsburgh
Current city: Houston
Occupation: Management consultant
Previous season: Big Brother 14 (winner)
Three adjectives that describe you: Eccentric, intelligent,and inquisitive.
Favorite activities: I enjoy backgammon, running, technical analysis, reading, math puzzles, and studying maps.
Why do you want to play Big Brother again?
I'm a generally good games player, so if there's a game being played for money where I have positive equity, I want in!
What do you think will be the most difficult part about living inside the Big Brother house?
Not being able to talk to or see my girlfriend, friends and family, as well as having to play politics 24/7.
Which past Big Brother cast member did you like most and why? I like Johnny Mac from Big Brother 17. I loved his passive, relaxed, and intelligent playing style. Additionally, he is a hoot in real life!
What is your strategy for winning the game?
I want to get into a decent alliance and try to win the first HOH, just to make sure I don't get frozen out for being unpopular. Following that, hibernate. Towards the end of the game, I will ramp up and utilize my competition ability and take advantage of the game's structure.
How does this strategy differ from the last time you played?
I'm definitely going to pepper in stronger tactical play to ensure that others are more willing to work with me. Last time, nobody in the house was giving me good information, simply because I was socially unpopular—frustrating!
Have you changed/evolved since the last time you were on the show?
I'm much more mature and readily able to navigate social situations. Working as a physics teacher for a handful of years taught me a lot about building connections with others.
My life's motto is…
"The pause is a part of the walk."
What would you take into the house and why?
-My backgammon board. I saw that the house had one last year, but the one I have is top of the line.
-A few packs of cigarettes. I don't smoke… in fact, I don't see the appeal to it at all. That being said, I'd like to use these to forge bonds with those that like to casually smoke but didn't bring any for themselves.
-My pet dinosaur Isaac. He's funny and reminds me of my girlfriend and I's quirky relationship.
Fun facts about yourself:
-I'm a championship level backgammon player and have earned a rating of "Master" on the most popular backgammon site on the web.
-I was given a letter of recognition from MIT for being an inspiring physics teacher when that was my day job.
-My girlfriend and I refer to a dinosaur puppet named Isaac as our pet. He even has his own backstory and personality.
-I once attempted to memorize and label a map of every county in the United States for a bet. I got through memorizing the counties in four large states with perfect accuracy before getting bored and buying out of the bet.
-I'm a card-carrying member of Mensa, which I joined after taking an IQ test to settle a bet (yes, I won the bet).[2]
Player History - Big Brother 14 (US)
Competition History
Week 1
HOH/HTR
Safe
Coaches Competition
Ineligible
POV
Not Picked
Week 2
HOH
Loss
Coaches Competition
Ineligible
POV
Loss
Week 3
HOH
Loss
Coaches Competition
Ineligible
POV
Not Picked
Week 4
HOH
Loss
POV
Loss
Week 5
HOH
Loss
Have/Have-Not
Have
POV
Not Picked
Week 6
HOH
Loss
POV
Loss
HOH
Win
POV
Loss
Week 7
HOH
Previous HOH
GBOV
Win
POV
Unable to Play 1
Week 8
HOH
Win
POV
Loss
HOH
Previous HOH
POV
Win
Week 9
HOH
Win
POV
Loss
HOH
Previous HOH
POV
Loss
Week 10
HOH Part 1
Loss
HOH Part 2
Win
HOH Part 3
Win
Note: 1 During Week 7, Ian could not compete in the Power of Veto competition because he held the Golden Ball of Veto.
Have/Have-Not History
Week 1
Have-Not
Week 2
Have-Not
Week 3
Have-Not
Week 4
Have
Week 5
Have
Week 6
Have
Week 7
Have
Week 8
Have/Have-Not Phase Over
Week 9
Week 10
Voting History
HOH History
Original Nominees
Post-Veto Nominees
Intended Target
Day 48
Week 8
Week 9
Week 10
N/A
Player History - Big Brother 22 (US)
Competition History
Week 1
HOH Part 1
Win
HOH Part 2
Loss
Safety Suite
Sat Out
POV
Loss
Week 2
HOH
Loss
Safety Suite
Loss
POV
Loss
Week 3
HOH
Loss
Safety Suite
Ineligible
POV
Not Picked
Week 4
HOH
Loss
POV
Not Picked
Week 5
HOH
Loss
BB Basement
Loss
POV
Sat Out*
Week 6
HOH
Loss
POV
Loss
Note: Ian was selected to play in the Week 5 POV competition, but was not medically cleared to compete due to having high blood pressure from his anxiety and a lack of sleep.
Have/Have-Not History
| | |
| --- | --- |
| Week 1 | Have-Not |
| Week 2 | Have |
| Week 3 | Have |
| Week 4 | Have |
| Week 5 | Have |
| Week 6 | Have-Not |
Voting History
 Post Big Brother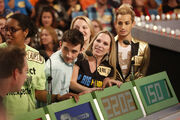 Trivia
Ian is the first Big Brother houseguest to be born in the 1990s.
Ian is the first ever autistic Big Brother houseguest.
Ian is the youngest winner in Big Brother history, having won the game at the age of 21 years, 6 months.
Ian was the fourth player to win four Head of Household competitions and go on to win the game. He followed Drew Daniel, Hayden Moss, and Rachel Reilly. They were followed by Steve Moses.
Ian was the first man to ever win the game after winning six competitions. He was later followed by Steve Moses.
Ian is tied with Rachel Reilly and Steve Moses for the third most HoH/PoV competitions won by a winner in a single season of Big Brother, with the three of them having six wins each. Jackson Michie has the most wins with 8.

Coincidentally, they all won 4 HoHs and 2 PoVs.

Ian is the second American HouseGuest in the history of the show to win HoH before a Double/Triple Eviction and again after it occurred. He followed Zach Swerdzewski, and preceded Nicole Franzel, Victor Arroyo, Shelby Stockton, Jackson Michie and Cody Calafiore.
In Big Brother 17, Steve Moses who went on to win the season was compared to Ian.
Ian holds the record for the most consecutive HOH competition wins with four.

He was the first HouseGuest to win four HOH competitions in a row, Jackson Michie being the second.

Ian also holds the record for the most consecutive rounds safe (five rounds, from the Final Nine to the Final Five) by alternating HOH and Power of Veto wins.
Ian was the first HouseGuest to not win an HOH competition prior to winning HOH during a double eviction.
Ian was the first and, so far, only HouseGuest to open Pandora's Box twice.
Ian was the second new player (and the first male) to win in a season where there were returning HouseGuests (following Jordan Lloyd).

He was the first player to beat a returning player in the Final Two. He would be followed by Josh Martinez.

Ian and Mike Malin are the only returning winners to be evicted the first time they got nominated on their subsequent seasons.
Ian was the only evicted houseguest on Big Brother 22 (US) to have more than two houseguests vote to keep him the week that he left.

He was also the only houseguest to be evicted as a replacement nominee, as well as the only Juror to not win any competitions on Big Brother 22 (US).

Ian revealed that while in the Jury House for Big Brother 22, he found a telescope and would use it to watch CNN through the window of a nearby house. Doing this he learned about several real world events the houseguests had not been told about, including Donald Trump's COVID diagnosis and the death of Ruth Bader Ginsburg. He said production took the telescope away after they realized what he was doing.[8]
Both times Ian played Big Brother, he played with Janelle Pierzina.
References
Big Brother 14 (US) Houseguests
| | | | | | | | |
| --- | --- | --- | --- | --- | --- | --- | --- |
| Ian | | | | | | | |
| | | | | |
| --- | --- | --- | --- | --- |
| Winner | Runner-Up | Jury | Evicted | Expelled |
Big Brother 22 (US) Houseguests
| | | | | | | | | |
| --- | --- | --- | --- | --- | --- | --- | --- | --- |
| | | | Ian | | | | | |
| | | | |
| --- | --- | --- | --- |
| Winner | Runner-Up | Jury | Evicted |
Community content is available under
CC-BY-SA
unless otherwise noted.