We're Getting Mutants in the MCU - The Loop
Play Sound
The Housemates are the official residents of the Big Brother House.
In the show, each contestant is called a "housemate". These housemates are a group of strangers chosen to live inside Big Brother's house for a certain number of days. The housemates must survive weekly evictions to reach the finale and win the grand prize.
Depending on the season's format, theme, and twists, the housemates may receive advantages, power, and punishments from Big Brother.[1] Further, some Big Brother editions may feature various types of housemates.
In North American versions, particularly Big Brother U.S. and Big Brother Canada, the term Houseguests is used instead.
Types of Housemates
Throughout the Big Brother franchise there are three general types of housemates that appear on their respective editions.
In some seasons, these types of housemates may compete against each other in one season as part of that season's theme or twist, known as the All In twist, also called as Civilian vs. Celebrity on versions without Teen Editions.
Civilian Adult Housemates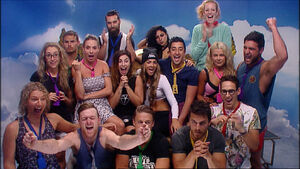 The Civilians are the main contestants of Big Brother, and they appear on regular, main editions of every franchise.
Civilian housemates or houseguests are adult people whose ages range from 18 to 75 years old. The civilians are everyday people from different walks of life and often have diverse life stories, religions, gender, personalities, ethnicities, and relationships. [2]
Civilian Housemates appear on every international Big Brother franchise. They are considered the main contestants of most international versions, except for India's Bigg Boss which typically cast celebrities in its main seasons.
Celebrity/VIP Housemates

Celebrity Housemates are famous personalities who volunteer to live in Big Brother House. These celebrities usually come from various fields with different levels of fame, such as television, film, theater, music, fashion, sports, politics, social media, and more.
They mainly appear in the celebrity edition of Big Brother. These celebrity editions are commonly known as a separate edition or spin-off, such as Celebrity Big Brother or Big Brother VIP.
In earlier versions of the show, Celebrity Housemates initially played for their chosen charities. Nowadays, the more recent celebrity contestants are often invited to join the show and get paid for appearing in a season.
Most international versions cast Celebrities on their celebrity editions, with Big Brother UK being notable for casting internationally famous and controversial personalities in its Celebrity Big Brother series. [3]
Teen Housemates
Teen Housemates are everyday adolescents whose ages range from 13 to 19 years old. These teenagers are similar to civilian housemates in all aspects except their age. Like civilians, the teens come from diverse backgrounds and have different personalities, gender, ethnicity, and religion. Some teens are high school students, while some are in college. Out-of-school teenagers have also entered Big Brother's house.
Teen housemates typically appear in Teen Editions of the franchise. Throughout their stay inside the house, Big Brother assumes as their guardian due to their age. Because of it, Big Brother often becomes stricter to them compared to adult housemates. Further, there are additional age-appropriate house rules that are imposed only among teen housemates. Teen Editions typically air every summer when teens are not in school.
Only two versions have featured all-teen casts in their seasons, Big Brother UK and Pinoy Big Brother. However, the Philippine version is notable for successfully casting teen housemates throughout its series, many of whom became the country's top teen stars after joining the show. [4]
Notable Housemate Twists
Throughout the Big Brother franchise, several contestant-related twists have appeared in various seasons and versions.
Estranged Siblings: This twist was notable for reuniting two estranged siblings inside the Big Brother House. The twist first appeared as the main element of the Project DNA twist of Big Brother 5 (US). Years later, the twist appeared in Pinoy Big Brother: Otso.
Twin Twist: Twins are commonly involved in twists that appeared on various Big Brother franchises. In most seasons where the twist appeared, the twins are usually given a secret task to switch identities and play as one housemate without the rest of the house noticing their swap.
Pair Housemates: In some seasons, one or more housemates play as one pair. Depending on the season's theme, the pair could be related, friends, lovers, ex-lovers, etc. This twist was used as the main theme of Big Brother 9 (US) and Big Brother 13.
International Housemates: Foreign-born housemates enter the house and play against local-born housemates. This twist was a major twist in Pinoy Big Brother: Teen Clash 2010 and Big Brother Canada 4.
Returning Players: Housemates from previous seasons come back to the house for another chance to win.

All Stars: Fan-favorites, Past Winners, and remarkable players return to the house and compete against each other.
Trivia
Franchise
Contestant
References
Big Brother Gameplay
Note: Italicized terms only appear on Big Brother versions that use North American format.