Heaven Lyan Peralejo was a teen housemate in Pinoy Big Brother: Lucky 7
She's dubbed as The Mommy's Angel of Makati because she's very close to her mother ever since her parents got separated. She's very determined to help her mother who recently just had uterus cancer.
She's notable for having a very close friendship with her fellow housemates, Marco Gallo and Edward Barber as well as hanging out more with the boys which made the other girl housemates felt aloof on her.
On Week 9, she caused a drama between her and the rest of the girl teen housemates after telling them during a girl talk that she thought that Marco and Edward likes her and Marco was just using Kisses to make her jealous. After she went out of the girls' bedroom, the girl housemates were completely shocked by her statement. The sensitive Kisses Delavin was obviously hurt by her statements and began to cry, thinking it was true. The rest of the girls later confronted Heaven and made the two girls clear things up. Kisses began to confront Heaven about her rude actions. The two guys involved however, denied Heaven's claims in the following days. The drama reached social media where both fans of the girls began to clash.
She was also often reprimanded by Big Brother regarding her actions inside the house, especially when she kept on complaining about a punishment she got after violating a rule.
Since their first nominations, Heaven had been up for eviction for 4 consecutive weeks. On Week 10, for her fourth time, she got nominated once again with Christian Morones and Kisses Delavin on the block.
On Week 11, after asking Big Brother for an update about her mom, she discovered that her mother was sent back again to the hospital and was diagnosed having a lump in the brain which is required for an immediate brain surgery. Big Brother at first, gave her a privilege to go to the hospital without the 24 hour limit. However, after returning to the house, she said that she needs to be with her mom at this point and decided to voluntary exit resulting to the cancellation of the upcoming eviction.
Biography
Retrieved from pinoybigbrother.com
The Mommy's Angel of Makati
Heaven is a 16-year-old young actress from Makati. She is the niece of former actresses Rica Peralejo and Paula Peralejo. Her parents split up early due to a long distance relationship. Her mother was diagnosed with uterus cancer in February 2015.
If Heaven could describe herself in one word, her answer would be 'optimistic.' The reason why she joined Pinoy Big Brother was because of her mom who has cancer.
Before joining PBB, Heaven already tried her luck in showbiz. At an early age, she already wanted to help with her mother's medical bills.
Heaven thinks that she deserves to be the Big Winner because "I love my mom, I didn't join PBB because of fame but to help my mom."
She then shared that she has no strategies in winning but she would just be herself because if she wouldn't show her true side, people won't know who the real Heaven is.
Heaven's talents are singing (Broadway style), dancing and painting.
She then shared that she started to become a Star Magic artist just this December and she already appeared in the sitcom "Home Sweetie Home" for a month, she also joined in the movie "Buy Now, Die Later" since she is co-managed by Ogie Diaz. Heaven also appeared on James Reid and Nadine Lustre's first TV series, "On the Wings of Love."
She considered her media appearances as her greatest achievement yet.[1]
Player History - Pinoy Big Brother: Lucky 7
Teen History
Task History
| | | |
| --- | --- | --- |
| Week 5 | Lucky 7 Part 1 | Win |
| Week 6 | Lucky 7 Part 2 | Win |
| Week 7 | Lucky 7 Part 3 | Loss |
| Week 8 | Lucky 7 Part 4 | Win |
| Week 9 | Lucky 7 Part 5 | Win |
| Week 10 | Weekly Task | Loss |
Competition History
Week 5
No Competitions
Week 6
No Competitions
Week 7
Eviction (via Ligtask)
Ineligible
Padaluck
Ineligible
Week 8
Eviction (via Ligtask)
Win
Padaluck
Win
Week 9
Eviction (via Ligtask)
Win
Padaluck
Loss
Week 10
No Competitions
Week 11
Eviction (via Ligtask)
Cancelled
Padaluck
Cancelled
Nominations History
Post-Big Brother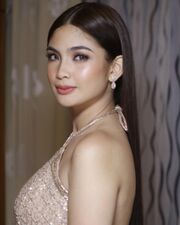 Peralejo is currently a singer/actress.
Peralejo started a Youtube Vlog.
Peralejo starred in the Wansapanatym episodes "Annika PINTAsera" and "Jasmin's Flower Powers".
Trivia
Heaven is the first housemate to receive the 100 Seconds Encounter in Pinoy Big Brother 7.
She had been nominated for three consecutive weeks before she decided to have a voluntary exit for her mother's surgery.
Heaven was seen as a strong competition among the Teens, similar to that of her fellow housemate Christian Morones. Because of it, her voluntary exit completely shocked many of the viewers, especially her supporters and even her haters. Some haters even speculated that she was instead Forced Evicted by Big Brother due to her unpleasant behavior and just covered it up by making her walk out from the house.
References
Pinoy Big Brother 7 Housemates
Part 1: The Celebrity Housemates
| | | | | |
| --- | --- | --- | --- | --- |
| | Lucky Stars (on to Dream Team) | Walked | Evicted (Lucky 7) | Evicted |
Part 2: The Teen Housemates
| | | | | | | |
| --- | --- | --- | --- | --- | --- | --- |
| | | | Heaven | | | |
| | | | | |
| --- | --- | --- | --- | --- |
| | Lucky Suns (on to Dream Team) | Walked | Evicted (Lucky 7) | Evicted |
Part 3: The Adult Housemates
| | | | |
| --- | --- | --- | --- |
| | Lucky Houses (on to Dream Team) | Evicted (Lucky 7) | Evicted |
Part 4: Big Brother's Dream Team
| | | | | |
| --- | --- | --- | --- | --- |
| | Winner | Runner-Up | Finalist | Evicted |
Community content is available under
CC-BY-SA
unless otherwise noted.