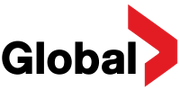 Global is one of the major broadcast television networks in Canada, owned by Corus Entertainment. As of 2015, it is the home of Big Brother Canada, the country's English-language version of Big Brother. Global has also aired Big Brother U.S. (BBUS) since its inception in 2000.
In addition to BBUS, Global is the Canadian home of several other CBS programming brands, including Survivor, NCIS and The Late Show.
Association with Big Brother
Big Brother U.S.
Global has aired every season of BBUS since 2000, except Big Brother: Over The Top, which was exclusive to CBS's video on demand platform CBS All Access.
Big Brother Canada
Big Brother Canada (BBCAN), the first English-language adaptation of the Big Brother format in Canada, began on Global's sister network Slice in 2013.
After the first two seasons of the show proved successful, it was announced in 2014 that BBCAN had been renewed for its third season, and would move to Global, where it has remained since.
On June 1st, 2015, Global renewed BBCAN for its fourth season[1]. During this season, Global also premiered select episodes of the spin-off Big Brother Canada Side Show, which usually aired on Slice. On June 7th, 2016, Global renewed BBCAN for its fifth season[2].
On June 5th, 2017, just a few weeks after season five concluded, Global announced that it would be putting BBCAN on 'hiatus'. A media statement from the network insisted: "Global remains the broadcaster for Big Brother." Following a backlash from fans and viewers, Global announced on July 21st, 2017 that it had reversed its decision, and the show was no longer on hiatus. BBCAN returned for its sixth season on March 7th, 2017.
Gallery
References
External Links
Community content is available under
CC-BY-SA
unless otherwise noted.