Wiki Targeted (Entertainment)
Play Sound
Frank James Michael "Frankie" Grande Marchione was a houseguest on Big Brother 16 and later was a housemate on Celebrity Big Brother 18.
Frankie is the brother of singer and actress Ariana Grande. For weeks Frankie hid this from his fellow cast members, but when his back was against the wall, he revealed his relationship to the singer as an attempt to win them back, to mixed responses. After winning the first HOH competition of the season, Frankie established a relationship with co-HOH Caleb Reynolds that eventually led to the creation of the Bomb Squad, an eight-person alliance. After the leader of the alliance, Devin Shepherd, was evicted in Week 3, Frankie joined a new alliance called The Detonators which consisted of four other original Bomb Squad members. When the BB Rewind Twist was introduced in Week 11, Frankie was adamant about pressing it, unknowingly nullifying his HOH and POV wins. He was evicted in the rewind week, after failing to win the same competitions, by a 2-0 vote, placing 5th and becoming the 7th member of the jury.
Frankie later competed on the eighteenth celebrity season of the United Kingdom version of Big Brother. Frankie took part in many weekly tasks like judging a talent show, winning a shopping task, and bringing a little bit of Hollywood to Borehamwood, just to name a few. On Day 30, he left the house in sixth place.
Biography
Big Brother 16
Retrieved from CBS.com
Age: 31
Hometown: Boca Raton, Fla.
Current City: New York, N.Y.
Occupation: YouTube Personality
Three adjectives that describe you: Sparkly, charismatic and unreserved.
Favorite Activities: Biking, swimming, twerking, doing impersonations and making funny videos with my friends!
What do you think will be the most difficult part about living inside the Big Brother house: Being disconnected. I think I would love it for a week or even two, but eventually, I would start to go into Twitter withdrawal.
Do you have a strategy for winning Big Brother?: I am going to be the happy likable person that everyone wants to keep around in the beginning, but I will be good at competitions. I will use the HOH's that I win to make everyone want to be on my side.
Which past Big Brother cast member did you like most: I love Britney; she was likable, aggressive, manipulative and entertaining.
What are you afraid of: Spiders, ever since one almost killed me. I am totally fine with insects though because I studied entomology in college.
What is the accomplishment you are most proud of: Helping a student. One of my students came out to me and admitted that he was thinking about taking his life until he met me. He called me his angel who showed him the path to life.
Finish this sentence: My life's motto is… Shine bright like a Frankie.
What would you take into the house and why: 1. Ariana's music, because she is my best friend and inspires me to keep working and persevering. Also, I LOVE HER MUSIC! 2. My Kindle with all of the Harry Potter books loaded on it. 3. An endless supply of grande double dirty iced soy chai lattes in venti cups with extra ice.
What would you do if Big Brother made you famous: Exactly what I am doing, but hopefully on an even bigger scale with worldwide reach, bigger shows, and bigger tours.
Frankie is a former Broadway actor who is now a popular YouTube sensation [1] with over 175,000 subscribers and nearly 10,000,000 views. His sister is the multi-platinum selling pop singer Ariana Grande.[2]
Celebrity Big Brother 18
Retrieved from BigBrother.Channel5.com
Age: 33
Twitter: @FrankieJGrande
Home town: New York City
Host of Style Code Live, Broadway star, YouTube sensation and brother of Ariana Grande
What are you looking forward to most about Celebrity Big Brother and why? What I'm looking forward to the most is having some fun with my peers. The world has turned into such a terrible place of late. I'm looking forward to escaping it and just having fun in the House!
What type of person would you not want to live with and why? I have difficulty living with people who are homophobic and can't see past that in order to get to know me. Ignorance I can deal with, but when someone is fundamentally against it, it is hard to be around. I have been known to convert a hater with those beliefs into a follower, so you never know what may happen in the House!
Describe yourself in three words? Bright, sparkly, firecracker

Player History - Big Brother 16
Competition History
Week 1
HOH
Win
BOTB
Dethroned
POV
Not Picked
Week 2
HOH
Loss
BOTB
Ineligible
POV
Not Picked
Week 3
HOH
Loss
BOTB
Ineligible
POV
Not Picked
Week 4
HOH
Win
BOTB
Dethroned
POV
Not Picked
Week 5
HOH
Win
BOTB
Survived
POV
Loss
Week 6
HOH
Previous HOH
BOTB
Ineligible
POV
Not Picked
HOH
Loss
POV
Not Picked
Week 7
HOH
Loss
BOTB
Win
POV
Not Picked
Week 8
HOH
Win
BOTB
Survived
POV
Win
Week 9
HOH
Previous HOH
POV
Loss
Week 10
HOH
Loss
POV
Not Picked
HOH
Loss
POV
Win
Week 11*
HOH
Win
POV
Win
Week 12
HOH
Loss
Luxury
Loss
POV
Loss
Note: In Week 11, Frankie's HOH and POV wins were nullified due to the BB Rewind Twist being activated.
Have/Have-Not History
| | |
| --- | --- |
| Week 1 | Have |
| Week 2 | Have |
| Week 3 | Have |
| Week 4 | Have |
| Week 5 | Have |
| Week 6 | Have Not |
| Week 7 | Have |
| Week 8 | Have |
| Week 9 | Have |
| Week 10 | Have |
| Week 11 | Have |
| Week 12 | Have/Have-Not Phase Over |
Voting History
HOH History
Original Nominees
Post-Veto Nominees
Intended Target
Week 1
(Dethroned)
Dethroned
OR
Week 4
(Dethroned)
Dethroned
OR
Week 5
Week 8
THEN
Week 11
(Rewound)
THEN
Week 11 ended with a twist called "BB Rewind" where the HOH and Veto competitions were replayed, thus undoing Frankie's wins for both, along with his nominees.
Player's History - Celebrity Big Brother 18
Task History
| | | |
| --- | --- | --- |
| Day 3 | Game of Phones | Win |
| Day 5 | Talent Show | Judge |
| Day 6 | Shopping Task 1 | Win |
| Day 7 | Shopping Task 2 | Win |
| Day 8 | Hollywood to Borehamwood | Win |
| Day 11 | Protect Large Balloon | Not Chosen |
| Day 12 | Talent Agency | Not Chosen |
| Day 13 | Nerve | Win |
| Day 14 | Big Risk | Win |
| Day 16 | Shopping Task 3 | Win |
| Day 18 | Back to School | Win |
| Day 21 | Shopping Task 4 | Win |
| Day 23 | One-Upping | Win |
| Day 24 | Elves vs Reindeer | Win |
| Day 28 | Award Categories | Win |
Nominations History
Post Big Brother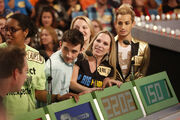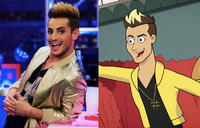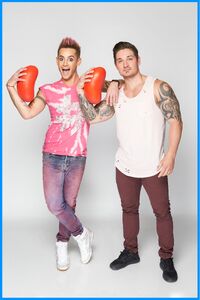 Frankie and Zach Rance had a brief relationship for some time after Big Brother 16, which Zach revealed in December 2020 when he came out as bisexual.[3][4]
Frankie appeared in the audience during the first live eviction episode of Big Brother 17, when evicted houseguest Jace Agolli gave him a shoutout as he saw him in the front row. He later appeared at the Final 5 to take Liz Nolan and Vanessa Rousso on a trip to see his sister perform as a prize for winning a Luxury Competition
Since his appearance on Big Brother, Frankie has made appearances on various TV shows. Most notably, being a judge on Randy Jackson Presents America's Best Dance Crew.[5]

Frankie has a recurring role on Nickelodeon sitcom Henry Danger as supervillain "Frankini". He maintains the role in its two spin-off series: cartoon series The Adventures of Kid Danger and sequel series Danger Force. He has appeared in six episodes across the three shows, starting in September 2017 to as recently as March 2020.[6]

Frankie competed on the Big Brother Primetime Special of The Price is Right that aired on May 24, 2016.[7] Despite being one of the first four teams called, Frankie and his partner, Amy were unable to play a pricing game.[8]
Frankie is a host on Style Code Live, a web series on Amazon.com.[9]
Frankie competed on the Big Brother team on the CBS game show Candy Crush that airs on July 9, 2017.[10] with his teammate and fellow BB16 houseguest Caleb Reynolds competed against Big Brother 18 houseguests Da'Vonne Rogers and Paul Abrahamian.
Frankie appeared in Big Brother 19 (US) as part of the BB Comics Revengers.
Frankie appeared as a guest host for Off the Block (the Big Brother 20 after show) Episode 6, alongside Marissa Jaret Winokur to make up for Ross Mathews' absence.

However, a few days after being uploaded, the video was taken down for unknown reasons.
Trivia
Frankie is technically tied with Demetres Giannistsos and Dane Rupert for the record for the most Head of Household competition wins with 5 wins. However, he was dethroned twice in Week 1 and 4 so officially he has 3 permanent HOH wins.
Frankie is the first houseguest to win HOH two weeks in a row. He would be followed by Sheldon Jean and Tiffany Mitchell.
Frankie is the third person to win HOH and POV in the same week twice, following Danielle Murphree and Andy Herren. He would be followed by Paul Abrahamian and Cody Calafiore.
Frankie co-founded the largest alliance in Big Brother history, the Bomb Squad, alongside Caleb Reynolds. Only two members of the alliance did not make the Jury.

Ironically, in a live chat Frankie said a year later it was better to have a small alliance than a large one.

Frankie won the most competitions in Big Brother 16, having won 9 (8 if his BotB win isn't included).

He would also tie Janelle Pierzina for the most competitions won in a single season with 9 wins each (5 HoHs, 3 PoVs and 1 BotB). Though technically without his dethroned HoHs and the BotB, Frankie would have six competition wins (3 HoHs and 3 PoVs).

Frankie is the third HouseGuest (and second male overall) to win at least 3 HOHs and 3 POVs in a single season. Janelle Pierzina and Frank Eudy are the first houseguests to do this respectively (and later Cody Calafiore, Vanessa Rousso and Paul Abrahamian).
Frankie is the first openly gay HouseGuest to win the first HOH. He was later followed by Jason Roy from Big Brother 17.
Frankie is the first houseguest to win a BOB alone while their partner tried to throw it. Donny Thompson and Liz Nolan later accomplished this feat.
Frankie is the first Big Brother contestant to be a TV judge as he is currently judging America's Best Dance Crew, the second being Vanessa Rousso who judged on Bank of Hollywood prior to competing on Big Brother.
Frankie is the first US houseguest to appear on another country's version of the show officially.
Frankie along with George Allen Boswell, Nikki Grahame, Tim Dormer and Brandi Glanville are the only 5 houseguests to compete in different seasons with different voting systems.
References
Big Brother 16 (US) Houseguests
| | | | | | | | |
| --- | --- | --- | --- | --- | --- | --- | --- |
| | | | | Frankie | | | |
| | | | |
| --- | --- | --- | --- |
| Winner | Runner-Up | Jury | Evicted |
Celebrity Big Brother 18 Housemates
| | | | | | | |
| --- | --- | --- | --- | --- | --- | --- |
| | | | | | Frankie | |
| | | | | |
| --- | --- | --- | --- | --- |
| Winner | Runner-Up | Finalist | Evicted | Ejected |
---