Wiki Targeted (Entertainment)
Play Sound
Faysal Shawn "Fessy" Shafaat[2] is a contestant on Big Brother 20 (US).
Known for his showmance with Haleigh Broucher and being clueless, Fasyal was a member of the crumbling FOUTTE alliance, was blindsided and left out of nearly every vote, and never knew what was going on. Throughout the season he was attracted to Haleigh, and while Haleigh initially rejected his advances she eventually accepted and the two became a couple. He was often manipulated by his close ally JC Mounduix. After becoming the HoH in week 8, he was manipulated by JC into targeting his ally Scottie Salton. Scottie was evicted under his HoH. However, this was fatal as the following week both he and Haleigh were betrayed and nominated, and he was evicted in a 4-1 vote. He came in 9th place and became the third member of the jury.
Biography
Faysal Shafaat Biography
Age: 26
Hometown: Orlando, FL
Current city: Orlando, FL
Occupation: Substitute teacher
Three adjectives that describe you: Joker, hilarious, and confident.
Favorite activities: Music, food, and working out or playing sports.
What do you think will be the most difficult part about living inside the Big Brother house?
I guess missing and not having communication with family.
Which past Big Brother cast member did you like most?
Victor Arroyo! He played every challenge like it was his last and won his way back in multiple times.
Do you have a strategy for winning the game?
Finding a loyal person or two. Use my social game and let my physical gameplay show at the end more than beginning. Don't let the other Houseguests know I'm a powerhouse from Day 1.
My life's motto is...
Everybody dies but not everybody lives. Live every day like it's your last.
What would you take into the house and why?

iPod.
My dog, Cooper.
Stuffed-crust cheese pizza.
Fun facts about yourself:

I wet the bed until the age of 10, which helped me be skilled at laundry at an early age.
I secretly love Taylor Swift. I'll listen to her while I work out and my favorite line is, "It's a love story, baby just say yessss."
I have a blue-nose pitbull who's my world and I treat him like my child.[3]
Player History - Big Brother 20 (US)
Competition History
Week 1
Punishment
Ineligible
Punishment
Survived
Immunity
Ineligible
HOH
Ineligible
POV
Win
Week 2
HOH
Loss
POV
Loss
Week 3
HOH
Loss
POV
Not Picked
Week 4
HOH
Loss
POV
Win
Week 5
Re-Entry
Ineligible
HOH
Loss
POV
Not Picked
Week 6
HOH
Loss
Hacker
Loss
POV
Not Picked
Week 7
HOH
Loss
Hacker
Loss
POV
Loss
Week 8
HOH
Win
POV
Loss
Week 9
HOH
Previous HOH
POV
Loss
Week 10
Re-Entry
Loss
Have/Have-Not History
| | |
| --- | --- |
| Week 1 | Have |
| Week 2 | Have-Not |
| Week 3 | Have |
| Week 4 | Have |
| Week 5 | Have-Not |
| Week 6 | Have |
| Week 7 | Have |
| Week 8 | Have |
| Week 9 | Have-Not |
BB App Store History
Week 1
Crap App
Week 2
Ineligible
Week 3
Week 4
BB App Store Phase Over
Week 5
Week 6
Week 7
Week 8
Week 9
Voting History
HOH History
Original Nominees
Post-Veto Nominees
Intended Target
Week 8
Post Big Brother
On January 5th, 2019, Fessy and Swaggy C participated in a one-on-one charity basketball game hosted by The Hive in order to gain money to help season 19's Kevin Schlehuber with his recovery after being diagnosed with prostate cancer.[4] You can watch game highlights here.

He appeared alongside Haleigh on WESH News, hosted by season 3's Jason Guy, on the day before the game in order to discuss it.[5] He appeared on a variety of other news channels as well, including Orlando's own News 6.[6]
MTV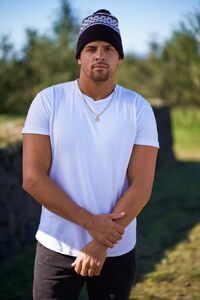 Fessy competed on The Challenge: Total Madness[7] alongside Swaggy, Bayleigh, Kaycee, Josh, Celebrity Big Brother 18 (UK) winner Stephen Bear, and HaAh HaGadol VIP 3 winner Asaf Goren.[8] He ended up making it to the Final Challenge and after a solid performance at the start, he gassed out and ended up placing fourth out of the final five men and fifth out of all nine finalists.
Fessy competed on The Challenge: Double Agents alongside Josh, Kaycee, Amber, Celebrity Big Brother 2 (US) contestant Lolo Jones and Celebrity Big Brother 22 (UK) contestant Gabby Allen.[9] After they both won the Opening Challenge, Aneesa Ferreira did better and got to choose any guy to be her partner, ultimately deciding on Fessy. In Episode 4, after winning his Elimination, Fessy chose to separate himself from Aneesa and Infiltrate Kaycee and Leroy Garrett's partnership, stealing Kaycee from Leroy and making her his new partner. In Episode 5, Aneesa won her Elimination and proceeded to steal Fessy back, pairing them up once again, while Kaycee went back to Leroy. In Episode 13, Nany González won her Elimination and Infiltrated Aneesa and Fessy's partnership, stealing Fessy from Aneesa. In return, Aneesa got to immediately choose a new partner from the male Rogue Agents, and chose Nany's former partner Kyle Christie. In Episode 16, Amber won her Elimination and Infiltrated Nany and Fessy's partnership, stealing Fessy from Nany, as she returned to Kyle. In Episode 17, Fessy won the Final Elimination and once again chose to Infiltrate Kaycee and Leroy, pairing himself up with Kaycee again before the Final Challenge, while Amber ended up with CT Tamburello. After they were warned that the team that finishes last on Day One would be eliminated without finishing the Final, Fessy pushed them harder in an effort to maintain an early lead. Unfortunately, Kaycee ended up popping her knee running down a steep and rocky mountain, and Fessy felt there was no point in doing the eating portion if they were doing to be medically disqualified anyways. Kaycee was never disqualified, but by the time Fessy had started eating, the other teams had all left, and eventually it was impossible for them to catch up, officially eliminating them in fourth place out of the final four teams, putting Fessy at two fourth place finishes in a row.
Trivia
References
External Links
Big Brother 20 (US) Houseguests
| | | | | | | | | |
| --- | --- | --- | --- | --- | --- | --- | --- | --- |
| | Faysal | | | | | | | |
| | | | |
| --- | --- | --- | --- |
| Winner | Runner-Up | Jury | Evicted |
Community content is available under
CC-BY-SA
unless otherwise noted.