Elena Ce'Anne Davies was a HouseGuest on Big Brother 19 (US).
She was best known for her showmance with Mark Jansen. Elena was apart of the house alliance of showmances that blossomed for about a week. The alliance was founded by Cody Nickson, who then went rogue and nominated Paul Abrahamian and Christmas Abbott as attempted backdoors. Elena abandoned Cody along with the majority of his alliance and proceeded to fly under the radar, up until she was nominated by HOH Josh Martinez in week 6. Elena, who was nominated against Raven Walton and cursed nominee Jessica Graf was originally Josh's target, but stayed with no votes against her after Josh was insulted by Jessica. After her and Mark wanted to reconstruct a bridge with Cody and Jessica earlier in the game, the house widely frowned upon this, and Elena and Mark were set as the next targets, as soon as Cody was evicted during the first half of the first Double Eviction. She was nominated as a pawn against Mark during the second half of the first double eviction, but when Mark won the PoV and used it on himself, Elena became the main target, and she was ultimately evicted in a 6-1 vote, placing 10th and becoming the second member of the jury.
Biography
Elena Davies Biography
Retrieved from CBS.com [2]
Age: 26
Hometown: Fort Worth, TX
Current City: Dallas, TX
Occupation: Radio Personality
Three Adjectives: Funny, abrasive and charming
Favorite Activities: Instagram, listening to live music, napping, tail-gating and shaking my booty.
What do you think will be the most difficult part about living inside the Big Brother house?
Leaving my friends and family, and living with complete strangers.
Which past Big Brother cast member did you like most?
James Huling from Seasons 17 and 18 because he made it fun.
Do you have a strategy for winning the game?
I think it's always situational. It would depend on the different personalities in the house, but forming alliances and manipulating other Houseguests is my Plan A.
My life's motto is… Don't go anywhere without beer koozies and a phone charger.
What would you take into the house, and why?
- My phone, because of Instagram and I'll miss my mom
- My dog, because she's real cute and she cuddles me at night
- El Rancho Grande's chips and queso
Fun facts about yourself:
- My dad brought a Longhorn steer into my dorm room
- I took a spontaneous trip to Colorado to a music festival by myself
- I swam with dolphins
- I got a breast reduction
Player History - Big Brother 19
Competition History
Week 1
Temptation
Sat Out
Hit The Road
Ineligible
HOH Part 1
Loss
HOH Part 2
Ineligible
POV
Not Picked
Week 2
HOH
Loss
POV
Loss
Week 3
HOH
Loss
POV
Not Picked
Week 4
House Challenge
Not Picked
HOH
Loss
POV
Not Picked
Week 5
HOH
Loss
Temptation
Sat Out
POV
Not Picked
Week 6
HOH
Loss
Temptation
Survived
POV
Loss
Week 7
HOH
Loss
Temptation
Survived
POV
Loss
HOH
Loss
POV
Loss
Have/Have-Not History
| | |
| --- | --- |
| Week 1 | Have |
| Week 2 | Have |
| Week 3 | Have |
| Week 4 | Have |
| Week 5 | Have-Not |
| Week 6 | Have-Not Extension |
| Week 7 | Have |
Den of Temptation History
Week 1
Loss
Week 2
Loss
Week 3
Loss
Week 4
Den of Temptation Phase Over
Week 5
Week 6
Week 7
Voting History
Post Big Brother
Elena attended the wedding of Cody Nickson and Jessica Graf in October 2018.[3]
On March 5, 2019, Mark revealed that he and Elena have since ended their relationship.[4]
MTV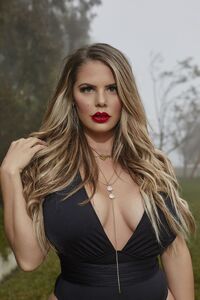 Trivia
References
Big Brother 19 (US) Houseguests
| | | | | | | | | | |
| --- | --- | --- | --- | --- | --- | --- | --- | --- | --- |
| | | Elena | | | | | | | |
| | | | | |
| --- | --- | --- | --- | --- |
| Winner | Runner-Up | Jury | Evicted | Walked |
Community content is available under
CC-BY-SA
unless otherwise noted.