Dionne Monsanto was a housemate in Pinoy Big Brother 2.
Inside the house, she was bestfriends with Wendy Valdez.
On Week 4, a controversy arose involving her and Zeke Dimaguila regarding some "naughty actions" aired on television that caught MTRCB's attention enough to issue a memorandum for the show, almost suspending the series. The female housemates were tasked to put sunscreen lotion on the male housemates but she was seen inserting her hand on Zeke Dimaguila's underwear. As a result, the show was invited for a hearing in the MTRCB office regarding the issue. As a result of the hearing, director Laurenti Dyogi, stated in his letter to the Board the same day that the network would issue an apology to viewers who may have been offended by Dionne's behavior and will continue to keep tabs on her. Show host Toni Gonzaga apologized on behalf of the management on the episode aired a few hours after the meeting. Big Brother also ordered Dionne to stay away from Zeke from March 28 to March 31. [1]
Another issue also arose on the same week regarding constant Dionne's biting on Zeke. To resolve the controversies, Big Brother made the non-involved housemates watch the two controversial acts inside the Diary Room, leaving them shocked. The involved housemates where then called into the Diary Room to watch the scenes and to explain what really happened. Dionne explained that she just put lotion on the sides and didn't really touched Zeke's genitals, while the biting was just her form of showing love and care. However, Zeke said that it felt right and felt violated for it.
The decision for their actions was put under the non-involved housemates whether they should get ejected or not. They were sent in to the Diary Room one by one to voice out their opinions regarding the issue whether the acts were improper and violent or not. They unanimously decided that the "insertion" issue was improper, indecent and offensive while the "biting" issue wasn't a form of violence at all. In the end none of the two were ejected.
On Week 7, no nominations occurred but instead, the four housemates who gained more than 5 pounds that week were automatically nominated. Dionne gained more than 5 pounds which made her automatically nominated.
She got evicted on Week 11.
Biography
Dionne Monsanto Biography
Name: Dionne Dennia Monsanto
Origin: Cebu
Age: 21
Birthdate: December 5, 1985
Birthplace: Cebu
Nationality: Filipino
Describe yourself: Faithful, analytical, savvy, passionate, fun
Biggest Failure: "Not graduating with honors."
TV Show/s: CSI, CSI: New York and CSI: Miami
Movie/s: Music and Lyrics
Actor/Actress: Charlize Theron
Singer/Band: John Legend, Goo Goo Dolls
Food: Carbonara Pasta
Cartoon Character: SpongeBob and Kim Possible
Dionne Monsanto is a 21-year-old college student and local celebrity from Cebu City. Prior to her entry to the house, she is already a local celebrity in the Visayas, having appeared in the ABS-CBN Cebuano language drama series For Life. She currently takes up Mass Communication in the Visayan campus of the University of Philippines. She also relates that her father has been missing for some time and she has siblings sired by different men. After Geraldine's exit, she was also sent out in the house on Day 77.
Player's History - Pinoy Big Brother 2
Task History
| | | |
| --- | --- | --- |
| Week 1 | Weekly Task 1 | Win |
| Week 2 | Weekly Task 2 | Loss |
| Week 3 | Weekly Task 3 | Loss |
| Week 4 | Weekly Task 4 | Loss |
| Week 5 | Weekly Task 5 | Win |
| Week 6 | Weekly Task 6 | Loss |
| Week 7 | Weekly Task 7 | Win |
| Week 8 | Weekly Task 8 | Win |
| Week 9 | Weekly Task 9 | Win |
| Week 10 | Weekly Task 10 | Win |
| Week 11 | Weekly Task 11 | Loss |
| Week 12 | Weekly Task 12 | Win |
| Week 13 | Weekly Task 13 | Loss |
| Week 14 | Weekly Task 14 | Loss |
| Week 15 | Weekly Task 12 | Win |
| Week 16 | Weekly Task 12 | Win |
Competition History
| | | |
| --- | --- | --- |
| Week 4 | Ligtask Games | Loss |
| Week 5 | Ligtask Games | Loss |
| Week 7 | Ligtask Games | Loss |
Nominations History
Post Big Brother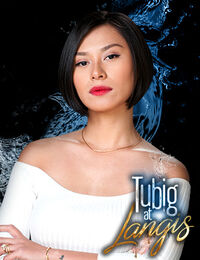 She pursued an acting career and got minor roles in ABS-CBN shows.
In the later part of 2007, she portrayed an antagonist role in Super Inggo 1.5: Ang Bagong Bangis, the series starring former child actor Makisig Morales. She portrayed the role of Salonna.
Her next television appearance was in 2008, when she starred in the TV series, Lobo. In this TV series, Dionne portrayed an extended or a minor role. Not really an important part in the show.
In 2009 till 2010, she became known for her role in the TV show, starring the newlyweds, Ms. Judy Ann Santos and actor Ryan Agoncillo, in George and Cecil. She portrayed Grace Palacios, a successful business tycoon.
Later in 2009, she portrayed an extended role in KC Concepcion and Piolo Pascual's TV show, Lovers in Paris as Jennifer "Jenny". Vivian's (KC Concepcion) close and best friend.
After almost 6 years of not appearing on television, Dionne's comeback project was when she starred in the daytime television series, FlordeLiza in 2015. She portrayed the role of Lynette, Manny's loving wife who is supportive to his every decision.
Dionne also had a lead role in the feature film Swap as the mother of a kidnapped baby.
In 2015, she was cast in ABS-CBN Daytime Drama series, Tubig at Langis as Lucy Villadolid after her character's mother portrayed by Vivian Velez who resigned on the show. She portrays the main antagonist of the series. Her character's iconic catfight moments in the series became viral and eventually became social media memes.[2]
Trivia
References
Pinoy Big Brother 2 Housemates
| | | | | | | | | | |
| --- | --- | --- | --- | --- | --- | --- | --- | --- | --- |
| | | | Dionne | | | | | | |
| | | | | | | |
| --- | --- | --- | --- | --- | --- | --- |
| | Winner | Runner-Up | Finalist | Walked | Ejected | Evicted |