Bailey Thomas May is a 4th Placer finalist on the Teen Edition of Pinoy Big Brother: 737.
Bailey was nicknamed as the Global Gwapito of United Kingdom for his charming looks as well as his background of growing up in a foreign country. Entering the house, at age 12, many audiences also thought he looked a lot older than his actual age while inside the house, however his mind is still a bit childish and playful which was obvious to his actions inside the Big Brother house.
With the help of Big Brother's life advices, he was also remarkable for his character development as he became more mature throughout his stay in the house than the way he was when he first entered the Big Brother house.
Growing up in Britain most of his life, Bailey initially had a hard time adapting to the lifestyles of his fellow housemates, but throughout the series, he exerted his best effort to learn and adapt to his Filipino side, with the help of his housemates and especially Big Brother.
In the early days of his stay inside the house, Bailey was notable for committing several violations which led him being punished by Big Brother. On Day 3, Bailey was punished to become a human speaker throughout until Big Brother lifted the punishment.
Early on, Bailey immediately made a very close friendship with Kenzo Gutierrez. He also gained friendships immediately with most of the housemates, with the likes of Ryan Bacalla, Franco Rodriguez and Barbie Imperial. During the latter part of the Teen Chapter, he made a closer friendship with Ylona Garcia which eventually led to infatuations, albeit a childish kind.
Bailey and Ylona's puppy romance began a new fandom that shipped the two, most of which were composed of adolescent girls. Fans named their loveteam, Bailona and a new fanbase was formed, which worked to their advantage.
Their loveteam sprouted immediately, although they were unaware that such things were happening outside the house until they went back outside. They eventually became part of the Big Four and secured a place for the Big Night. Bailey and the Teen Big Four temporarily left the house for the Civilian chapter.
Bailey and the Teen Big Four; Ylona, Jimboy and Franco went back inside the house on Week 15 to live with the remaining adult housemates. Bailey gained a close friendship with Tommy Esguerra which he treated as an older brother.
On Day 140, the Teen Big Four and the Adult Big Four finally departed the Big Brother house and travelled to Legazpi City in Albay for the season's Big Night finale where in Bailey was announced as the 4th Teen Big Placer after receiving 7.58% of the total public votes.
Biography
Bailey May Biography
Full Name: Bailey Thomas May
Origin: UK
Age: 12
Occupation: Student
Hobbies: Playing Football, Basketball and Rugby, Singing

This Social Media Singing Sensation got his vocal talent from his British dad and Filipina mom who were both singers in a cruise ship when they met. Bailey was born in Cebu, but has been living in the UK with his family since he was 4yo. He's into sports (football, basketball, rugby), music and girl watching with his friends (Bailey has never had a girlfriend, though).
Throughout their seven years in the UK, Bailey and his family has visited his mom's relatives in Cebu a few times, exposing Bailey to Filipino culture and dishes. In fact, some of Bailey's favorite food include munggo and puto. And believe it or not, Bailey eats balut, too! On the other hand, speaking in Filipino (Tagalog and Bisaya) was never really practiced in their household so Bailey only knows "konting" Tagalog and "gamay" na Bisaya, which explains the Filipino dictionary in Bailey's luggage when we rummaged through the stuff that he'll be bringing inside the Pinoy Big Brother House. Will his love for Filipino food and his Filipino dictionary be enough to help Bailey adjust and fit in with his other Teen Housemates? Will he be able to prove that he has the heart of the Filipino and deserves to be the next Teen Big Winner? Find out on PBB737 Teen Edition
Player History - Pinoy Big Brother: 737
Teen History
Task History
| | | |
| --- | --- | --- |
| Week 1 | Weekly Task | Loss |
| Week 2 | Weekly Task | Loss |
| Week 3 | Weekly Task | Win |
| Week 4 | Weekly Task | Win |
| Week 5 | Weekly Task | Win |
| Week 6 | Weekly Task | Loss |
Competition History
Week 2
Ligtask
Loss
Week 3
Ligtask
Loss
Week 4
Ligtask
Win
Week 5
Pinasaya Challenge
Loss
Ligtask
Ineligible
Week 6
Big-Ating Concert Competition
Win
Ligtask
Ineligible
Week 7
Ligtask
Ineligible
Nominations History
Post Big Brother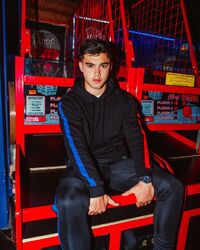 Just months after Pinoy Big Brother, Bailey released his self-titled album under Star Music.
Together with Ylona Garcia, they had their first acting appearance when they joined the TV Series, On the Wings of Love as part of the extended cast later in the series.
In 2016, he released various singles.
In 2016, together with his loveteam partner, Ylona Garcia they sang O' Pag ibig which was a nominee for the annual Himig Handog song competition.

Despite not winning the grand prize, it bagged various special awards the most.

Around mid-2017, together with Ylona Garcia and teenstar AC Bonifacio, they were handpicked representatives for the Philippines and were sent to Hollywood for the NowUnited boot camp, spearheaded by the renowned artist manager and Idol Series creator, Simon Fuller. [1]
In November 16th 2017, Bailey was announced as the member of the new global pop group, Now United created by Simon Fuller.[2]
In March 2019, Bailey visited the house together with his fellow Now United members as part of Bailey's homecoming in the Pinoy Big Brother House, where his career in the entertainment industry started. They performed inside the house and met the Batch 2 Adult Housemates of Pinoy Big Brother: Otso. They also appeared in the show's companion shows like the online show, "Bring 8 On".
Trivia
Bailey, at age 12, became the youngest ever housemate to enter the house in the history of Big Brother worldwide.

He celebrated his 13th birthday, a day before they temporarily left the house for the entry of adult housemates.

Probably due to his young age, both of Bailey's parents regularly appeared in the confession room discussion sessions with Big Brother, whenever a certain topic regarding Bailey was highlighted in some of the episodes. Despite having a discussion with Big Brother almost regularly, they never entered the main house nor met the housemates. They were just sent in by Big Brother for a parent talk.

Bailey got to talk to his parents through a video chat once, as a reward for finishing his special task.

Many of the Pinoy Big Brother superfans often compare Bailey to former Pinoy Big Brother: Teen Edition 1 housemate and 3rd Teen Big Placer, Gerald Anderson.

Gerald Anderson actually visited the house once for a task and met Bailey and the rest of the housemates.
References
Community content is available under
CC-BY-SA
unless otherwise noted.