Angela Logan Rummans[2] was a houseguest on Big Brother 20 (US).
Considered the villainess of the season, Angela was a member of the dominant Level Six alliance. She was close with Level Six members Tyler Crispen and Kaycee Clark, and formed a relationship with the former later on in the season. In week 6, she successfully backdoored FOUTTE member Bayleigh Dayton. Although she formed a final 3 deal with Tyler and Kaycee, their plan was foiled at the final 4 when the last outsider JC Mounduix became HoH and nominated her and Tyler. After winning the final Power of Veto and ensuring her own safety, Kaycee cast the sole vote to evict Angela, making her the 8th member of the jury.
Biography
Angela Rummans Biography
Age: 26
Hometown: Hilton Head, SC
Current city: Playa Vista, CA
Occupation: Fitness model
Three adjectives that describe you: Spontaneous, scheming, and headstrong.
Favorite activities: Beach volleyball, spearfishing, and oil painting.
What do you think will be the most difficult part about living inside the Big Brother house?
Lack of social media, not being able to talk to my mama, and having to release my roster of boy toys in L.A.
Which past Big Brother cast member did you like most?
Rachel Reilly. I love how physical she was on the show. I see a lot myself in her. Not to toot my own horn, but I'm kind of a freak athlete and I LOVE to compete. I'm a fierce competitor and nothing brings me more joy than beating men at sports.
Do you have a strategy for winning the game?
Of course I do. I think commonly I get underestimated because, on the outside, I come across as just a sweet Southern belle and brainless model that probably isn't capable of much. But what you don't see is that I was a professional track-and-field athlete, trained at the Olympic training center with the Olympic team, and am the most headstrong, iron-willed competitor. I'm also intelligent and run my own business with my assistant's help. I have a very witty sense of humor that people enjoy being around, and I can find common ground with anyone. I like to call myself "the networking queen." I'm very lovable and not afraid to use my sexuality to get ahead. These are all things that I will keep to myself but eventually, during physical/athletic challenges, it may be obvious that there is more than meets the eye. My life's motto is...
Man plans, God laughs. I'm really not that religious but this saying so perfectly describes my life.
What would you take into the house and why?

A canvas.
Paints.
Brushes. I love art and I love to paint. It's my creative outlet and helps me deal with life stresses.
Fun facts about yourself:

I give 10-percent of my income to a different charity each month.
I love to pretend I'm not athletic when I'm on a date and then crush them in a game.
I tried out for my high-school football team.[3]
Player History - Big Brother 20 (US)
Competition History
Week 1
Punishment
Win
Punishment
Ineligible
Immunity
Loss
HOH
Loss
POV
Not Picked
Week 2
HOH
Loss
POV
Not Picked
Week 3
HOH
Loss
POV
Not Picked
Week 4
HOH
Loss
POV
Not Picked
Week 5
Re-Entry
Ineligible
HOH
Loss
POV
Not Picked
Week 6
HOH
Win
Hacker
Loss
POV
Win
Week 7
HOH
Previous HOH
Hacker
Loss
POV
Loss
Week 8
HOH
Loss
POV
Loss
Week 9
HOH
Win
POV
Loss
Week 10
Re-Entry
Ineligible
HOH
Previous HOH
POV
Not Picked
Week 11
HOH
Loss
POV
Loss
HOH
Loss
POV
Win
Week 12
HOH
Win
POV
Loss
HOH
Previous HOH
POV
Loss
Have/Have-Not History
Week 1
Have
Week 2
Have
Week 3
Have-Not
Week 4
Have
Week 5
Have
Week 6
Have
Week 7
Have
Week 8
Have
Week 9
Have
Week 10
Have
Week 11
Have/Have-Not Phase Over
Week 12
BB App Store History
Week 1
Access Denied
Week 2
Access Denied
Week 3
Access Denied
Week 4
BB App Store Phase Over
Week 5
Week 6
Week 7
Week 8
Week 9
Week 10
Week 11
Week 12
Voting History
HOH History
Original Nominees
Post-Hacker Nominees
Post-Veto Nominees
Intended Target
Week 6
Week 9

N/A

Week 12
Post Big Brother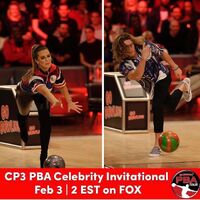 Angela and Tyler Crispen appeared in the audience on the 6th episode of the 27th season of Dancing with the Stars.[4]
Tyler and Angela competed on the Professional Bowlers Association's Celebrity Invitational on January 17, 2019, which then aired on February 3, 2019 on FOX.[5]
She has released a book called "Unbothered: Break Down the Boulders Between You and Your True Potential". She released it July 11, 2019.
Angela appeared in Tyler's intro package and Jury message from home on Big Brother 22 (US).
Trivia
References
External Links
Big Brother 20 (US) Houseguests
| | | | | | | | |
| --- | --- | --- | --- | --- | --- | --- | --- |
| | | | Angela | | | | |
| | | | |
| --- | --- | --- | --- |
| Winner | Runner-Up | Jury | Evicted |
Community content is available under
CC-BY-SA
unless otherwise noted.