Jurassic World: Dominion Dominates Fandom Wikis - The Loop
Play Sound
Alyssa Lopez was a houseguest on Big Brother 23 (US).
A member of the Kings, Alyssa came into the game hoping to lay low and have fun. What she, and many in the house, didn't expect was the disastrous HoH reign of Frenchie French. Among his flurry of targets during Week 1, he nominated Alyssa to take a shot at her teammate Christian Birkenberger, who he had framed as a possible showmance. This devastated and perplexed her, though she was able to survive when Frenchie decided to target Travis Long after putting him up as the replacement nominee. Luckily she stayed off the block from then on out, thanks to the competition dominance of her Kings team. During the first couple weeks of the game, she began to become more intimate with Christian.
Week 5 was when things began to unravel for Alyssa. Derek Xiao went through with a plan to backdoor Christian, despite Alyssa's last-minute pitch. With the Royal Flush alliance demolished, she found herself with only one main ally left in Xavier Prather, who was keeping her as a +1 in the Cookout's grand plan. Despite not being in power, she made up for it in competitions, winning two vetoes and the "Chopping Block Roulette," the latter of which ironically led to Xavier hitting the block for the first time. In Week 9, Alyssa was able to avoid going home in a big way by winning veto, sending Claire Rehfuss out by her own ally's hand. However, Alyssa was in trouble once again when the first double eviction of the season occured on Day 65. Hannah Chaddha won HoH and nominated her, promising she was a pawn for Xavier, then Kyland Young. Alyssa was then evicted in 3-1 vote. She placed 7th and became the 5th member of the Jury.
Biography
Alyssa Lopez Biography
Alyssa Lopez
Age: 24
Hometown: Sarasota, Florida
Current City: Sarasota, Florida
Occupation: Swimwear Designer
Three words that describe you: Witty, sarcastic, and outgoing.
Favorite activities: Weightlifting, videography and video editing, boating with friends, going to the dog park with my dogs Jeter and Piper, and going to Siesta Key beach to watch the sunset.
Who are your favorite Houseguest duos? Those who became best friends in the Big Brother house or had a showmance?
My favorite Houseguest duo is 100 percent Jessica and Cody from Season 19. Jessica is my all-time favorite player on Big Brother because she played her own game, not Paul's game like the rest of the house. I think if Paul didn't have that secret power, she and Cody would have gone far in the game. She stood up for herself and Cody and I can relate because I always say what's on my mind and I always get myself involved in situations where people mess with any of my close friends and/or family members.
What are you most excited about living inside the Big Brother house?
I am most excited to just live out my number one bucket list goal. I have religiously watched Big Brother since I was 11 years old and I have applied four times. I have a photo of the Big Brother logo on my vision board. It will also be exciting to meet new people around the U.S. and live somewhere different then Sarasota. I have never lived outside of Sarasota in my life.
What do you think will be the most difficult part about living inside the Big Brother house?
The most difficult part for me would be having to suck up to Houseguests I may not get along with. I have a very hard time putting on a fake smile because I wear my emotions on my face. I always say what is on my mind and I know in the Big Brother house that can put a huge target on my back. I will have to learn to keep quiet during situations where it is probably best not to say my opinion to help my own game.
What is your favorite past moment on Big Brother?
My favorite past moment on Big Brother was on Season 11, the first season I ever watched, when Jeff used his secret power to put Jessie and Natalie on the block. I loved that the power shifted to him and Jordan.
What is your strategy for winning the game?
My strategy for winning the game is to win the very first HOH. I think the first HOH is the most important one. I would then be able to align myself with powerful physical and mental players, but I'd also try to make a final two alliance with someone outside of that. That way I can see the game from all angles. I think my social game is what will help me the most. I am very outgoing, understanding, and comforting. Houseguests will want to talk to me about their thoughts on other Houseguests and I will use that to my advantage by having a lot of people trust me. I won't speak my mind too much on weeks that I am not HOH but put ideas in their head to get rid of certain people I think would hurt my game. Just like Tyler played on Season 20.
My life's motto is…
"Invest your energy in things you can control."
What would you take into the house and why? -My dogs Piper and Jeter because just thinking about leaving them for three months makes me want to cry.
-My best friend because we talk and are with each other 24/7. I tried to see if she can fit in my suitcase, but there isn't enough room.
-A DVD of all the seasons of The Office. Other than Big Brother, The Office is my favorite show. I have re-watched the show five times so why not make it six?

Fun facts about yourself:
-I was featured on a Hooters billboard and taxi top.
-I have my Drone Aircraft License.
-I have my Bachelor's Degree in Broadcast Production.
-I did gymnastics for 10 years.
-I am launching a swimwear line.[1]
Player History - Big Brother 23 (US)
Competition History
Week 1
HOH Part 1
Loss
HOH Part 2
Ineligible
HOH Part 3
Ineligible
Wildcard
Not Selected
POV
Loss
Week 2
HOH
Loss
Wildcard
Not Selected
POV
Loss
Week 3
HOH
Loss
Wildcard
On Immune Team
POV
Not Picked
Week 4
HOH
Loss
Wildcard
On Immune Team
POV
Not Picked
Week 5
HOH
Loss
POV
Loss
Week 6
HOH
Loss
High Roller
Sat Out
POV
Win
POV Bet
Ineligible
Week 7
HOH
Loss
High Roller
Win
POV
Loss
Week 8
HOH
Loss
High Roller
Ineligible
HOH Coin Toss
Ineligible
POV
Loss
Week 9
HOH
Loss
POV
Win
HOH
Loss
POV
Loss
Have/Have-Not History
| | |
| --- | --- |
| Week 1 | Have-Not |
| Week 2 | Have |
| Week 3 | Have |
| Week 4 | Have |
| Week 5 | Have-Not |
| Week 6 | Have |
| Week 7 | Have |
| Week 8 | Have |
| Week 9 | Have-Not |
BB Bucks History
Beg. Bal
Gain/Loss
End Bal.
Week 1
Twist Not Active
Week 2
Week 3
Week 4
Week 5
Week 6
0
+50
-0
=50
Week 7
50
+75
-125
=0
Week 8
0
+75
=75
75
+100
-0
=175
Week 9
BB Bucks Phase Over
After the conclusion of the Week 8 Head of Household competition, all houseguests randomly chose an envelope to open after receiving their weekly payment from America. In addition to the 75 BB Bucks from America, the envelope granted Alyssa 100 BB Bucks.
Voting History
Post Big Brother
Although both her and Christian planned on continuing their relationship after the show, the couple announced less than a week after the Finale that they would remain friends.
The Challenge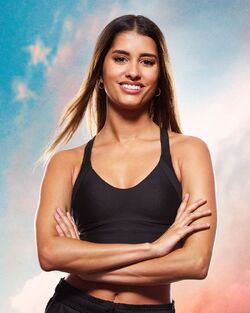 Trivia
References
Big Brother 23 (US) House Guests
| | | | | | | | |
| --- | --- | --- | --- | --- | --- | --- | --- |
| | | | | | | Alyssa | |
| | | | |
| --- | --- | --- | --- |
| Winner | Runner-Up | Jury | Evicted |